Lactoferrin as potential preventative and adjunct treatment for COVID-19
Review of the antiviral, anti-inflammatory, and immunomodulatory effects of lactoferrin and the potential benefit for COVID-19.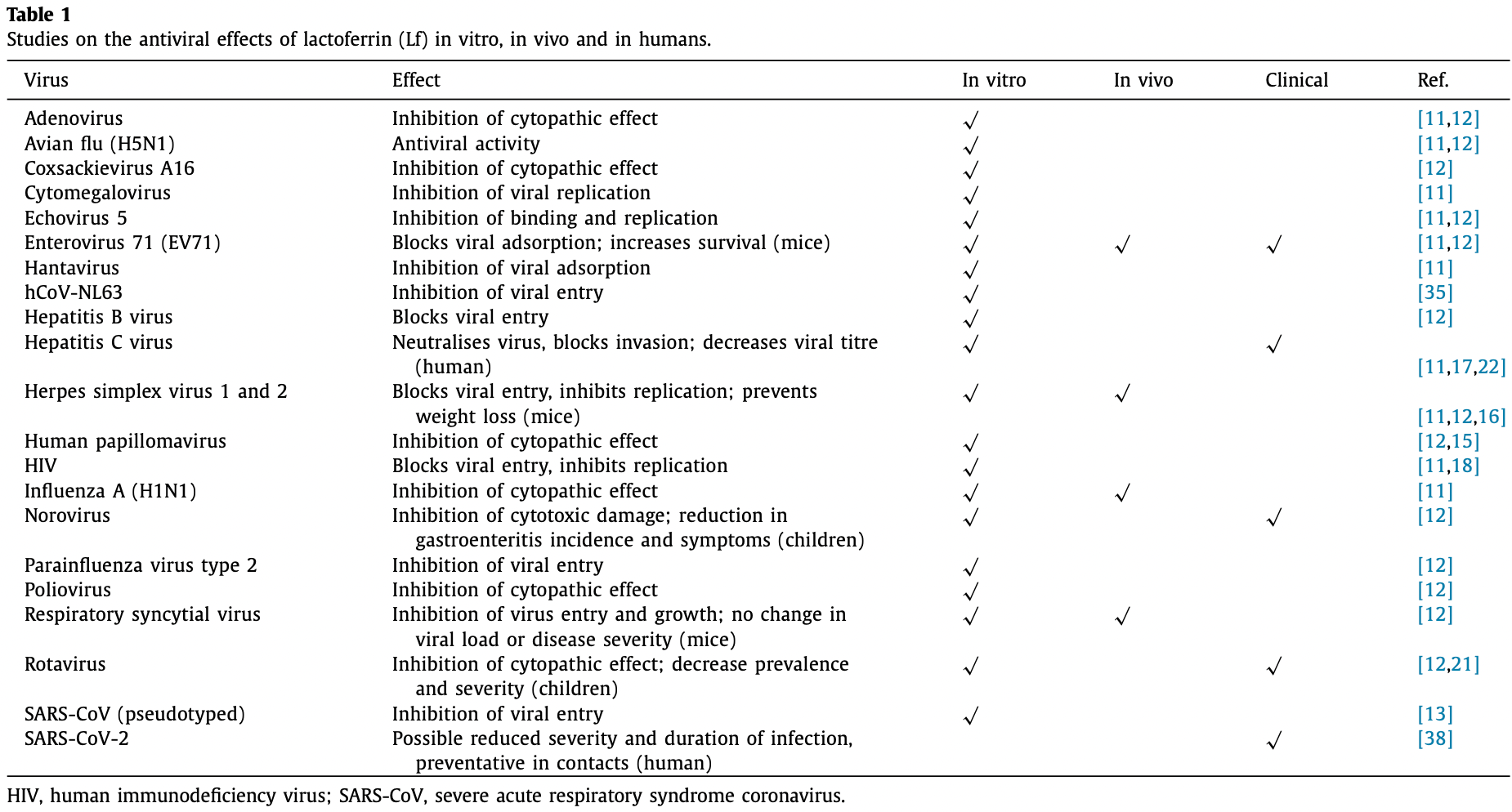 Chang et al., 30 Sep 2020, peer-reviewed, 3 authors.
Contact: timothychang@mednet.ucla.edu, mbutte@mednet.ucla.edu, bpasaniuc@mednet.ucla.edu.
Abstract: International Journal of Antimicrobial Agents 56 (2020) 106118 Contents lists available at ScienceDirect International Journal of Antimicrobial Agents journal homepage: www.elsevier.com/locate/ijantimicag Lactoferrin as potential preventative and adjunct treatment for COVID-19 Raymond Chang a,∗, Tzi Bun Ng b, Wei-Zen Sun a,c a Institute of East–West Medicine, 102 E 30th Street, New York, NY 10016, USA Chinese University of Hong Kong, Shatin, N.T., Hong Kong c National Taiwan University Hospital, 7 Chung Shan S. Road., Taipei, Taiwan b a r t i c l e Keywords: Lactoferrin COVID-19 SARS-CoV-2 Antiviral Viral prophylaxis i n f o a b s t r a c t The coronavirus disease 2019 (COVID-19) pandemic is rapidly advancing across the globe despite drastic public and personal health measures. Antivirals and nutritional supplements have been proposed as potentially useful against severe acute respiratory syndrome coronavirus 2 (SARS-CoV-2), the novel coronavirus that causes COVID-19, but few have been clinically established. Lactoferrin (Lf) is a naturally occurring, non-toxic glycoprotein that is orally available as a nutritional supplement and has established in vitro antiviral efficacy against a wide range of viruses, including SARS-CoV, a closely related coronavirus to SARS-CoV-2. Furthermore, Lf possesses unique immunomodulatory and anti-inflammatory effects that may be especially relevant to the pathophysiology of severe COVID-19 cases. Here we review the underlying biological mechanisms of Lf as an antiviral and immune regulator, and propose its unique potential as a preventative and adjunct treatment for COVID-19. We hope that further research and development of Lf nutritional supplementation would establish its role for COVID-19. © 2020 Elsevier Ltd and International Society of Antimicrobial Chemotherapy. All rights reserved.
Please send us corrections, updates, or comments. Vaccines and treatments are complementary. All practical, effective, and safe means should be used based on risk/benefit analysis. No treatment, vaccine, or intervention is 100% available and effective for all current and future variants. We do not provide medical advice. Before taking any medication, consult a qualified physician who can provide personalized advice and details of risks and benefits based on your medical history and situation.
FLCCC
and
WCH
provide treatment protocols.
Submit