Review of the antiviral, anti-inflammatory, and immunomodulatory effects of lactoferrin and the potential benefit for COVID-19.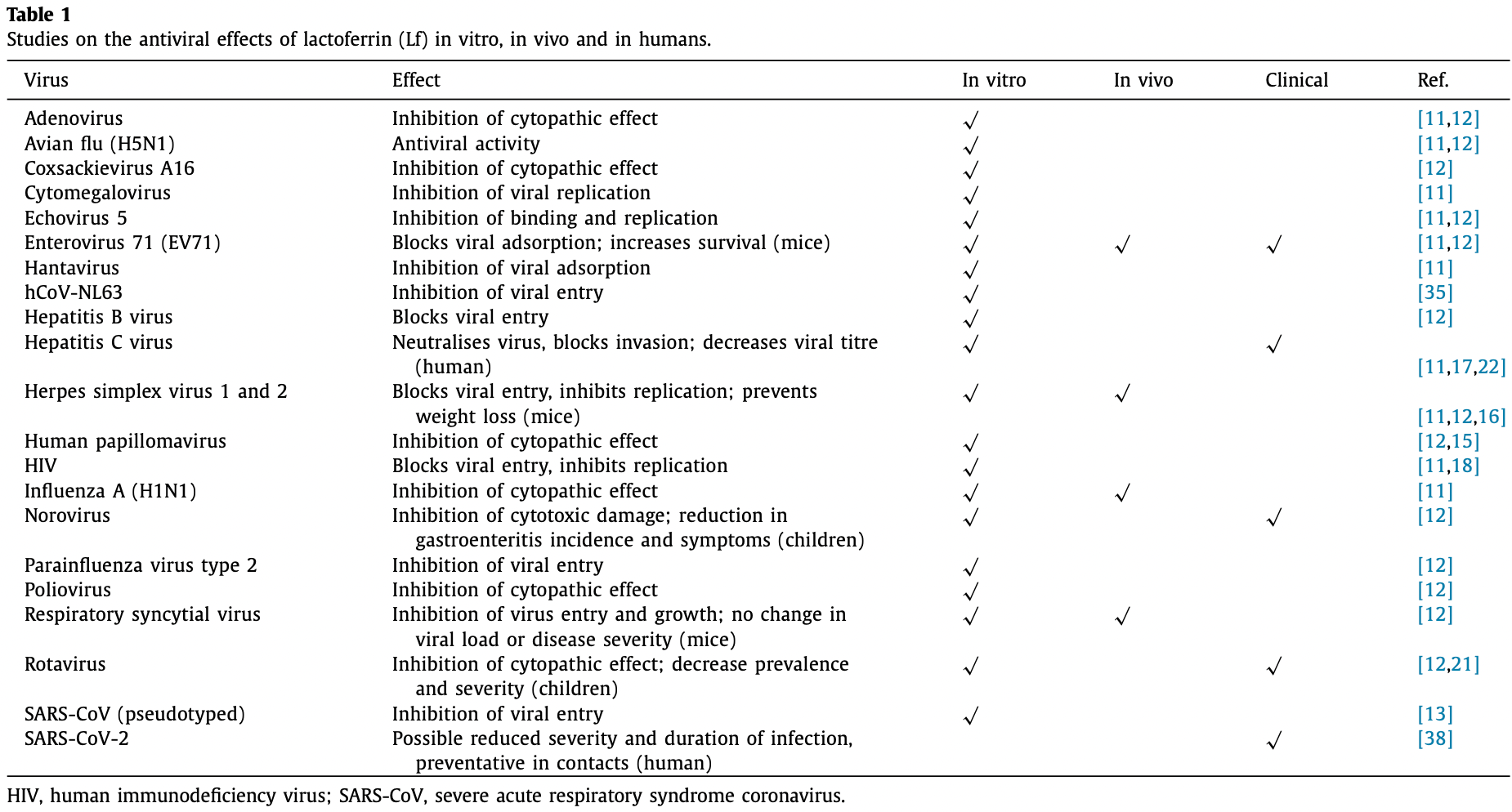 Chang et al., 30 Sep 2020, peer-reviewed, 3 authors.
Contact: timothychang@mednet.ucla.edu, mbutte@mednet.ucla.edu, bpasaniuc@mednet.ucla.edu.
Lactoferrin as potential preventative and adjunct treatment for COVID-19
International Journal of Antimicrobial Agents, doi:10.1016/j.ijantimicag.2020.106118
The coronavirus disease 2019 (COVID-19) pandemic is rapidly advancing across the globe despite drastic public and personal health measures. Antivirals and nutritional supplements have been proposed as potentially useful against severe acute respiratory syndrome coronavirus 2 (SARS-CoV-2), the novel coronavirus that causes COVID-19, but few have been clinically established. Lactoferrin (Lf) is a naturally occurring, non-toxic glycoprotein that is orally available as a nutritional supplement and has established in vitro antiviral efficacy against a wide range of viruses, including SARS-CoV, a closely related coronavirus to SARS-CoV-2. Furthermore, Lf possesses unique immunomodulatory and anti-inflammatory effects that may be especially relevant to the pathophysiology of severe COVID-19 cases. Here we review the underlying biological mechanisms of Lf as an antiviral and immune regulator, and propose its unique potential as a preventative and adjunct treatment for COVID-19. We hope that further research and development of Lf nutritional supplementation would establish its role for COVID-19.
Competing interests: None declared. Ethical approval: Not required.
References
Levay, Viljoen, Lactoferrin: a general review, Haematologica
Lu, Hangoc, Oliff, Chen, Shen et al., Protective influence of lactoferrin on mice infected with the polycythemia-inducing strain of Friend virus complex, Cancer Res
Sorensen, Sorensen, The proteins in whey, C R Trav Lab Carlsb Ser Chim
Zimecki, Właszczyk, Zagulski, Kübler, Lactoferrin lowers serum interleukin 6 and tumor necrosis factor alpha levels in mice subjected to surgery, Arch Immunol Ther Exp (Warsz)