Review of the mechanisms of action and potential benefits of lactoferrin for COVID-19. Authors propose designing a trial combining an intranasal spray and oral administration (which they later performed).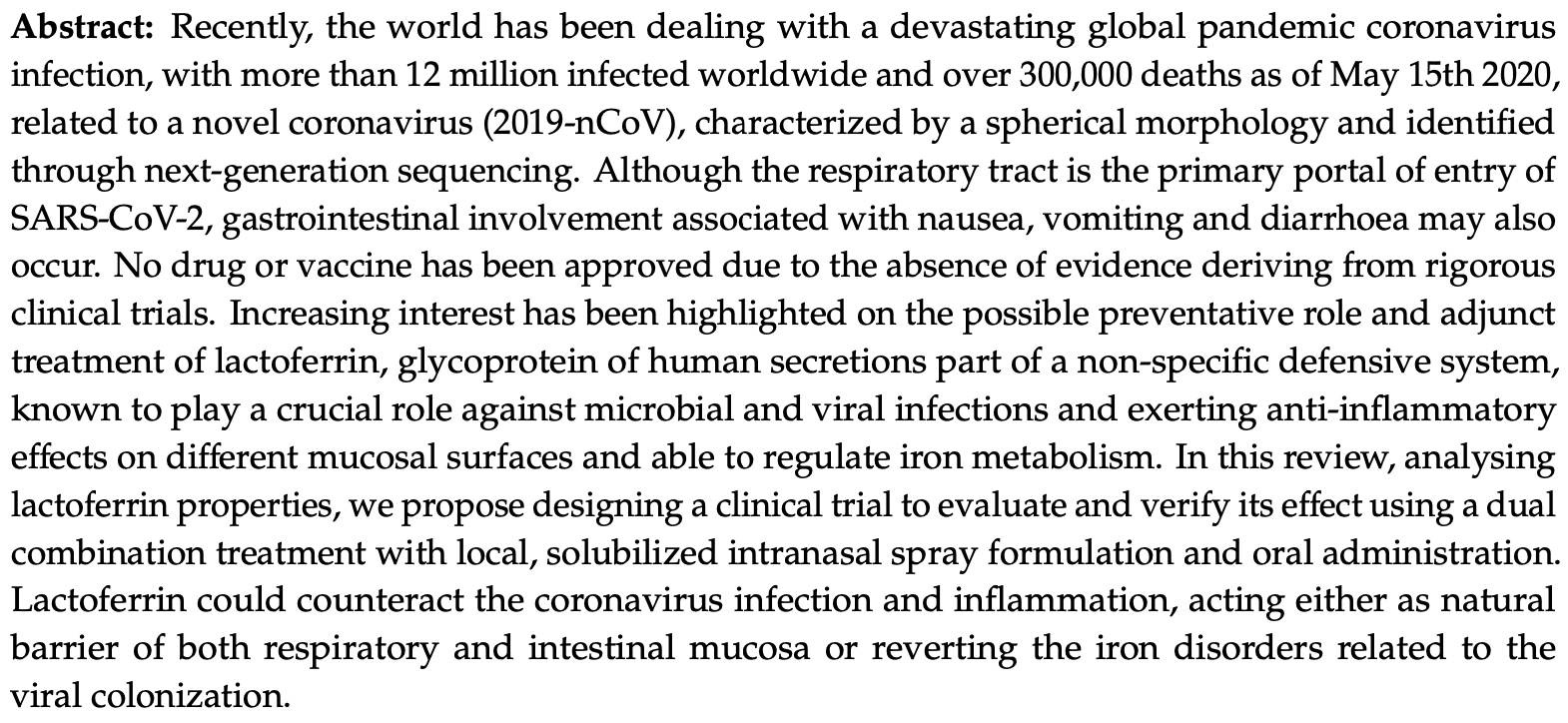 Campione et al., 11 Jul 2020, peer-reviewed, 8 authors.
Contact: campioneelena@hotmail.com (corresponding author), terenziocosio@gmail.com, caterinalanna.cl@gmail.com, luca.bianchi@uniroma2.it, luigi.rosa@uniroma1.it, piera.valenti@uniroma1.it, stefano.di.girolamo@uniroma2.it, roberta.gaziano@uniroma2.it.
Lactoferrin as Protective Natural Barrier of Respiratory and Intestinal Mucosa against Coronavirus Infection and Inflammation
International Journal of Molecular Sciences, doi:10.3390/ijms21144903
Recently, the world has been dealing with a devastating global pandemic coronavirus infection, with more than 12 million infected worldwide and over 300,000 deaths as of May 15th 2020, related to a novel coronavirus (2019-nCoV), characterized by a spherical morphology and identified through next-generation sequencing. Although the respiratory tract is the primary portal of entry of SARS-CoV-2, gastrointestinal involvement associated with nausea, vomiting and diarrhoea may also occur. No drug or vaccine has been approved due to the absence of evidence deriving from rigorous clinical trials. Increasing interest has been highlighted on the possible preventative role and adjunct treatment of lactoferrin, glycoprotein of human secretions part of a non-specific defensive system, known to play a crucial role against microbial and viral infections and exerting anti-inflammatory effects on different mucosal surfaces and able to regulate iron metabolism. In this review, analysing lactoferrin properties, we propose designing a clinical trial to evaluate and verify its effect using a dual combination treatment with local, solubilized intranasal spray formulation and oral administration. Lactoferrin could counteract the coronavirus infection and inflammation, acting either as natural barrier of both respiratory and intestinal mucosa or reverting the iron disorders related to the viral colonization.
Conflicts of Interest: The authors declare no conflict of interest.
References
Ahmed, Quadeer, Mckay, Preliminary Identification of Potential Vaccine Targets for the COVID-19 Coronavirus (SARS-CoV-2) Based on SARS-CoV Immunological Studies, Viruses
Cui, Li, Shi, Origin and evolution of pathogenic coronaviruses, Nat. Rev. Genet
Cutone, Frioni, Berlutti, Valenti, Musci et al., Lactoferrin prevents LPS-induced decrease of the iron exporter ferroportin in human monocytes/macrophages, BioMetals
Li, Structure, Function, and Evolution of Coronavirus Spike Proteins, Annu. Rev. Virol
Marchetti, Superti, Ammendolia, Rossi, Valenti et al., Inhibition of poliovirus type 1 infection by iron-, manganese-and zinc-saturated lactoferrin, Med Microbiol. Immunol
Ong, Young, Ong, COVID-19 in gastroenterology: A clinical perspective, Gut
Superti, Ammendolia, Valenti, Seganti, Antirotaviral activity of milk proteins: Lactoferrin prevents rotavirus infection in the enterocyte-like cell line HT-29, Med Microbiol. Immunol
Suzuki, Wong, Ashida, Schryvers, Lönnerdal, The N1 Domain of Human Lactoferrin Is Required for Internalization by Caco-2 Cells and Targeting to the Nucleus †, Biochemistry
Wrapp, Wang, Corbett, Goldsmith, Hsieh et al., Cryo-EM structure of the 2019-nCoV spike in the prefusion conformation, Science