In Silico
study of possible molecular mechanisms for anti-SARS-CoV-2 action of lactoferrin.
11 preclinical studies support the efficacy of lactoferrin for COVID-19: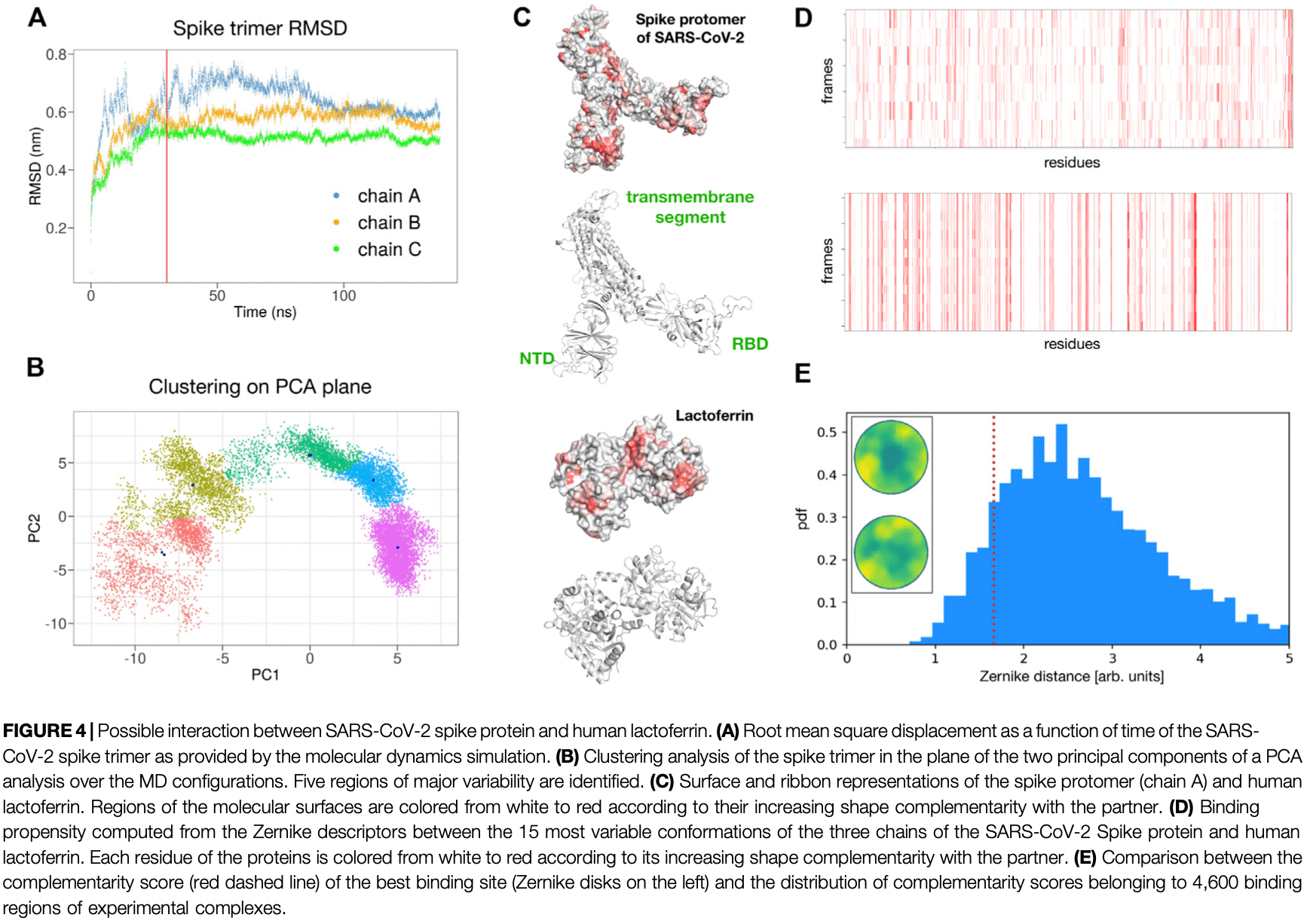 Miotto et al., 15 Feb 2021, peer-reviewed, 6 authors.
Contact: mattia.miotto@roma1.infn.it.
In Silico studies are an important part of preclinical research, however results may be very different in vivo.
Molecular Mechanisms Behind Anti SARS-CoV-2 Action of Lactoferrin
Frontiers in Molecular Biosciences, doi:10.3389/fmolb.2021.607443
Despite the huge effort to contain the infection, the novel SARS-CoV-2 coronavirus has rapidly become pandemic, mainly due to its extremely high human-to-human transmission capability, and a surprisingly high viral charge of symptom-less people. While the seek for a vaccine is still ongoing, promising results have been obtained with antiviral compounds. In particular, lactoferrin is regarded to have beneficial effects both in preventing and soothing the infection. Here, we explore the possible molecular mechanisms with which lactoferrin interferes with SARS-CoV-2 cell invasion, preventing attachment and/or entry of the virus. To this aim, we search for possible interactions lactoferrin may have with virus structural proteins and host receptors. Representing the molecular iso-electron surface of proteins in terms of 2D-Zernike descriptors, we 1) identified putative regions on the lactoferrin surface able to bind sialic acid present on the host cell membrane, sheltering the cell from the virus attachment; 2) showed that no significant shape complementarity is present between lactoferrin and the ACE2 receptor, while 3) two high complementarity regions are found on the N-and C-terminal domains of the SARS-CoV-2 spike protein, hinting at a possible competition between lactoferrin and ACE2 for the binding to the spike protein.
AUTHOR CONTRIBUTIONS EM, AB, and GR conceived research; MM and LB performed molecular dynamics simulations. MM, LR, and EM performed calculations and computational analysis. All authors analyzed results; all authors wrote and revised the paper. Conflict of Interest: The authors declare that the research was conducted in the absence of any commercial or financial relationships that could be construed as a potential conflict of interest. Copyright © 2021 Miotto, Di Rienzo, Bò, Boffi, Ruocco and Milanetti. This is an open-access article distributed under the terms of the Creative Commons Attribution License (CC BY). The use, distribution or reproduction in other forums is permitted, provided the original author(s) and the copyright owner(s) are credited and that the original publication in this journal is cited, in accordance with accepted academic practice. No use, distribution or reproduction is permitted which does not comply with these terms.
References
Berman, Bourne, Westbrook, Zardecki, The protein data bank
Miotto, Rienzo, Gosti, Milanetti, Ruocco, Does blood type affect the covid-19 infection pattern?