In Vitro
study showing that iron-free and iron-saturated bovine lactoferrin inhibited SARS-CoV-2 ancestral and omicron Vero cell infection. Treatment before or during infection was effective, while treatment after infection showed no significant effect. Saturated lactoferrin showed improved efficacy, with 70% vs. 55% reduction for treatment before infection. Electron microscopy confirmed improved efficacy with saturated lactoferrin.The results suggest that lactoferrin treatment may be most effective if given prophylactically or immediately at the onset of COVID-19 symptoms. While both iron-free and iron-saturated lactoferrin inhibited infection, the saturated form appeared more effective, suggesting that iron supplementation may improve lactoferrin's efficacy against COVID-19.
12 preclinical studies support the efficacy of lactoferrin for COVID-19: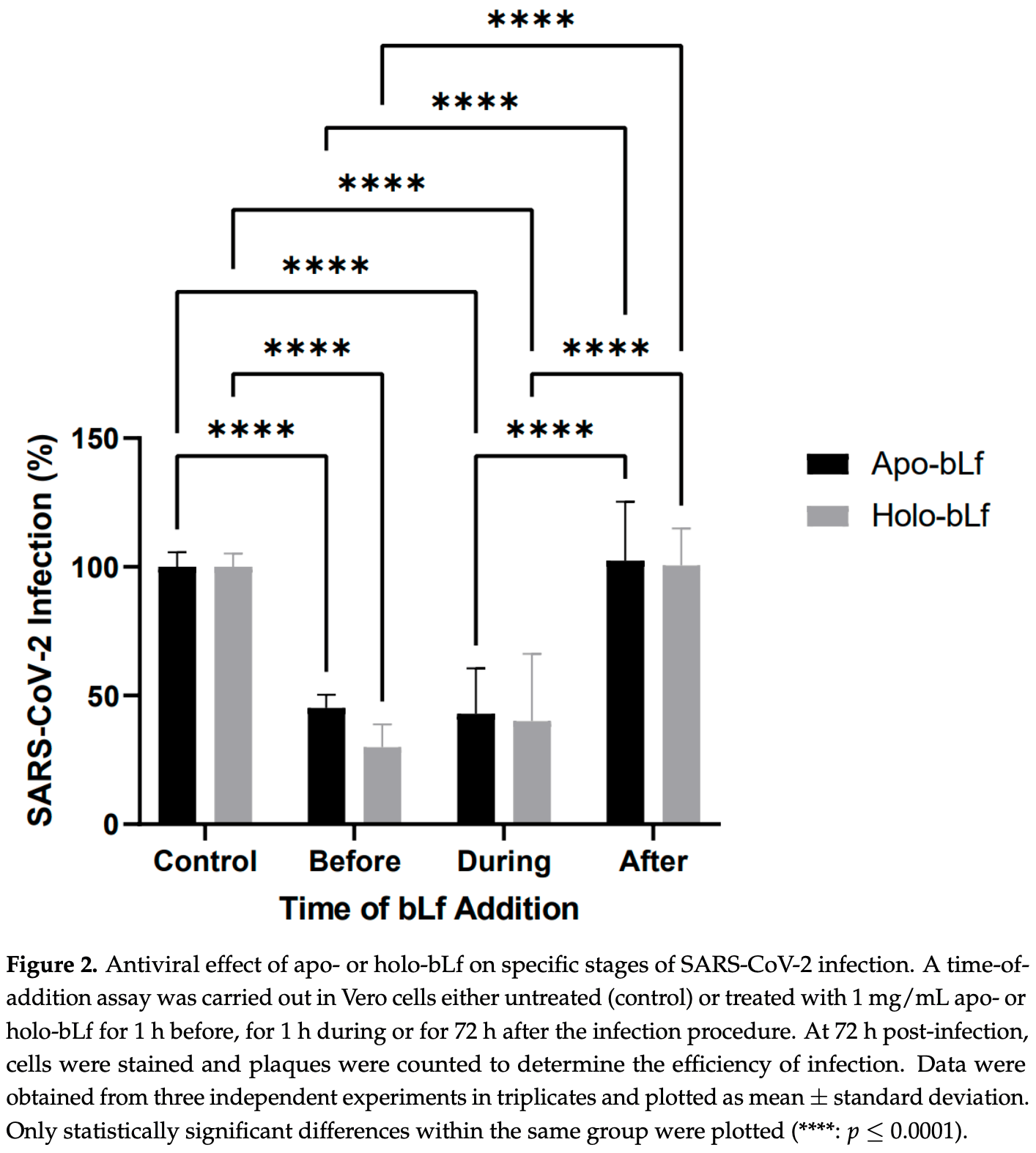 Alves et al., 25 Sep 2023, peer-reviewed, 16 authors.
In Vitro studies are an important part of preclinical research, however results may be very different in vivo.
Inhibition of SARS-CoV-2 Infection in Vero Cells by Bovine Lactoferrin under Different Iron-Saturation States
doi:10.3390/ph16101352
Despite the rapid mass vaccination against COVID-19, the emergence of new SARS-CoV-2 variants of concern, such as omicron, is still a great distress, and new therapeutic options are needed. Bovine lactoferrin (bLf), a multifunctional iron-binding glycoprotein available in unsaturated (apo-bLf) and saturated (holo-bLf) forms, has been shown to exert broad-spectrum antiviral activity against many viruses. In this study, we evaluated the efficacy of both forms of bLf at 1 mg/mL against infection of Vero cells by SARS-CoV-2. As assessed with antiviral assays, an equivalent significant reduction in virus infection by about 70% was observed when either form of bLf was present throughout the infection procedure with the SARS-CoV-2 ancestral or omicron strain. This inhibitory effect seemed to be concentrated during the early steps of virus infection, since a significant reduction in its efficiency by about 60% was observed when apo-or holo-bLf were incubated with the cells before or during virus addition, with no significant difference between the antiviral effects of the distinct iron-saturation states of the protein. However, an ultrastructural analysis of bLf treatment during the early steps of virus infection revealed that holo-bLf was somewhat more effective than apo-bLf in inhibiting virus entry. Together, these data suggest that bLf mainly acts in the early events of SARS-CoV-2 infection and is effective against the ancestral virus as well as its omicron variant. Considering that there are no effective treatments to COVID-19 with tolerable toxicity yet, bLf shows up as a promising candidate.
Conflicts of Interest: The authors declare no conflict of interest. The funders had no role in the design of this study; in the collection, analyses, or interpretation of data; in the writing of the manuscript; or in the decision to publish the results.
References