Retrospective hospitalized patients in Indonesia, showing lower mortality and shorter hospitalization with favipiravir.
risk of death,

85.3% lower

, OR 0.15, p = 0.05
, inverted to make OR<1 favor treatment, RR approximated with OR.
Effect extraction follows pre-specified rules prioritizing more serious outcomes. Submit updates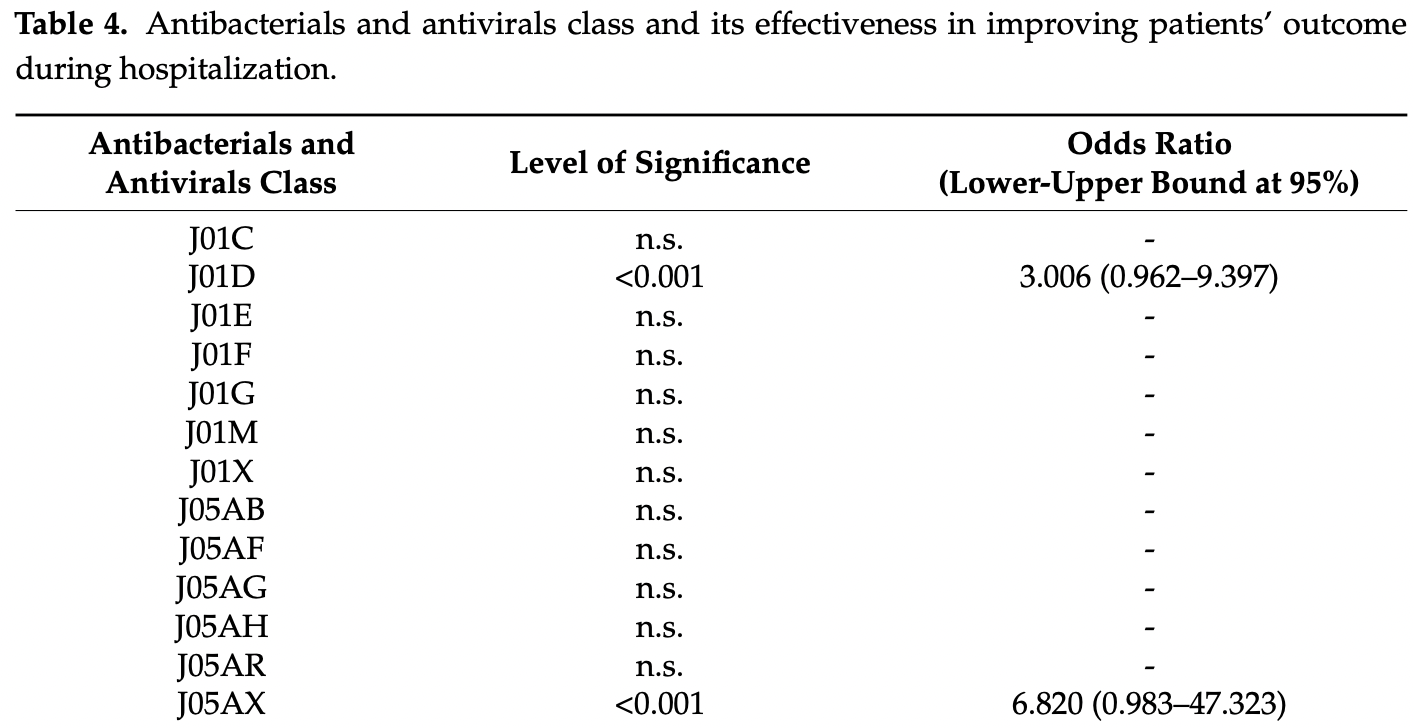 Yulia et al., 7 Mar 2022, retrospective, Indonesia, peer-reviewed, median age 46.0, 10 authors, study period July 2020 - December 2020.
Contact: fauna@staff.ubaya.ac.id (corresponding author), rika_y@staff.ubaya.ac.id, putriayuirma@gmail.com, rudd_apt@yahoo.com, purisafitrihanum@staff.ubaya.ac.id, herwyno@staff.ubaya.ac.id, lestionoapt@gmail.com, deramdani123@gmail.com, abusuquf@yahoo.co.id, kevin.kantono@aut.ac.nz.
Evaluation of Antibacterial and Antiviral Drug Effectiveness in COVID-19 Therapy: A Data-Driven Retrospective Approach
Pathophysiology, doi:10.3390/pathophysiology29010009
The clinical manifestations associated with COVID-19 disease is mainly due to a dysregulated host response related to the overexpression of inflammatory markers. Until recently, only remdesivir had gained FDA approval for COVID-19 hospitalized patients and there are currently no evidence-based therapeutic options or options for prevention of complications that have been established. Some medical treatments such as antivirals, antibacterials, antithrombotics, antipyretics, corticosteroids, interleukin inhibitors, monoclonal antibodies, convalescent plasma, immunostimulants, and vitamin supplements have been utilized. However, there are limited data to support their effectiveness. Hence, this study was attempted to identify and evaluate the effectiveness of antibacterials and antivirals used for COVID-19 using a retrospective cross-sectional approach based on the medical records of adult patients in four hospitals. The number of antibacterials was calculated in defined daily dose (DDD) per 100 bed-days unit. Both mixed-logit regression and analysis of covariance were used to determine the effectiveness of the aforementioned agents in relation to COVID-19 outcome and patients' length of stay. The model was weighed accordingly and covariates (e.g., age) were considered in the model. Heart disease was found to be the most common pre-existing condition of COVID-19 hospitalized patients in this study. Azithromycin, an antibacterial in the Watch category list, was used extensively (33-65 DDD per 100 bed-days). Oseltamivir, an antiviral approved by the FDA for influenza was the most prescribed antiviral. In addition, favipiravir was found to be a significant factor in improving patients' COVID-19 outcomes and decreasing their length of stay. This study strongly suggests that COVID-19 patients' received polypharmacy for their treatment. However, most of the drugs used did not reach statistical significance in improving the patients' condition or decreasing the length of stay. Further studies to support drug use are needed.
Conflicts of Interest: The authors declared no potential conflict of interest with respect to the research, authorship, and/or publication of this article.
References
Baracco, Remdesivir use and hospital length of stay-The paradox of a clinical trial vs real-life use, JAMA
Burhan, Susanto, Nasution, Ginanjar, Pitoyo et al., Tim COVID-19 IDAI
Hartmann-Boyce, Rees, Otunla, Suklan, Schofield et al., Risks of and from SARS-CoV-2 (COVID-19) Infection in People with Asthma. Centre for Evidence-Based Medicine
Mustafa, Tolaj, Baftiu, Fejza, Use of antibiotics in COVID-19 ICU patients, J. Infect. Dev. Ctries
Pourhoseingholi, Vahedi, Rahimzadeh, Sample size calculation in medical studies, Gastroenterol. Hepatol. Bed. Bench
Setiati, Azwar, COVID-19 and Indonesia, Acta Med. Indones
Zhou, Yu, Du, Fan, Liu et al., Clinical course and risk factors for mortality of adult inpatients with COVID-19 in Wuhan, China: A retrospective cohort study, Lancet