Retrospective 1,921 patients in Japan, showing lower progression with molnupiravir use.
Concerns have been raised that the mutagenic mechanism of action may create dangerous variants or cause cancer [Hadj Hassine, Swanstrom]. See [Fountain-Jones, Sanderson, ] for analysis of variants potentially created by molnupiravir.
risk of death,

100% higher

, RR 2.00, p = 0.60
, treatment 2 of 230 (0.9%), control 3 of 690 (0.4%), propensity score matching.
risk of mechanical ventilation,

57.1% lower

, RR 0.43, p = 1.00
, treatment 0 of 230 (0.0%), control 1 of 690 (0.1%), NNT 690, relative risk is not 0 because of continuity correction due to zero events (with reciprocal of the contrasting arm), propensity score matching.
risk of progression,

53.0% lower

, RR 0.47, p = 0.04
, treatment 9 of 230 (3.9%), control 58 of 690 (8.4%), NNT 22, adjusted per study, odds ratio converted to relative risk, propensity score matching, multivariable.
Effect extraction follows pre-specified rules prioritizing more serious outcomes. Submit updates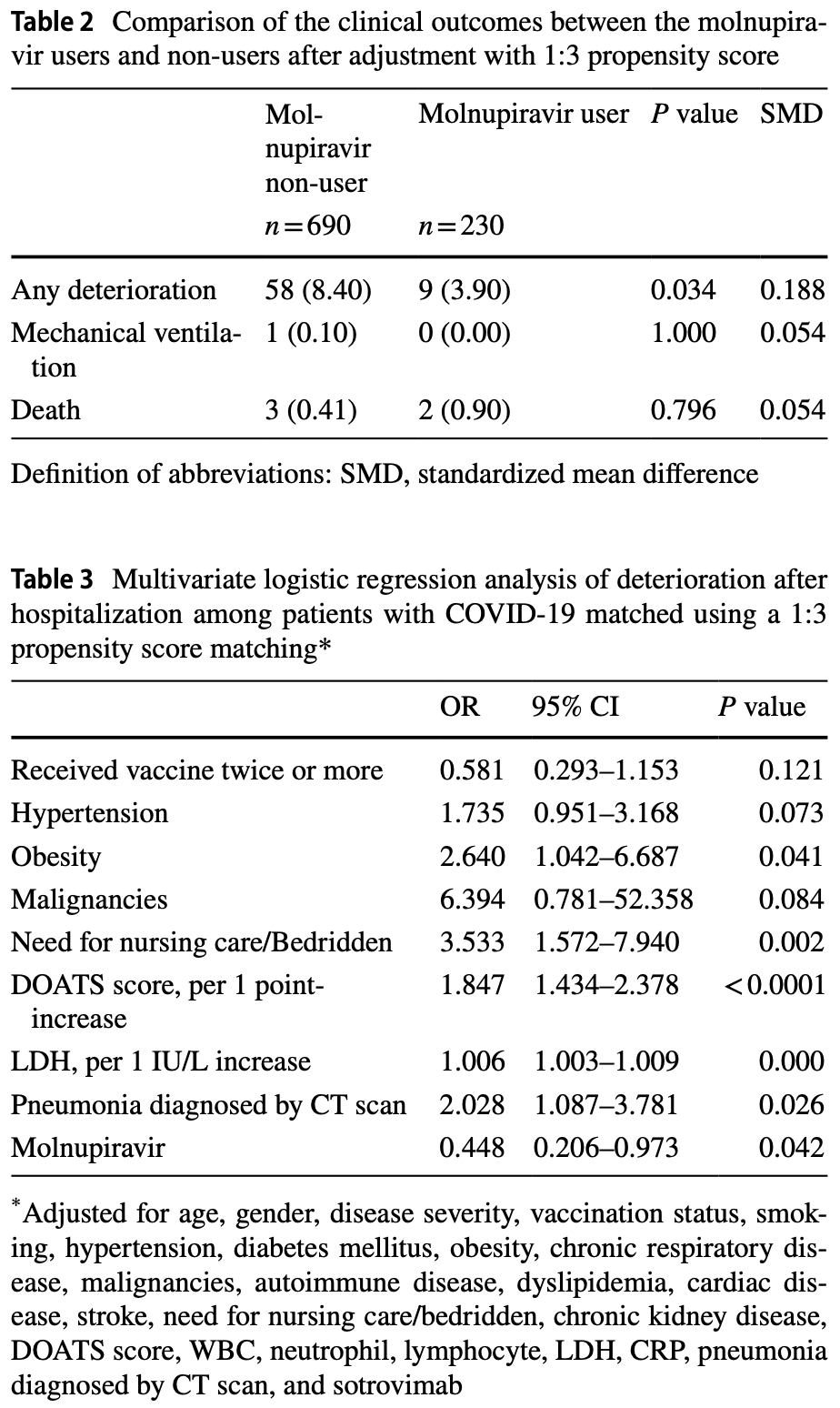 Suzuki et al., 5 Oct 2022, retrospective, Japan, peer-reviewed, 53 authors.
Contact: shibatay@fmu.ac.jp.
Real-world clinical outcomes of treatment with molnupiravir for patients with mild-to-moderate coronavirus disease 2019 during the Omicron variant pandemic
Clinical and Experimental Medicine, doi:10.1007/s10238-022-00949-3
It is unclear whether molnupiravir has a beneficial effect on vaccinated patients infected with the Omicron variant of severe acute respiratory syndrome coronavirus 2 (SARS-CoV-2). We here evaluated the efficacy of molnupiravir in patients with mild-to-moderate coronavirus disease 2019 (COVID-19) during the Omicron variant surge in Fukushima Prefecture, Japan. We enrolled patients with mild-to-moderate COVID-19 who were admitted to hospitals between January and April, 2022. Clinical deterioration after admission was compared between molnupiravir users (n = 230) and non-users (n = 690) after 1:3 propensity score matching. Additionally, we performed forward stepwise multivariate logistic regression analysis to evaluate the association between clinical deterioration after admission and molnupiravir treatment in the 1:3 propensity score-matched subjects. The characteristics of participants in both groups were balanced as indicated by covariates with a standardized mean difference of < 0.1. Regarding comorbidities, there was no imbalance between the two groups, except for the presence of hypertension, dyslipidemia, diabetes mellitus, and cardiac disease. The clinical deterioration rate was significantly lower in the molnupiravir users compared to the non-users (3.90% vs 8.40%; P = 0.034). Multivariate logistic regression analysis demonstrated that receiving molnupiravir was a factor for preventing deterioration (odds ratio 0.448; 95% confidence interval 0.206-0.973; P = 0.042), independent of other covariates. This real-world study demonstrates that molnupiravir contributes to the prevention of deterioration in COVID-19 patients after hospitalization during the Omicron variant phase. Keywords Molnupiravir • COVID-19 • Omicron variant • Real-world • Effectiveness Abbreviations CI Confidence interval CKD Chronic kidney disease COVID-19 Coronavirus disease 2019 CRP C-reactive protein CT Computed tomography ECMO Extracorporeal membrane oxygenation IPTW Inverse probability of treatment weighting LDH Lactate dehydrogenase OR Odds ratio SARS-CoV-2 Severe acute respiratory syndrome coronavirus 2 SMD Standardized mean difference * Yoko Shibata
Author contribution Conception and design: YS and YS. Analysis and drafting the manuscript: YS and YS. Data curation: all authors. Final approval of the manuscript: all authors. Declarations Conflict of interest Y Shibata and H Minemura received lecture fees and research grants from Chugai Pharmaceutical Co., Ltd. Y Shibata and J Saito received lecture fees from GlaxoSmithKline K.K. The other authors report no conflicts of interest related to this study. Ethic approval This study was performed in line with the principles of the Declaration of Helsinki. The protocol was approved by the local ethical committee. Consent to publication The authors have seen the final version of the manuscript and approved submission for publication. Open Access This article is licensed under a Creative Commons Attribution 4.0 International License, which permits use, sharing, adaptation, distribution and reproduction in any medium or format, as long as you give appropriate credit to the original author(s) and the source, provide a link to the Creative Commons licence, and indicate if changes were made. The images or other third party material in this article are included in the article's Creative Commons licence, unless indicated otherwise in a credit line to the material. If material is not included in the article's Creative Commons licence and your intended use is not permitted by statutory regulation or exceeds the permitted use, you will need to obtain permission directly from the..
References
Austin, Stuart, Moving towards best practice when using inverse probability of treatment weighting (IPTW) using the propensity score to estimate causal treatment effects in observational studies, Stat Med
Peng, He, Xue, Yang, Liu et al., Role of Hypertension on the Severity of COVID-19: A Review, J Cardiovasc Pharmacol