Retrospective 269 favipiravir ICU patients in Saudi Arabia and 269 matched controls receiving different treatments, showing no significant difference.
This study is excluded in the after exclusion results of meta analysis: very late stage, ICU patients.
risk of death,

7.0% lower

, RR 0.93, p = 0.49
, treatment 119 of 269 (44.2%), control 128 of 269 (47.6%), NNT 30.
risk of ARDS,

8.6% higher

, RR 1.09, p = 0.63
, treatment 76 of 269 (28.3%), control 70 of 269 (26.0%), severe ARDS.
ICU time,

33.7% higher

, relative time 1.34, p = 0.001
, treatment 269, control 269.
hospitalization time,

36.6% higher

, relative time 1.37, p = 0.001
, treatment 269, control 269.
Effect extraction follows pre-specified rules prioritizing more serious outcomes. Submit updates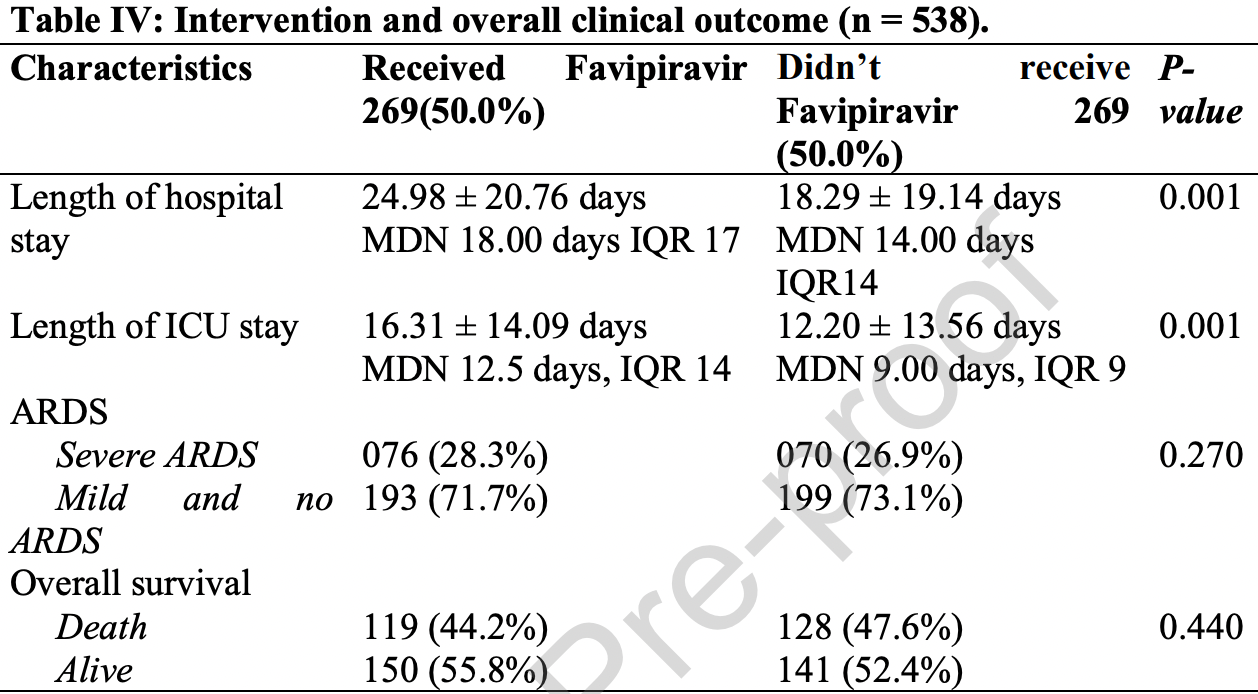 Al Mutair et al., 15 Feb 2022, retrospective, Saudi Arabia, peer-reviewed, 14 authors, study period April 2020 - March 2021, this trial compares with another treatment - results may be better when compared to placebo.
Overview of clinical outcome and therapeutic effectiveness of Favipiravir in patients with COVID-19 admitted to intensive care unit, Riyadh, Saudi Arabia
Journal of Infection and Public Health, doi:10.1016/j.jiph.2022.01.013
This is a PDF file of an article that has undergone enhancements after acceptance, such as the addition of a cover page and metadata, and formatting for readability, but it is not yet the definitive version of record. This version will undergo additional copyediting, typesetting and review before it is published in its final form, but we are providing this version to give early visibility of the article. Please note that, during the production process, errors may be discovered which could affect the content, and all legal disclaimers that apply to the journal pertain.
References
Khorram-Manesh, Goniewicz, Hertelendy, Dulebenets, Handbook of Disaster and Emergency Management
Kocayiğit, Observational study of the effects of Favipiravir vs Lopinavir/Ritonavir on clinical outcomes in critically Ill patients with COVID-19, Journal of Clinical Pharmacy and Therapeutics
Koritala, A narrative review of emergency use authorization versus full FDA approval and its effect on COVID-19 vaccination hesitancy
Lighter, Obesity in Patients Younger Than 60 Years Is a Risk Factor for COVID-19 Hospital Admission, Clin Infect Dis
Mahévas, Clinical efficacy of hydroxychloroquine in patients with covid-19 pneumonia who require oxygen: observational comparative study using routine care data, Bmj
Wang, Zhou, Yang, Xia, Hu et al., Clinical Characteristics of Patients with Severe Pneumonia Caused by the SARS-CoV-2 in