Retrospective 103 outpatients in Greece, showing lower risk of progression with fluvoxamine 100mg bid for 10 days. 2 patients (4%) in the fluvoxamine group had clinical deterioration compared to 8 patients (16%) in the standard care group (
p
<0.05). After adjusting for confounders, fluvoxamine was associated with a lower risk of clinical deterioration (adjusted OR 0.12,
p
=0.02). Fluvoxamine was also associated with improved lymphocyte count. Control patients were during Sep-Nov 2021, and treatment patients Nov-Dec 2021, introducing potential
confounding by time
due to changes in variants, although the change in risk during this period is expected to be relatively low.
risk of ICU admission,

67.3% lower

, RR 0.33, p = 0.49
, treatment 0 of 53 (0.0%), control 1 of 50 (2.0%), NNT 50, relative risk is not 0 because of continuity correction due to zero events (with reciprocal of the contrasting arm).
risk of hospitalization,

84.3% lower

, RR 0.16, p = 0.06
, treatment 1 of 53 (1.9%), control 6 of 50 (12.0%), NNT 9.9.
risk of progression,

86.0% lower

, RR 0.14, p = 0.02
, treatment 2 of 53 (3.8%), control 8 of 50 (16.0%), NNT 8.2, adjusted per study, odds ratio converted to relative risk, multivariable.
Effect extraction follows pre-specified rules prioritizing more serious outcomes. Submit updates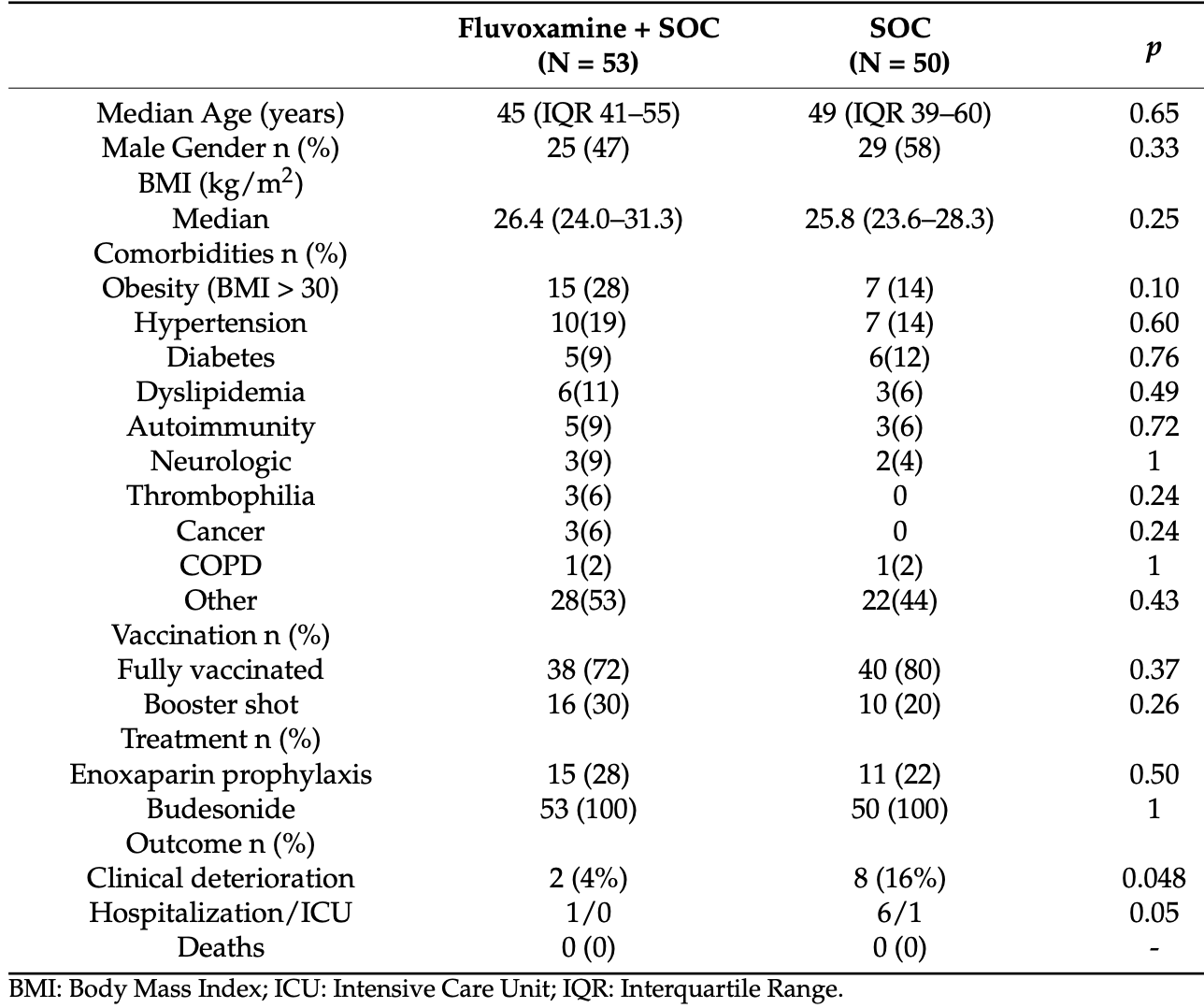 Tsiakalos et al., 12 Aug 2023, retrospective, Greece, peer-reviewed, 5 authors, study period 1 September, 2021 - 31 December, 2021.
Early Fluvoxamine Reduces the Risk for Clinical Deterioration in Symptomatic Outpatients with COVID-19: A Real-World, Retrospective, before-after Analysis
doi:10.3390/microorganisms11082073
Fluvoxamine, a selective serotonin reuptake inhibitor with anti-inflammatory properties, has gained attention as a repurposed drug to treat COVID-19. We aimed to explore the potential benefit of fluvoxamine on outpatients with early SARS-CoV-2 infection. We performed a retrospective study of fluvoxamine adult outpatients with symptomatic COVID-19 disease of early onset (<5 days), in the context of an infectious diseases private practice, between September-December 2021, in Greece. Patients with disease duration ≥5 days, dyspnea and/or hypoxemia with oxygen saturation <94% in room air and pregnancy were excluded from the analysis. In total, 103 patients, 54 males/49 females with a median age of 47 years (39-56), were included in this study. Patient characteristics were balanced before and after the introduction of fluvoxamine. Two patients in the fluvoxamine arm (3.8%; 95% CI 0.4-13) had clinical deterioration compared to 8 patients in the standard of care group (16%; 95% CI 7.2-29.1, p < 0.04). After controlling for age, sex, body mass index > 30 and vaccination status, fluvoxamine was independently associated with a lower risk of clinical deterioration (adj. OR 0.12; 95% CI 0.02-0.70, p < 0.02). Adding on fluvoxamine to treatment for early symptomatic COVID-19 patients may protect them from clinical deterioration and hospitalization, and it is an appealing low-cost, low-toxicity option in the community setting and warrants further investigation.
Author Contributions: A.T. and P.D.Z. conceived the idea, A.T. and P.D.Z. collected and analyzed data, A.T., P.D.Z., K.A., E.P. and G.S. wrote the manuscript, K.A. and P.D.Z. critically corrected the manuscript, A.T. oversaw the study. All authors have read and agreed to the published version of the manuscript. Funding: This research received no external funding. Conflicts of Interest: The authors declare no conflict of interest.
References
Bramante, Buse, Liebovitz, Nicklas, Puskarich et al., Outpatient treatment of COVID-19 and incidence of post-COVID-19
Chalmers, Chotirmall, Rewiring the Immune Response in COVID-19, Am. J. Respir. Crit. Care Med
Coveney, Firthlogit, Stata Module to Calculate Bias Reduction in Logistic Regression
Ebell, Inhaled Budesonide Reduces the Risk of Emergency Department Evaluation or Hospitalization in Early COVID-19, Am. Fam. Physician
Finley, Is Fluvoxamine the Covid Drug We've Been Waiting for? Available online
Prices, None
Rafiee, Hajhashemi, Javanmard, Fluvoxamine inhibits some inflammatory genes expression in LPS/stimulated human endothelial cells, U937 macrophages, and carrageenan-induced paw edema in rat, Iran. J. Basic. Med. Sci
Rosen, Seki, Fernández-Castañeda, Beiter, Eccles et al., Modulation of the sigma-1 receptor-IRE1 pathway is beneficial in preclinical models of inflammation and sepsis, Sci. Transl. Med
Wang, Hu, Hu, Zhu, Liu et al., Clinical Characteristics of 138 Hospitalized Patients with 2019 Novel Coronavirus-Infected Pneumonia in Wuhan
Zhou, Yu, Du, Fan, Liu et al., Clinical course and risk factors for mortality of adult inpatients with COVID-19 in Wuhan