Retrospective 117 consecutive COVID+ hospitalized patients in Japan, showing lower vitamin D levels associated with mechanical ventilation or mortality.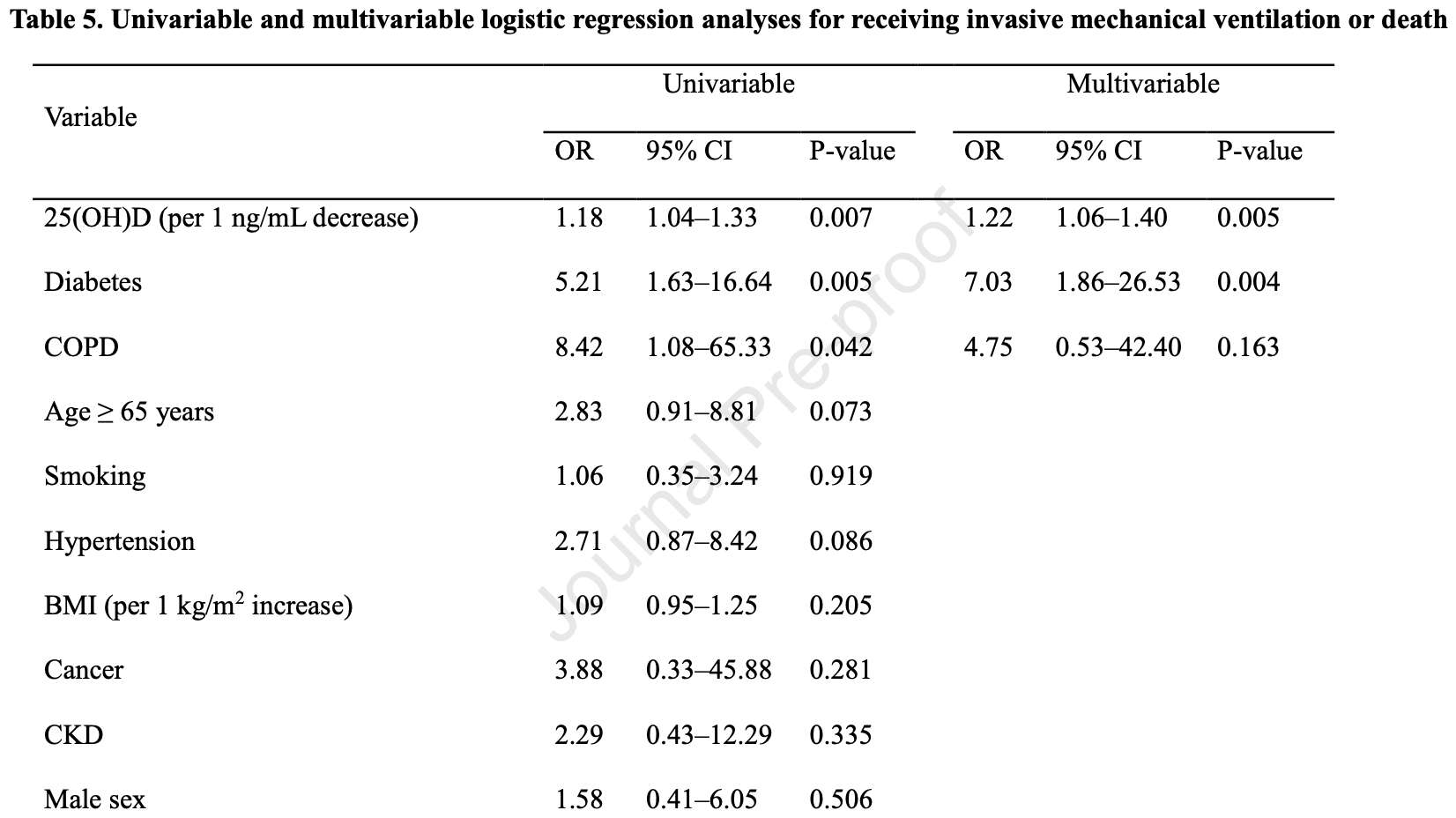 Takase et al., 9 Apr 2022, retrospective, Japan, peer-reviewed, 8 authors, study period 1 October, 2020 - 31 January, 2021.
Association between 25-hydroxyvitamin D levels and COVID-19 severity
Clinical Nutrition ESPEN, doi:10.1016/j.clnesp.2022.04.003
This is a PDF file of an article that has undergone enhancements after acceptance, such as the addition of a cover page and metadata, and formatting for readability, but it is not yet the definitive version of record. This version will undergo additional copyediting, typesetting and review before it is published in its final form, but we are providing this version to give early visibility of the article. Please note that, during the production process, errors may be discovered which could affect the content, and all legal disclaimers that apply to the journal pertain.
Ethics approval and consent on the participation Approval No: zn210703. Competing interests The authors declare that they have no competing interests. Authors' contributions TT and NT conceived and designed this study. ME dispensed blood samples for measuring the serum 25(OH)D levels, whereas TT, NT, and TS pretreated blood samples for that. NT measured the serum 25(OH)D levels. TT and TS collected patient data from electronic medical records. TT and NT analyzed data. HI, TH, KT and NM supervised the conduct of this study. TT and NT drafted the manuscript. All authors have substantially contributed to its revision. All authors have read and approved the final manuscript.
References
Afaghi, Tarki, Rahimi, Besharat, Mirhaidari et al., Prevalence and Clinical Outcomes of Vitamin D Deficiency in COVID-19
Desai, Dirajlal-Fargo, Durieux, Tribout, Labbato et al., Vitamin K & D Deficiencies Are Independently Associated With COVID-19
J O U R N A L P R E, -p r o o f
Luo, Liao, Shen, Li, Cheng, Vitamin D Deficiency Is Associated with COVID-19 Incidence and Disease Severity in Chinese People
Welfare, None