Retrospective 288 hospitalized COVID-19 patients in Italy, showing lower mortality and shorter hospitalization with calcifediol. Results may underestimate the benefits because only higher risk patients with vitamin D deficiency received supplementation. Treated patients also had significantly higher BMI.83% of patients had vitamin D insufficiency (levels <30 ng/mL). Lower vitamin D levels correlated with higher inflammation markers. Patients with severe vitamin D deficiency (<10 ng/mL) had significantly higher mortality compared to those with levels >10 ng/mL.
Meta analysis shows that late stage treatment with
calcitriol / calcifediol
(or paricalcitol, alfacalcidol, etc.) is more effective than
cholecalciferol
:
65%
[41‑79%]
lower risk vs.
38%
[25‑49%]
lower risk. Cholecalciferol requires two hydroxylation steps to become activated - first in the liver to calcifediol, then in the kidney to calcitriol. Calcitriol, paricalcitol, and alfacalcidol are active vitamin D analogs that do not require conversion. This allows them to have more rapid onset of action compared to cholecalciferol. The time delay for cholecalciferol to increase serum calcifediol levels can be 2-3 days, and the delay for converting calcifediol to active calcitriol can be up to 7 days.
This is the
113th of 115 COVID-19 controlled studies
for vitamin D, which collectively show efficacy with
p<0.0000000001 (1 in 30 sextillion)
.
27 studies are RCTs
, which show efficacy with
p=0.00002
.
risk of death,

38.8% lower

, RR 0.61, p = 0.04
, treatment 13 of 56 (23.2%), control 88 of 232 (37.9%), NNT 6.8.
risk of oxygen therapy,

23.1% lower

, RR 0.77, p = 0.22
, treatment 18 of 56 (32.1%), control 97 of 232 (41.8%), NNT 10.
hospitalization time,

34.6% lower

, relative time 0.65, p = 0.01
, treatment 56, control 232.
risk of death,

49.8% lower

, RR 0.50, p = 0.005
, cutoff 10ng/mL,
outcome based on serum levels
.
risk of death,

35.9% lower

, RR 0.64, p = 0.04
, cutoff 20ng/mL,
outcome based on serum levels
.
Effect extraction follows pre-specified rules prioritizing more serious outcomes. Submit updates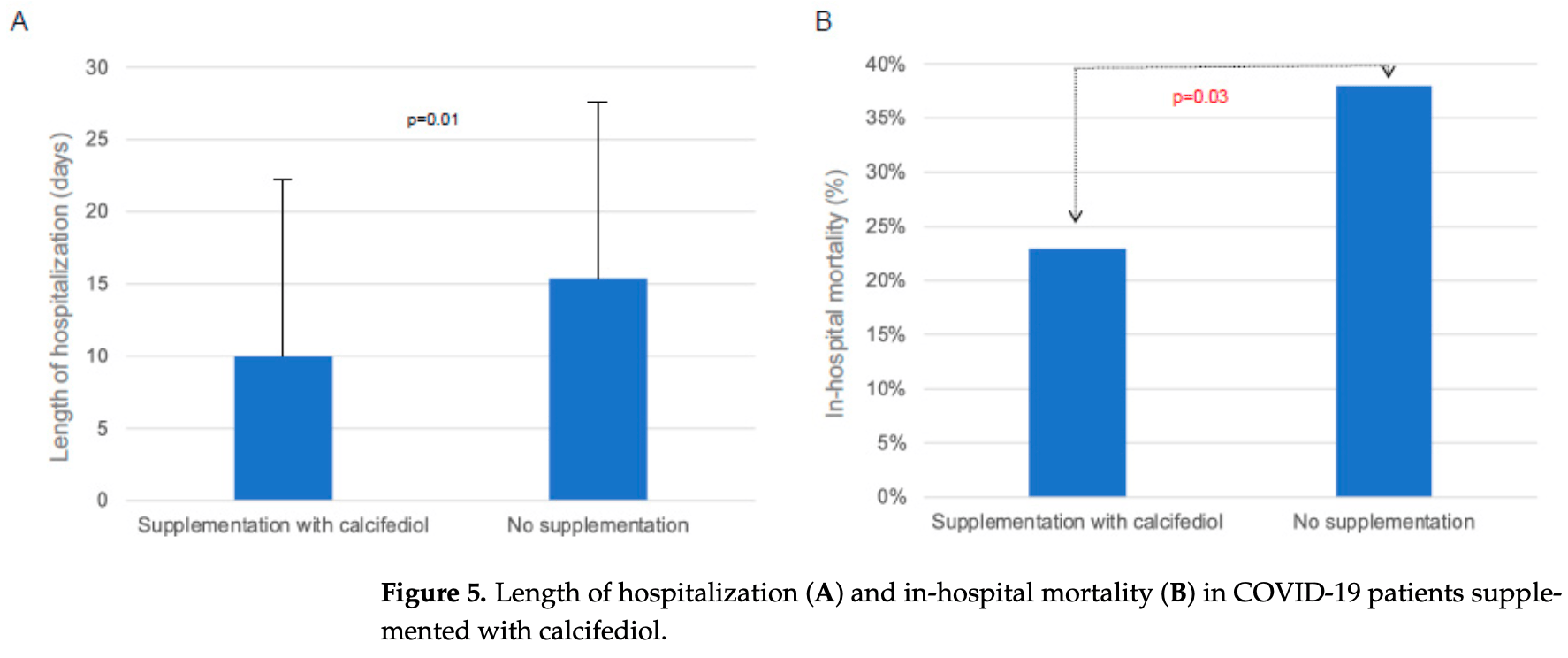 Mingiano et al., 30 Jul 2023, retrospective, Italy, peer-reviewed, 11 authors, study period November 2020 - February 2021, dosage calcifediol 450μg days 1-2, patients with deficiency only.
Contact: merlotti4@unisi.it (corresponding author), mingiano2@student.unisi.it, guido.cavati@student.unisi.it, pirrotta@student.unisi.it, m.calabrese5@student.unisi.it, ranuccio.nuti@unisi.it, stefano.gonnelli@unisi.it, bruno.frediani@unisi.it, luigi.gennari@unisi.it, tommaso.picchioni@uslcentro.toscana.it, alberto.fortini@uslcentro.toscana.it, daniela.merlotti@ao-siena.toscana.it.
Vitamin D Deficiency in COVID-19 Patients and Role of Calcifediol Supplementation
Nutrients, doi:10.3390/nu15153392
Hypovitaminosis D has been associated with worse outcome in respiratory tract infections, with conflicting opinions regarding its role in Coronavirus-19 disease . Our study aimed to evaluate the possible relationship between 25-OH vitamin D (25OHD) values and the following conditions in patients hospitalized for COVID-19: prognosis, mortality, invasive (IV) and non-invasive (NIV) mechanical ventilation, and orotracheal intubation (OTI). A further objective was the analysis of a possible positive effect of supplementation with calcifediol on COVID-19 severity and prognosis. We analyzed 288 patients hospitalized at the San Giovanni di Dio Hospital in Florence and the Santa Maria alle Scotte Hospital in Siena, from November 2020 to February 2021. The 25OHD levels correlated positively with the partial pressure of oxygen and FiO2 (PaO2/FiO2) ratio (r = 0.17; p < 0.05). Furthermore, when we analyzed the patients according to the type of respiratory support, we found that 25OHD levels were markedly reduced in patients who underwent non-invasive ventilation and orotracheal intubation (OTI). The evaluation of the length of hospitalization in our population evidenced a longer duration of hospitalization in patients with severe 25OHD deficiency (<10 ng/mL). Moreover, we found a statistically significant difference in the mortality rate between patients who had 25OHD levels below 10 ng/mL and those with levels above this threshold in the total population (50.8% vs. 25.5%, p = 0.005), as well as between patients with 25OHD levels below 20 ng/mL and those with levels above that threshold (38.4% vs. 24.6%, p = 0.04). Moreover, COVID-19 patients supplemented with calcifediol presented a significantly reduced length of hospitalization (p < 0.05). Interestingly, when we analyzed the possible effects of calcifediol on mortality rate in patients with COVID-19, we found that the percentage of deaths was significantly higher in patients who did not receive any supplementation than in those who were treated with calcifediol (p < 0.05) In conclusion, we have demonstrated with our study the best prognosis of COVID-19 patients with adequate vitamin D levels and patients treated with calcifediol supplementation.
Funding: This research received no external funding. Institutional Review Board Statement: The study was conducted in accordance with the Declaration of Helsinki and approved by the Ethics Committee of Azienda Ospedaliera Universitaria Senese (protocol code: Livelli_VIT_D_COVID19, date of approval: 30 November 2020). Informed Consent Statement: Informed consent was obtained from all subjects involved in the study. Conflicts of Interest: The authors declare no conflict of interest.
References
Akbar, Wibowo, Pranata, Setiabudiawan, Low Serum 25-hydroxyvitamin D (Vitamin D) Level Is Associated with Susceptibility to COVID-19, Severity, and Mortality: A Systematic Review and Meta-Analysis
Campi, Gennari, Merlotti, Mingiano, Frosali et al., Vitamin D and COVID-19 severity and related mortality: A prospective study in Italy, BMC Infect. Dis
Chiodini, Gatti, Soranna, Merlotti, Mingiano et al., Vitamin D Status and SARS-CoV-2 Infection and COVID-19 Clinical Outcomes, Front. Public Health
Gombart, Borregaard, Koeffler, Human cathelicidin antimicrobial peptide (CAMP) gene is a direct target of the vitamin D receptor and is strongly up-regulated in myeloid cells by 1,25-dihydroxyvitamin D3, FASEB J