risk of ARDS,

36.5% lower

, RR 0.64, p = 0.43
, high D levels (≥20ng/ml) 5 of 32 (15.6%), low D levels (<20ng/ml) 15 of 61 (24.6%), NNT 11, severe ARDS.
Effect extraction follows pre-specified rules prioritizing more serious outcomes. Submit updates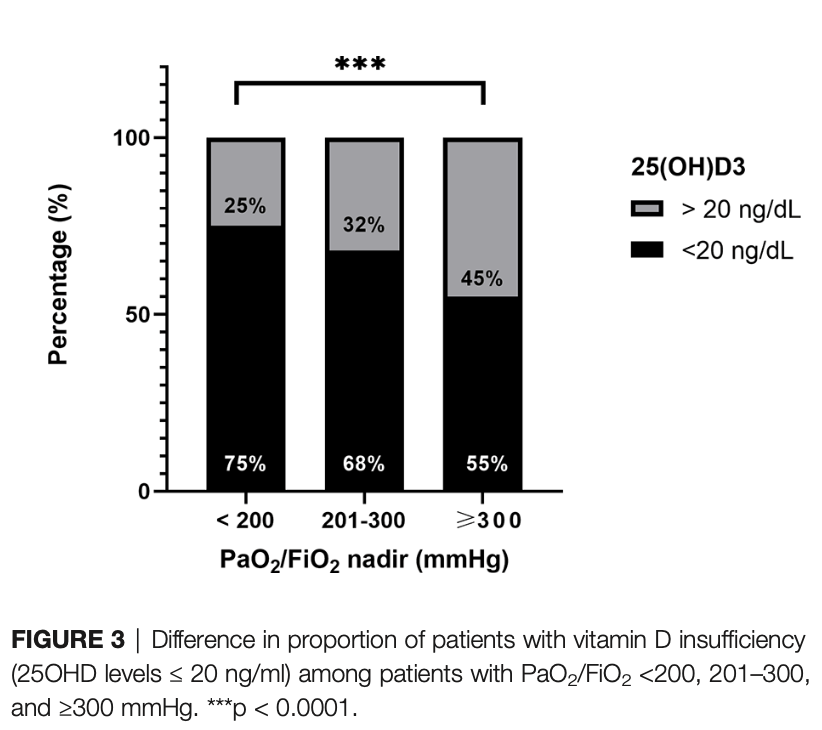 Saponaro et al., 24 Jan 2022, retrospective, Italy, peer-reviewed, 13 authors, study period March 2020 - May 2020.
Is There a Crucial Link Between Vitamin D Status and Inflammatory Response in Patients With COVID-19?
Frontiers in Immunology, doi:10.3389/fimmu.2021.745713
Background: Hypovitaminosis D has been suggested to play a possible role in coronavirus disease 2019 (COVID-19) infection. Methods: The aim of this study is to analyze the relationship between vitamin D status and a biochemical panel of inflammatory markers in a cohort of patients with COVID-19. A secondary endpoint was to evaluate the correlation between 25OHD levels and the severity of the disease. Ninety-three consecutive patients with COVID-19-related pneumonia were evaluated from March to May 2020 in two hospital units in Pisa, in whom biochemical inflammatory markers, 25OHD levels, P/F ratio at nadir during hospitalization, and complete clinical data were available. Results: Sixty-five percent of patients presented hypovitaminosis D (25OHD ≤ 20 ng/ml) and showed significantly higher IL
Conflict of Interest: The authors declare that the research was conducted in the absence of any commercial or financial relationships that could be construed as a potential conflict of interest. Publisher's Note: All claims expressed in this article are solely those of the authors and do not necessarily represent those of their affiliated organizations, or those of the publisher, the editors and the reviewers. Any product that may be evaluated in this article, or claim that may be made by its manufacturer, is not guaranteed or endorsed by the publisher.
References
Entezari-Maleki, Talasaz, Salarifar, Hadjibabaie, Javadi et al., Plasma Vitamin D Status and Its Correlation With Risk Factors of Thrombosis, P-Selectin and Hs-CRP Level in Patients With Venous Thromboembolism; the First Study of Iranian Population, Iran J Pharm Res
Larner, Adams, Hewison, Regulation of Renal and Extrarenal 1a-Hydroxylase
Saba, Frascarelli, Campi, The Role of Tandem Mass Spectrometry in Clinical Chemistry: Quantification of Steroid Hormones and Vitamin D, Compr Anal Chem