Retrospective 763 hospitalized COVID-19 patients showing no significant difference in outcomes based on serum levels. Unadjusted results show non-significantly lower risk of critical severity, death, and complications with vitamin D sufficiency, while the adjusted results show non-significant increases for critical severity and death. Authors present categorical unadjusted results, while adjusted results are only presented for continuous levels, raising questions. Authors adjust for vitamin D supplementation, which may have attenuated benefits. Vitamin D levels were measured within 30 days before or after hospital admission, confounding results due to the change in levels based on timing with respect to infection. Authors do not provide results for outcomes based on supplementation, which may be of greater interest and would provide additional data on low dose supplementation.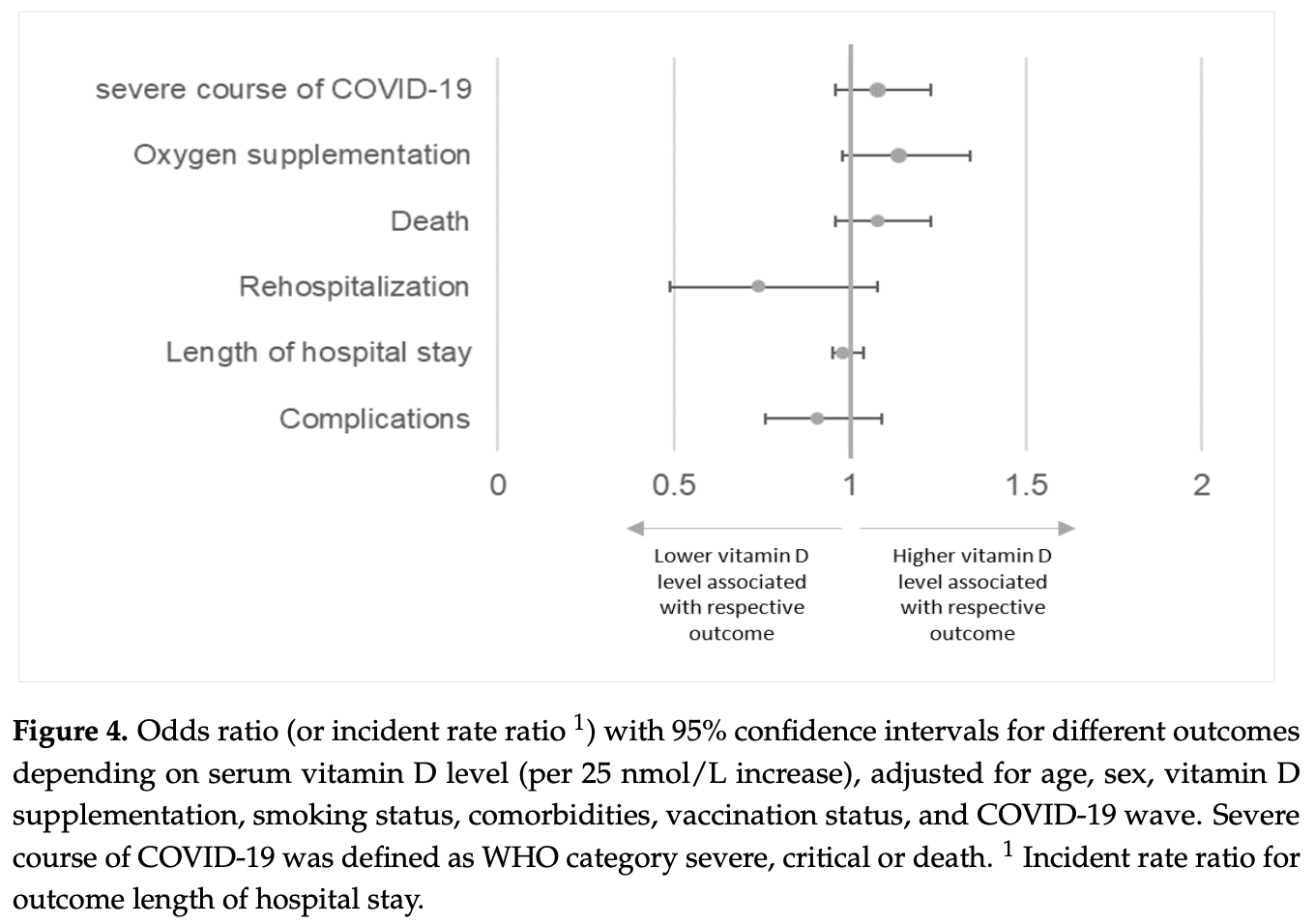 Mbata et al., 25 Aug 2023, retrospective, Switzerland, peer-reviewed, 9 authors, study period January 2020 - December 2021.
Contact: joerg.leuppi@ksbl.ch (corresponding author).
Is Serum 25-Hydroxyvitamin D Level Associated with Severity of COVID-19? A Retrospective Study
Journal of Clinical Medicine, doi:10.3390/jcm12175520
1) Background: SARS-COV2 infection has a clinical spectrum ranging from asymptomatic infection to COVID-19 with acute respiratory distress syndrome (ARDS). Although vitamin D deficiency is often found in patients with ARDS, its role in COVID-19 is not clear. The aim of this study was to explore a possible association between serum 25-hydroxyvitamin D levels and the severity of COVID-19 in hospitalised patients. (2) Methods: In this retrospective observational study, we analysed data from 763 patients hospitalised for COVID-19 in 2020 and 2021. Patients were included in the study if serum 25-hydroxyvitamin D was assessed 30 days before or after hospital admission. Vitamin D deficiency was defined as <50 nmol/L (<20 ng/mL). The primary outcome was COVID-19 severity. (3) Results: The overall median serum 25-hydroxyvitamin D level was 54 nmol/L (IQR 35-76); 47% of the patients were vitamin D deficient. Most patients had mild to moderate COVID-19 and no differences were observed between vitamin D deficient and non-deficient patients (81% vs. 84% of patients, respectively p = 0.829). (4) Conclusion: No association was found between serum 25-hydroxyvitamin D levels and COVID-19 severity in this large observational study conducted over 2 years of the pandemic.
Informed Consent Statement: All patients whose written informed consent was obtained and those whose consent exception was permitted by the ethics committee were included in the study. Patients who had declined general consent for the use of health-related data and samples for research purposes were excluded. Conflicts of Interest: Jörg D. Leuppi has received unrestricted grant money unrelated to the project from AstraZeneca AG Switzerland, Boehringer GmbH Switzerland, GSK AG Switzerland and Merck Sharp & Dohme AG Switzerland. All authors declare that the research was conducted in the absence of any commercial or financial relationships that could be construed as a potential conflict of interest.
References
Brigham, Hospital, None
Chen, Zhou, Dong, Qu, Gong et al., Epidemiological and clinical characteristics of 99 cases of 2019 novel coronavirus pneumonia in Wuhan, China: A descriptive study, Lancet
Dawson-Hughes, Patient Education: Vitamin D Deficiency (Beyond the Basics). Available online
Drame, Cofais, Hentzien, Proye, Coulibaly et al., Relation between Vitamin D and COVID-19 in Aged People: A Systematic Review, Nutrients
Hastie, Pell, Sattar, Vitamin D and COVID-19 infection and mortality in UK Biobank, Eur. J. Nutr
Syed Mohd, Mishra, Ashraf, Vitamin D and Its Relationship with the Pathways Related to Thrombosis and Various Diseases
Ulitsky, Ananthakrishnan, Naik, Skaros, Zadvornova et al., Vitamin D deficiency in patients with inflammatory bowel disease: Association with disease activity and quality of life, J. Parenter. Enteral. Nutr