Impact of Serum 25(OH) Vitamin D Level on Mortality in Patients with COVID-19 in Turkey
Retrospective 149 COVID-19 patients, 69.1% with vitamin D deficiency, showing lower vitamin D levels associated with higher mortality.
risk of death,

82.5% lower

, RR 0.17, p < 0.001
, high D levels 5 of 46 (10.9%), low D levels 64 of 103 (62.1%), NNT 2.0, >20nmol/L.
Effect extraction follows pre-specified rules prioritizing more serious outcomes. Submit updates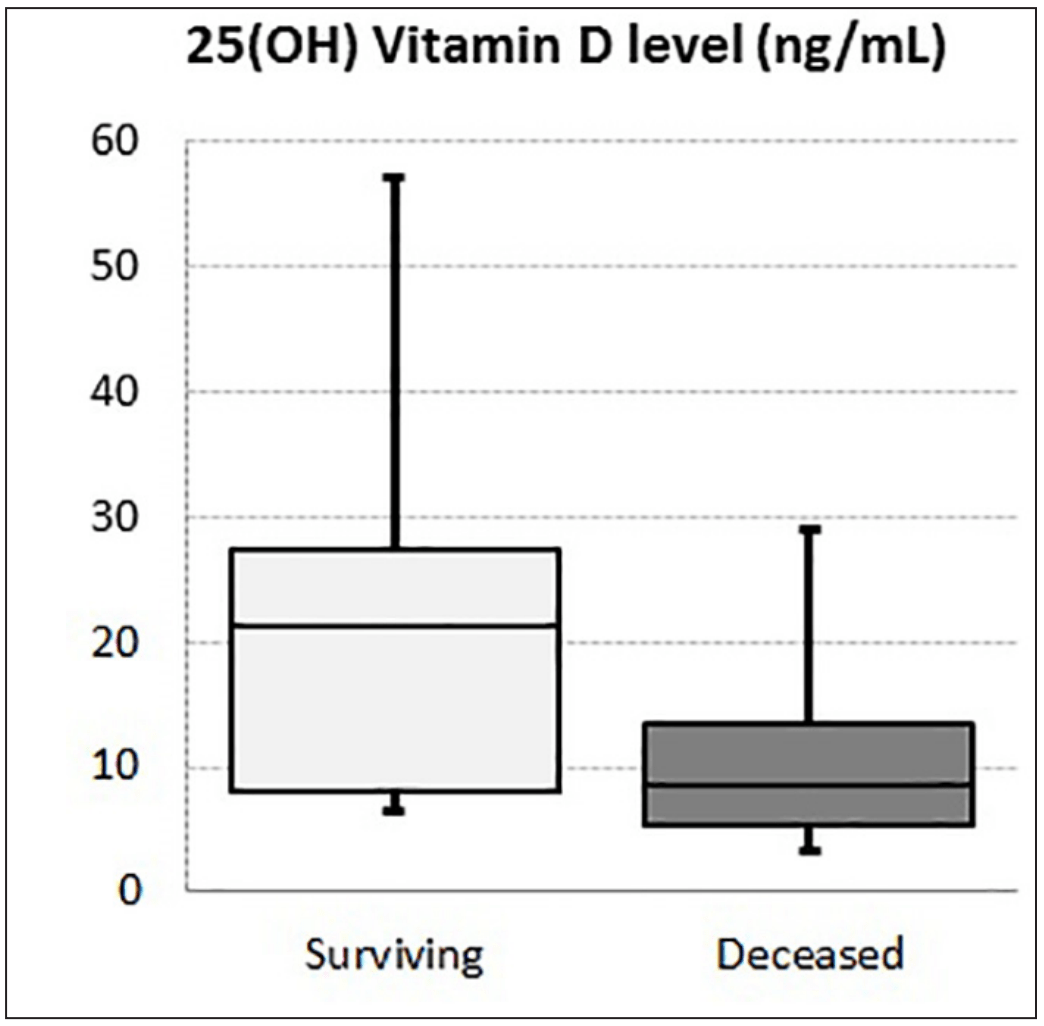 Karahan et al., 5 Oct 2020, retrospective, Turkey, peer-reviewed, 2 authors.
Abstract: J Nutr Health Aging. 2020; © Serdi and Springer-Verlag International SAS, part of Springer Nature IMPACT OF SERUM 25(OH) VITAMIN D LEVEL ON MORTALITY IN PATIENTS WITH COVID-19 IN TURKEY S. KARAHAN, F. KATKAT Bagcilar Egitim ve Arastirma Hastanesi, Turkey. Corresponding author: Serkan Karahan, Bagcilar Egitim ve Arastirma Hastanesi, Turkey, drserkankarahan@gmail.com Abstract: Background: Because of the lack of sufficient data, we aimed to investigate the role of serum 25(OH) vitamin D level on COVID severity and related mortality. Methods: This was a retrospective observational study. Data, including sociodemographic features, clinical characteristics, and laboratory data, and 25(OH) vitamin D levels were recorded for each study participant. Patients were stratified into different vitamin D groups; Normal (Serum 25(OH) vitamin D level >30 ng/mL), Vitamin D insufficiency (21-29 ng/mL), and deficiency (<20 ng/ mL). The severity of COVID was classified according to the Chinese Clinical Guideline for classification of COVID-19 severity. Mortality data were determined for participants. Univariate and multivariate Logistic regression analysis was performed to determine independent predictors of in-hospital mortality. Results: Overall, 149 COVID-19 patients (females 45.6%, mean age 63.5 ± 15.3 (range 24-90 years) years) were included. Fortyseven patients (31.5%) had moderate COVID-19, whereas 102 patients (68.5%) had severe-critical COVID-19. The mean 25(OH) vitamin D level was 15.2 ± 10.3 ng/mL. Thirty-four (22.8%) and 103 (69.1%) patients had vitamin D insufficiency and deficiency, respectively. Mean serum 25(OH) vitamin D level was significantly lower in patients with severe-critical COVID-19 compared with moderate COVID-19 (10.1 ± 6.2 vs. 26.3 ± 8.4 ng/mL, respectively, p<0.001). Vitamin D insufficiency was present in 93.1% of the patients with severe-critical COVID-19. Multivariate logistic regression analysis revealed that only lymphocyte count, white blood cell count, serum albumin and, 25(OH) vitamin D level were independent predictors of mortality. Conclusion: Serum 25(OH) vitamin D was independently associated with mortality in COVID-19 patients. Key words: COVID-19, mortality, prognosis, vitamin D.
Please send us corrections, updates, or comments. Vaccines and treatments are complementary. All practical, effective, and safe means should be used based on risk/benefit analysis. No treatment, vaccine, or intervention is 100% available and effective for all current and future variants. We do not provide medical advice. Before taking any medication, consult a qualified physician who can provide personalized advice and details of risks and benefits based on your medical history and situation.
FLCCC
and
WCH
provide treatment protocols.
Submit