80 patient RCT with 40 patients treated with a comprehensive regimen of nutritional support, showing significantly lower mortality with treatment. Treatment contained cholecalciferol, vitamin C, zinc, spirulina maxima, folic acid, glutamine, vegetable protein, selenium, resveratrol, omega-3 fatty acids, l-arginine, magnesium, probiotics, and B-complex IV. Adherence was strictly monitored. This study is excluded in the after exclusion results of meta analysis: combined treatments may contribute more to the effect seen.
risk of death,

85.7% lower

, RR 0.14, p = 0.03
, treatment 1 of 40 (2.5%), control 7 of 40 (17.5%), NNT 6.7.
risk of mechanical ventilation,

57.1% lower

, RR 0.43, p = 0.31
, treatment 3 of 40 (7.5%), control 7 of 40 (17.5%), NNT 10.0.
Effect extraction follows pre-specified rules prioritizing more serious outcomes. Submit updates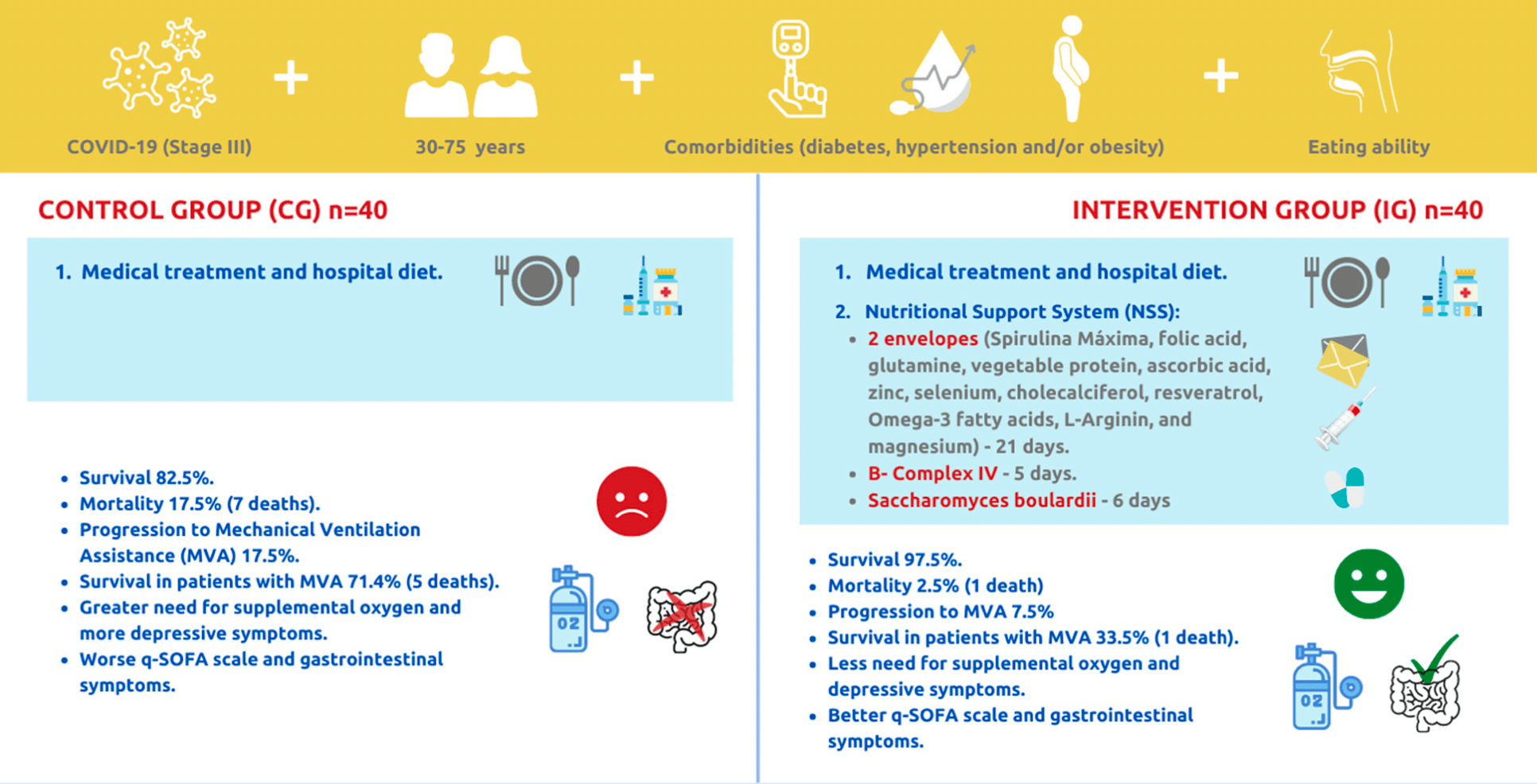 Leal-Martínez et al., 25 Oct 2021, Randomized Controlled Trial, Mexico, peer-reviewed, 7 authors, study period 1 September, 2020 - 28 February, 2021, this trial uses multiple treatments in the treatment arm (combined with comprehensive nutritional support) - results of individual treatments may vary, trial
NCT04507867
(history)
.
Effect of a Nutritional Support System to Increase Survival and Reduce Mortality in Patients with COVID-19 in Stage III and Comorbidities: A Blinded Randomized Controlled Clinical Trial
International Journal of Environmental Research and Public Health, doi:10.3390/ijerph19031172
The COVID-19 evolution depends on immunological capacity. The global hospital mortality rate is 15-20%, but in México it is 46%. There are several therapeutic protocols, however, integral nutrition is not considered. In this study, a Nutritional Support System (NSS) was employed to increase survival and reduce mortality in patients with stage III COVID-19. A randomized, blinded, controlled clinical trial was performed. Eighty patients (aged 30 to 75 years, both sexes) were assigned to (1) "Control Group" (CG) hospital diet and medical treatment or (2) "Intervention Group" (IG) hospital diet, medical treatment, and the NSS (vitamins, minerals, fiber, omega-3, amino acids, Bcomplex, and probiotics). IG significantly increased survival and reduced mortality compared to CG (p = 0.027). IG decreased progression to Mechanical Ventilation Assistance (MVA) by 10%, reduced the intubation period by 15 days, and increased survival in intubated patients by 38% compared to CG. IG showed improvement compared to CG in decrease in supplemental oxygen (p = 0.014), the qSOFA test (p = 0.040), constipation (p = 0.014), the PHQ-9 test (p = 0.003), and in the follow-up, saturation with oxygen (p = 0.030). The NSS increases survival and decreases mortality in patients with stage III COVID-19.
Conflicts of Interest: The authors declare that they have no conflict of interest.
References
Chen, Zhou, Dong, Qu, Gong et al., Epidemiological and clinical characteristics of 99 cases of 2019 novel coronavirus pneumonia in Wuhan, China: A descriptive study, Lancet
Covid19, Who, WHO Coronavirus (COVID-19) Dashboard
Fowler, Iii, None
Leguía Valentín, Niño Montero, Quino Florentini, Coronavirus causante del síndrome respiratorio de Oriente Medio (MERS-CoV), Rev. Med. Carrion
Salud, Coronavirus COVID19 Comunicado Técnico Diario
Salud, Edomex, Estadísticas COVID-19|Centro Estatal de Vigilancia Epidemiológica y Control de Enfermedades
Talanquer, La Letalidad Hospitalaria por COVID-19 en México: Desigualdades Institucionales
Truwit, Hite, Morris, Dewilde, Priday et al., None
Zhao, Li, Ge, Shi, Lv et al., Evaluation of Nutrition Risk and Its Association With Mortality Risk in Severely and Critically Ill COVID-19 Patients, JPEN J. Parenter. Enter. Nutr