Effect of a Nutritional Support System to Increase Survival and Reduce Mortality in Patients with COVID-19 in Stage III and Comorbidities: A Blinded Randomized Controlled Clinical Trial
et al., International Journal of Environmental Research and Public Health,
80 patient RCT with 40 patients treated with a comprehensive regimen of nutritional support, showing significantly lower mortality with treatment. Treatment contained cholecalciferol, vitamin C, zinc, spirulina maxima, folic acid, glutamine, vegetable protein, selenium, resveratrol, omega-3 fatty acids, l-arginine, magnesium, probiotics, and B-complex IV. Adherence was strictly monitored.
NCT04507867
(history)
.
risk of death,

85.7% lower

, RR 0.14, p = 0.03
, treatment 1 of 40 (2.5%), control 7 of 40 (17.5%), NNT 6.7.
risk of mechanical ventilation,

57.1% lower

, RR 0.43, p = 0.31
, treatment 3 of 40 (7.5%), control 7 of 40 (17.5%), NNT 10.0.
Effect extraction follows pre-specified rules prioritizing more serious outcomes. Submit updates
This study is excluded in the after exclusion results of meta analysis: combined treatments may contribute more to the effect seen.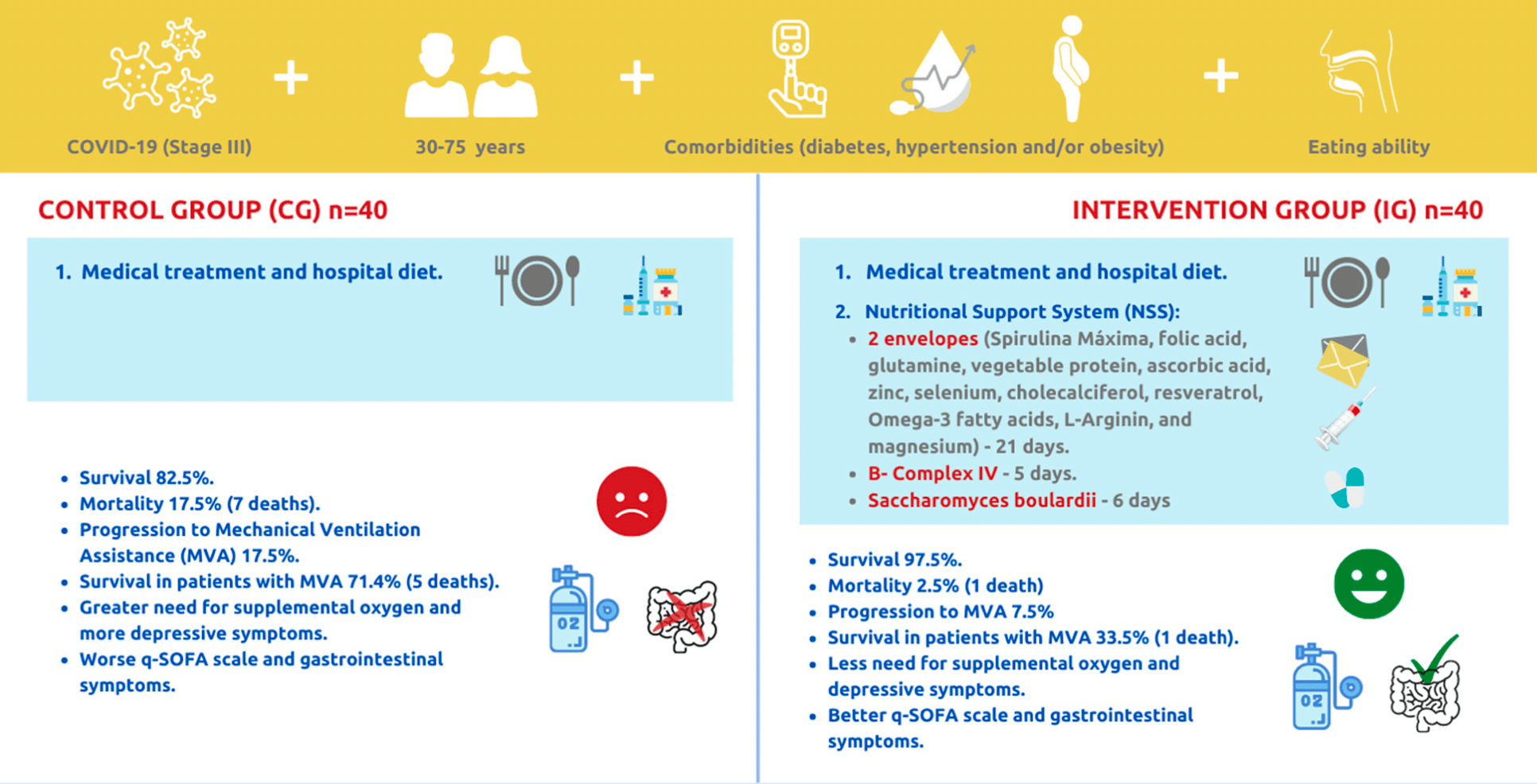 Leal-Martínez et al., 25 Oct 2021, Randomized Controlled Trial, Mexico, peer-reviewed, 7 authors, study period 1 September, 2020 - 28 February, 2021, this trial uses multiple treatments in the treatment arm (combined with comprehensive nutritional support) - results of individual treatments may vary, trial
NCT04507867
(history)
.