In Vitro
and
In Silico
study showing that the combination of favipiravir and umifenovir or camostat mesylate has greater antiviral efficacy than single drug treatment.
2 In Vitro studies
support the efficacy of favipiravir
[Unal, Yildiz Pekoz]
.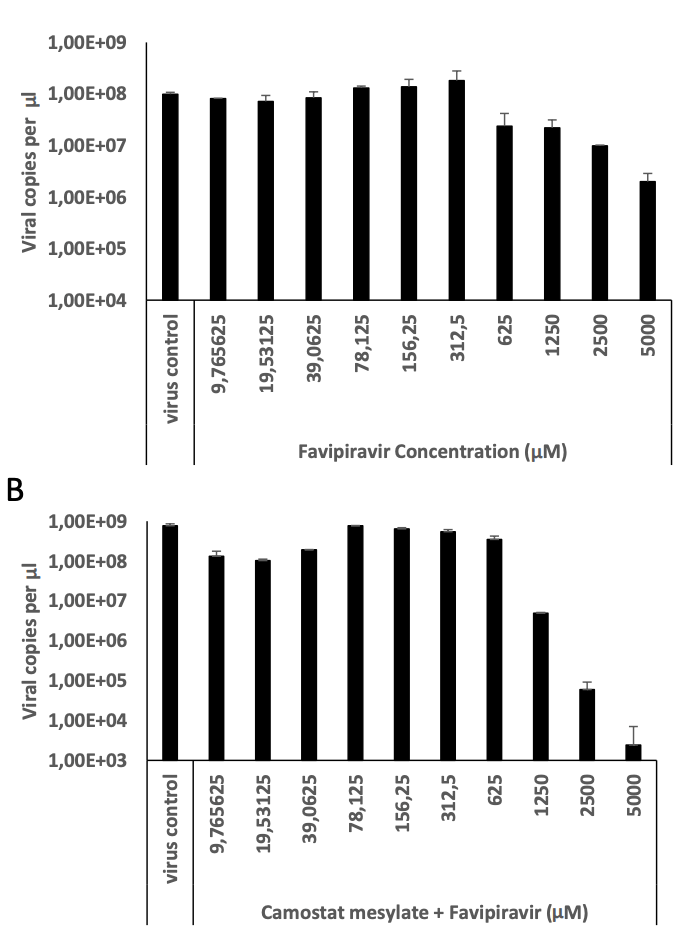 Unal et al., 12 Jan 2022, preprint, 10 authors.
In Vitro studies are an important part of preclinical research, however results may be very different in vivo.
Favipiravir, umifenovir and camostat mesylate: a comparative study against SARS-CoV-2
doi:10.1101/2022.01.11.475889
Since the first cases the coronavirus disease caused by SARS-CoV-2 (COVID-19) reported in December 2019, worldwide continuous efforts have been placed both for the prevention and treatment of this infectious disease. As new variants of the virus emerge, the need for an effective antiviral treatment continues. The concept of preventing SARS-CoV-2 on both pre-entry and post-entry stages has not been much studied. Therefore, we compared the antiviral activities of three antiviral drugs which have been currently used in the clinic. In silico docking analyses and in vitro viral infection in Vero E6 cells were performed to delineate their antiviral effectivity when used alone or in combination. Both in silico and in vitro results suggest that the combinatorial treatment by favipiravir and umifenovir or camostat mesylate has more antiviral activity against SARS-CoV-2 rather than single drug treatment. These results suggest that inhibiting both viral entry and viral replication at the same time is much more effective for the antiviral treatment of SARS-CoV-2.
which have different mechanism of action can eventuate to an effective antiviral thearpy for SARS-CoV-2 infection. Preclincal and clinical studies are ongoing for drug combinations to combat SARS-CoV-2. The concept of preventing the virus on both pre-entry and post-entry stages has not been previously studied. Favipiravir is broad-spectrum antiviral pro-dug which inhibits viral replication by influencing the activiy of RdRp (Delang et al., 2018) . Favipiravir enters cell through cell membrane and phophoribosylated by Hypoxanthine Guanine Phosphoribosyltransferase (HGPRT) to become Favipiravir-ribose-5'-monophosphate (Favipiravir-RMP) (Naesens et al., 2013) . Favipiravir-RMP turns into Favipiravir-ribose-5-diphosphate (Favipiravir-RDP) and Favipiravir-ribose-5'-triphosphate (Favipiravir-RTP) respectively by phosphorylation. Favipiravir-RTP competes with purine basespredominantly GTP-to influence viral RdRp mediated viral replication (Furuta et al., 2013) . Favipiravir-RTP can base pair with both cysteine and uracil base pairs. In our study, the antiviral activity of favipiravir and umifenovir or favipiravir and camostat mesylate combinations are much more effective than mono drug threapies. Doi et al. showed that combination of favipiravir and another TMPRSS2 inhibitor nafamostat mesylate showed promising results indicating combinatorial treatment inhibits both viral replication and viral entry (Doi et al., 2020) . Therefore, it is reasonable to target both viral entry..
References
Frisch, Trucks, Schlegel, Scuseria, Robb et al., Gaussian G09. Gaussian Inc
Halboub, Al-Maweri, Al-Soneidar, COVID-19: A review of the proposed pharmacological treatments, Eur. J. Pharmacol
Li, Li, Wang, Poirier, Huang, Multiple Ligand Simultaneous Docking (MLSD) and Its Applications to Fragment Based Drug Design and Drug Repositioning DISSERTATION