Analysis of 74 COVID-19 patients and 8 controls in Germany, showing low vitamin C levels associated with mortality. There was no significant difference for vitamin A, D, or E levels. Very few group details are provided, for example the age of patients in the control group and each severity group is not provided.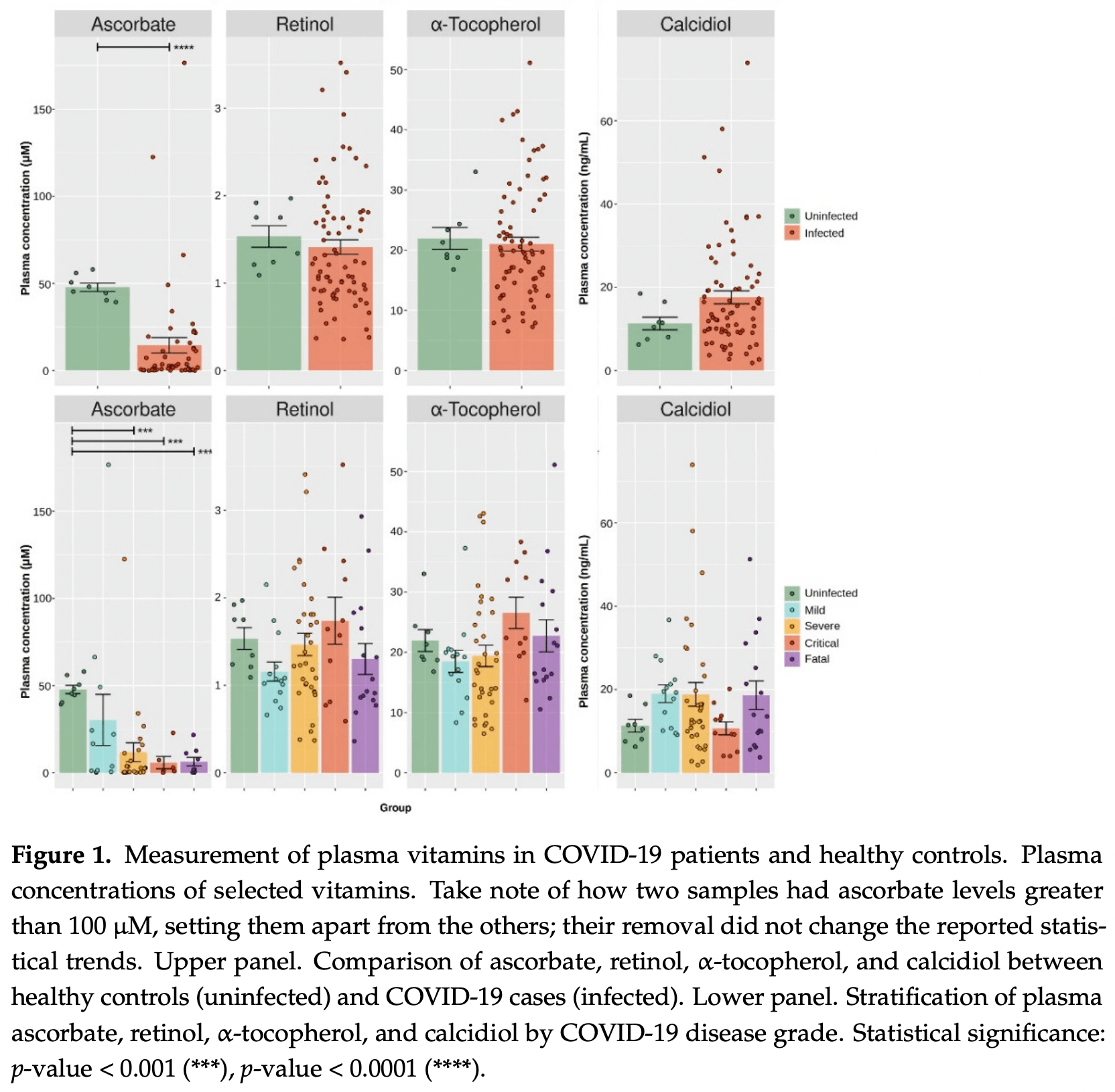 Sinnberg et al., 15 Aug 2022, retrospective, Germany, peer-reviewed, 15 authors, study period February 2020 - November 2020.
Contact: luigi.marongiu@uni-tuebingen.de (corresponding author), sascha.venturelli@uni-hohenheim.de.
Vitamin C Deficiency in Blood Samples of COVID-19 Patients
Antioxidants, doi:10.3390/antiox11081580
Coronavirus disease 2019 (COVID-19) is the most notable pandemic of the modern era. A relationship between ascorbate (vitamin C) and COVID-19 severity is well known, whereas the role of other vitamins is less understood. The present study compared the blood levels of four vitamins in a cohort of COVID-19 patients with different severities and uninfected individuals. Serum concentrations of ascorbate, calcidiol, retinol, and α-tocopherol were measured in a cohort of 74 COVID-19 patients and 8 uninfected volunteers. The blood levels were statistically compared and additional co-morbidity factors were considered. COVID-19 patients had significantly lower plasma ascorbate levels than the controls (p-value < 0.001), and further stratification revealed that the controls had higher levels than fatal, critical, and severe COVID-19 cases (p-values < 0.001). However, no such trend was observed for calcidiol, retinol, or α-tocopherol (p-value ≥ 0.093). Survival analysis showed that plasma ascorbate below 11.4 µM was associated with a lengthy hospitalization and a high risk of death. The results indicated that COVID-19 cases had depleted blood ascorbate associated with poor medical conditions, confirming the role of this vitamin in the outcome of COVID-19 infection.
Conflicts of Interest: The funders had no role in the design of the study; in the collection, analyses, or interpretation of data; in the writing of the manuscript; or in the decision to publish the results.
References
Arvinte, Singh, Marik, Serum Levels of Vitamin C and Vitamin D in a Cohort of Critically Ill COVID-19 Patients of a North American Community Hospital Intensive Care Unit in May 2020: A Pilot Study, Med. Drug Discov
Caballero-García, Pérez-Valdecantos, Guallar, Caballero-Castillo, Roche et al., Effect of Vitamin D Supplementation on Muscle Status in Old Patients Recovering from COVID-19 Infection, Medicina
Carstensen, Plummer, Laara, Hills, Epi, A Package for Statistical Analysis in Epidemiology
Fisher, Kraskauskas, Martin, Farkas, Wegelin et al., None
Hu, Guo, Zhou, Shi, Characteristics of SARS-CoV-2 and COVID-19, Nat. Rev. Microbiol
Jacob, Skala, Omaye, Biochemical indices of human vitamin C status, Am. J. Clin. Nutr
Mccartney, Byrne, Optimisation of Vitamin D Status for Enhanced Immuno-protection against COVID-19, Ir. Med. J
Yang, Wang, Liu, Shang, Cheng et al., Traditional Chinese medicine together with high-dose vitamin C improves the therapeutic effect of western medicine against COVID-19, Am. J. Transl. Res