PSM retrospective 110 patients, 55 treated with high-dose IV vitamin C, showing lower progression to severe disease with treatment. Patients in each group were in different time periods, time based confounding is likely due to SOC improving over time. ChiCTR2000033050.This is the
23rd of 64 COVID-19 controlled studies
for vitamin C, which collectively show efficacy with
p=0.00000022
.
17 studies are RCTs
, which show efficacy with
p=0.00000014
. This study is excluded in the after exclusion results of meta analysis: substantial
confounding by time
likely due to declining usage over the early stages of the pandemic when overall treatment protocols improved dramatically.
risk of progression,

72.0% lower

, RR 0.28, p = 0.03
, treatment 4 of 55 (7.3%), control 12 of 55 (21.8%), NNT 6.9, adjusted per study, PSM.
time to viral-,

7.7% higher

, relative time 1.08, p = 0.79
, treatment 55, control 55, PSM.
Effect extraction follows pre-specified rules prioritizing more serious outcomes. Submit updates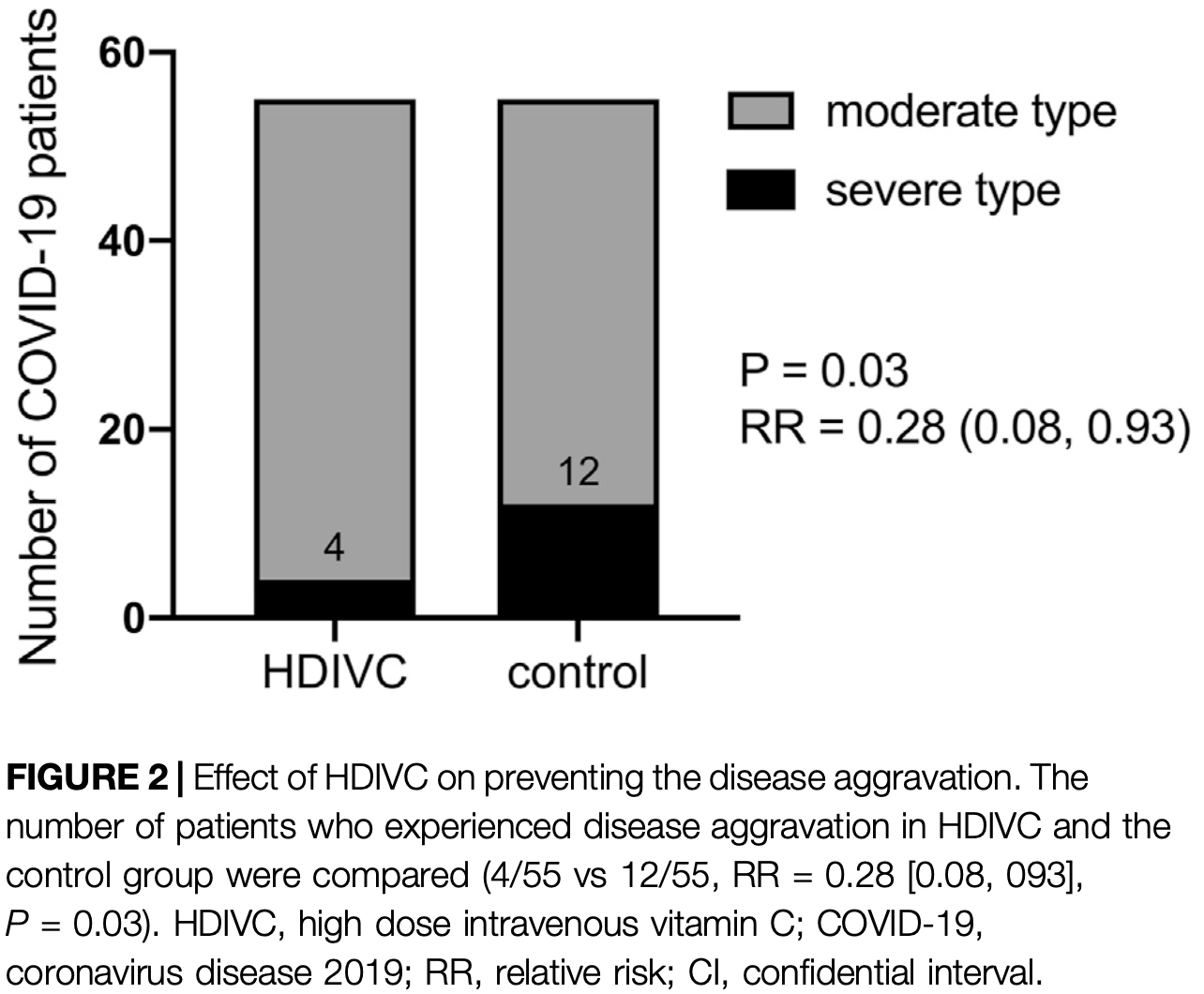 Zhao et al., 22 Apr 2021, retrospective, propensity score matching, China, peer-reviewed, 15 authors, average treatment delay 4.0 days.
High Dose Intravenous Vitamin C for Preventing The Disease Aggravation of Moderate COVID-19 Pneumonia. A Retrospective Propensity Matched Before-After Study
Frontiers in Pharmacology, doi:10.3389/fphar.2021.638556
Background: Coronavirus disease 2019 (COVID-19) pandemic is continuing to impact multiple countries worldwide and effective treatment options are still being developed. In this study, we investigate the potential of high-dose intravenous vitamin C (HDIVC) in the prevention of moderate COVID-19 disease aggravation. Methods: In this retrospective before-after case-matched clinical study, we compare the outcome and clinical courses of patients with moderate COVID-19 patients who were treated with an HDIVC protocol (intravenous injection of vitamin C, 100 mg/kg/day, 1 g/h, for 7 days from admission) during a one-month period (between March 18 and april 18, 2020, HDIVC group) with a control group treated without the HDIVC protocol during the preceding two months (January 18 to March 18, 2020). Patients in the two groups were matched in a 1:1 ratio according to age and gender. Results: The HDIVC and control groups each comprised 55 patients. For the primary outcomes, there was a significant difference in the number of patients that evolved from moderate to severe type between the two groups (HDIVC: 4/55 vs. control: 12/55, relative risk [RR] 0.28 [0.08, 0.93], P 0.03). Compared to the control group, there was a shorter duration of systemic inflammatory response syndrome (SIRS) (P 0.0004) during the first week and lower SIRS occurrence (2/21 vs 10/22, P 0.0086) on Day 7 (6-7 days after
ETHICS STATEMENT The studies involving human participants were reviewed and approved by Ruijin Hospital, Shanghai Jiaotong University school of medicine. The patients/participants provided their written informed consent to participate in this study. AUTHOR CONTRIBUTIONS BZ conceived the hypothesis and wrote the manuscript. ML and PL contributed to data collection. YP, JH, ML, YW, LX, and XQ provided supporting data and contributed intellectual input. YL and JL contribute statistical analysis. WZ and EM conceived hypothesis, provided supporting data, contributed intellectual input and reviewed the manuscript. All authors read and approved the final manuscript. FUNDING The SUPPLEMENTARY MATERIAL The Supplementary Material for this article can be found online at: https://www.frontiersin.org/articles/10.3389/fphar.2021.638556/ full#supplementary-material. Conflict of Interest: The authors declare that the research was conducted in the absence of any commercial or financial relationships that could be construed as a potential conflict of interest.
References
Yang, Li, Li, Hon, Ng et al., Hematological findings in SARS patients and possible mechanisms (review), Int. J. Mol. Med