Analysis of 74 COVID-19 patients and 8 controls in Germany, showing low vitamin C levels associated with mortality. There was no significant difference for vitamin A, D, or E levels. Very few group details are provided, for example the age of patients in the control group and each severity group is not provided.
risk of death,

41.9% lower

, HR 0.58, p = 0.38
, treatment 0 of 15 (0.0%), control 9 of 59 (15.3%), NNT 6.6, adjusted per study, inverted to make HR<1 favor treatment, survival analysis.
risk of mechanical ventilation,

40.9% lower

, HR 0.59, p = 0.17
, treatment 15, control 59, adjusted per study, ventilation time survival analysis.
risk of hospitalization,

60.7% lower

, HR 0.39, p = 0.0498
, treatment 15, control 59, adjusted per study, hospitalization time survival analysis.
Effect extraction follows pre-specified rules prioritizing more serious outcomes. Submit updates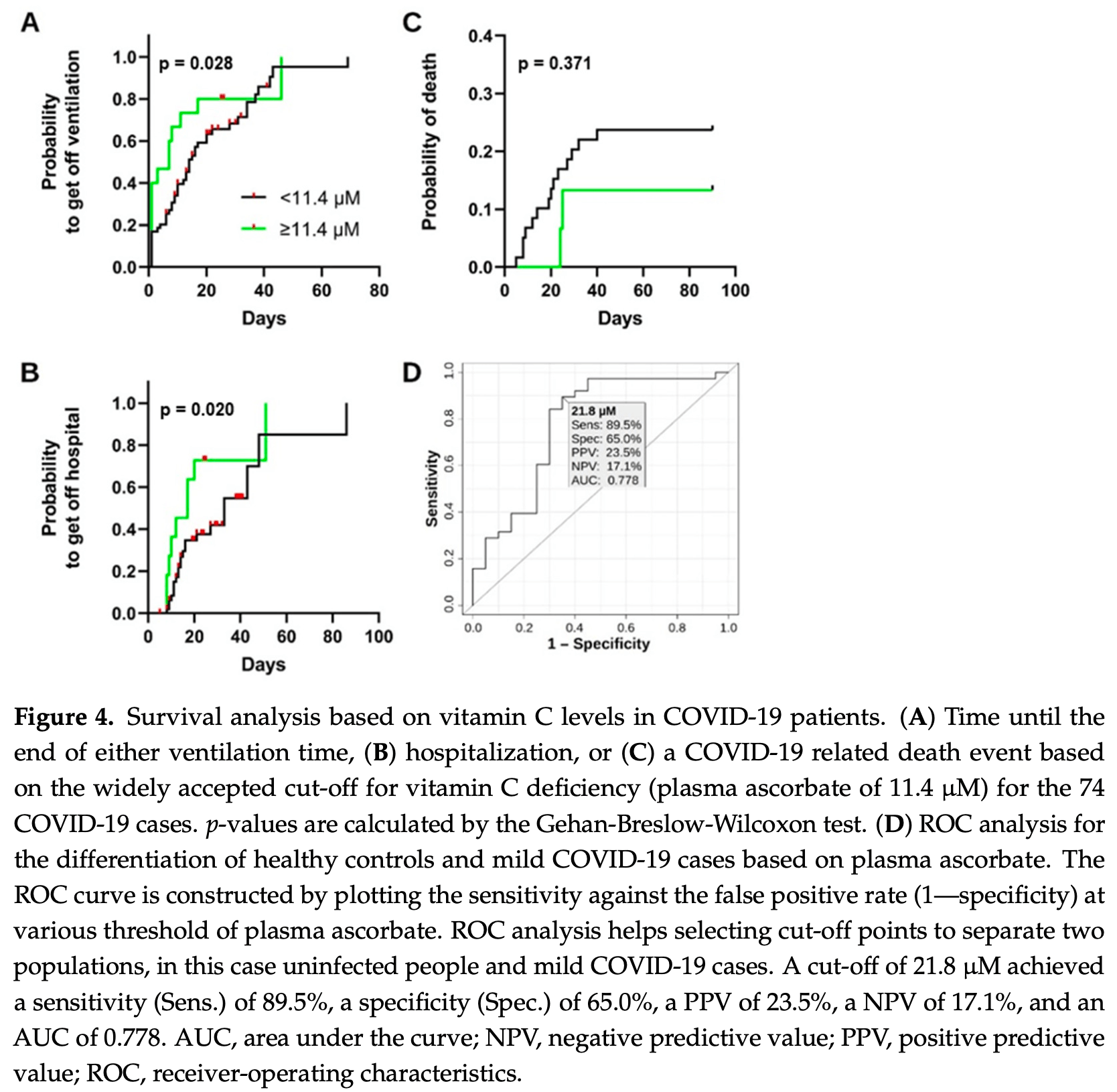 Sinnberg et al., 15 Aug 2022, retrospective, Germany, peer-reviewed, 15 authors, study period February 2020 - November 2020.
Contact: luigi.marongiu@uni-tuebingen.de (corresponding author), sascha.venturelli@uni-hohenheim.de.
Vitamin C Deficiency in Blood Samples of COVID-19 Patients
Antioxidants, doi:10.3390/antiox11081580
Coronavirus disease 2019 (COVID-19) is the most notable pandemic of the modern era. A relationship between ascorbate (vitamin C) and COVID-19 severity is well known, whereas the role of other vitamins is less understood. The present study compared the blood levels of four vitamins in a cohort of COVID-19 patients with different severities and uninfected individuals. Serum concentrations of ascorbate, calcidiol, retinol, and α-tocopherol were measured in a cohort of 74 COVID-19 patients and 8 uninfected volunteers. The blood levels were statistically compared and additional co-morbidity factors were considered. COVID-19 patients had significantly lower plasma ascorbate levels than the controls (p-value < 0.001), and further stratification revealed that the controls had higher levels than fatal, critical, and severe COVID-19 cases (p-values < 0.001). However, no such trend was observed for calcidiol, retinol, or α-tocopherol (p-value ≥ 0.093). Survival analysis showed that plasma ascorbate below 11.4 µM was associated with a lengthy hospitalization and a high risk of death. The results indicated that COVID-19 cases had depleted blood ascorbate associated with poor medical conditions, confirming the role of this vitamin in the outcome of COVID-19 infection.
Conflicts of Interest: The funders had no role in the design of the study; in the collection, analyses, or interpretation of data; in the writing of the manuscript; or in the decision to publish the results.
References
Arvinte, Singh, Marik, Serum Levels of Vitamin C and Vitamin D in a Cohort of Critically Ill COVID-19 Patients of a North American Community Hospital Intensive Care Unit in May 2020: A Pilot Study, Med. Drug Discov
Caballero-García, Pérez-Valdecantos, Guallar, Caballero-Castillo, Roche et al., Effect of Vitamin D Supplementation on Muscle Status in Old Patients Recovering from COVID-19 Infection, Medicina
Carstensen, Plummer, Laara, Hills, Epi, A Package for Statistical Analysis in Epidemiology
Fisher, Kraskauskas, Martin, Farkas, Wegelin et al., None
Hu, Guo, Zhou, Shi, Characteristics of SARS-CoV-2 and COVID-19, Nat. Rev. Microbiol
Jacob, Skala, Omaye, Biochemical indices of human vitamin C status, Am. J. Clin. Nutr
Mccartney, Byrne, Optimisation of Vitamin D Status for Enhanced Immuno-protection against COVID-19, Ir. Med. J
Yang, Wang, Liu, Shang, Cheng et al., Traditional Chinese medicine together with high-dose vitamin C improves the therapeutic effect of western medicine against COVID-19, Am. J. Transl. Res