Retrospective 119 patients in Kazakhstan, showing significantly lower vitamin D levels in COVID-19 patients. There was an association between rs2228570 of the VDR gene and COVID-19. The C allele was associated with reduced likelihood of COVID-19, while the GG genotype increased risk.This is the
170th of 175 COVID-19 sufficiency studies
for vitamin D, which collectively show higher levels reduce risk with
p<0.0000000001 (1 in 18 vigintillion)
.
risk of case,

76.6% lower

, OR 0.23, p = 0.06
, high D levels (≥10ng/ml) 68 of 88 (77.3%) cases, 29 of 31 (93.5%) controls, NNT 4.8, case control OR.
risk of case,

46.2% lower

, OR 0.54, p = 0.17
, high D levels (≥20ng/ml) 50 of 88 (56.8%) cases, 22 of 31 (71.0%) controls, NNT 8.8, case control OR.
Effect extraction follows pre-specified rules prioritizing more serious outcomes. Submit updates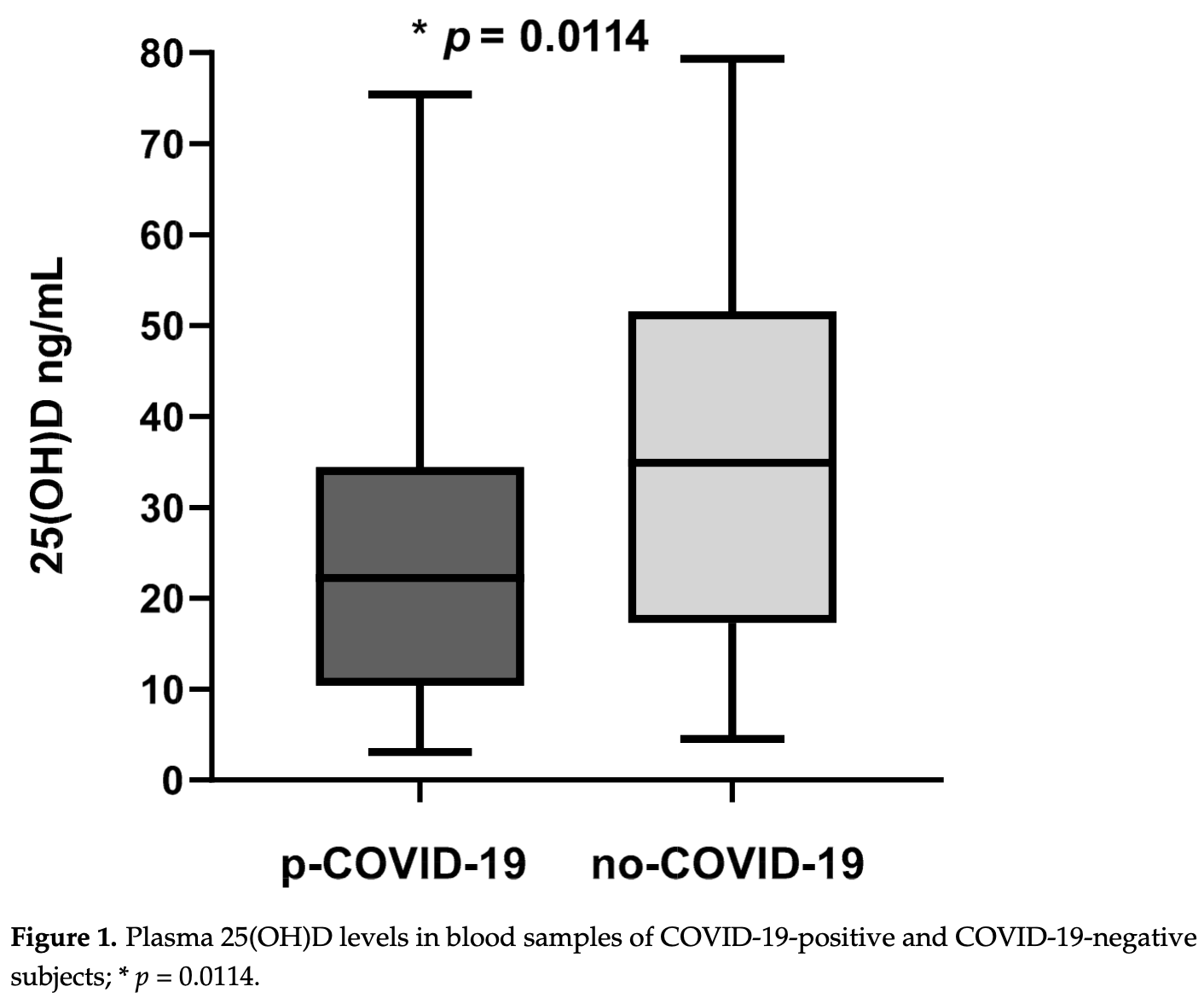 Protas et al., 6 Apr 2023, retrospective, Kazakhstan, peer-reviewed, survey, 6 authors, study period October 2022 - November 2022.
Contact: protas_valeriya.ksu@mail.ru (corresponding author), asbiol@list.ru.
Plasma 25-Hydroxyvitamin D Level and VDR Gene Single Nucleotide Polymorphism rs2228570 Influence on COVID-19 Susceptibility among the Kazakh Ethnic Group—A Pilot Study
Nutrients, doi:10.3390/nu15071781
Low plasma levels of the vitamin D metabolite 25-hydroxyvitamin D [25(OH)D] and the vitamin D receptor (VDR) gene single nucleotide polymorphisms (SNPs) have been associated with the body's susceptibility to infectious diseases, including COVID-19. In this pilot retrospective study, representatives of the Kazakh population (central Kazakhstan) were divided into groups based on the test for IgM and IgG for coronavirus infection. We compared the 25(OH)D plasma levels and concluded that the COVID-19-positive group values (25.17 ng/mL ± 16.65) were statistically lower (p = 0.0114) compared to the COVID-19-negative ones (35.58 ng/mL ± 20.67). There was no association between age, gender and 25(OH)D concentration within the groups (p > 0.05). The genotyping of rs2228570 was performed using a TaqMan Real-Time PCR assay. Allele C predominated among the COVID-19-negative participants and significantly reduced the likelihood of coronavirus infection (p < 0.0001; OR = 0.0804; 95% CI 0.02357-0.2798). There were no statistically significant differences in the frequencies of the A, G and T alleles in the studied groups (p > 0.05). The GG genotype of rs2228570 was associated with a 4.131-fold increased likelihood of COVID-19 infection (p = 0.0288; χ 2 = 5.364; OR = 4.131; 95% CI 1. 223-13.71). Comprehensive studies are required to determine whether low 25(OH)D plasma concentrations and genetic background represent a risk factor for COVID-19 infection.
19, while the GG genotype increased these odds. Further studies on specific groups with a larger sample size and complete data in the Kazakh population are required. Supplementary Materials: The following supporting information can be downloaded at: https: //www.mdpi.com/article/10.3390/nu15071781/s1, Table S1 : Characteristics of study participants; Informed Consent Statement: Informed consent was obtained from all subjects involved in the study.
References
Ali, Role of Vitamin D in Preventing of COVID-19 Infection, Progression and Severity, J. Infect. Public Health
Apaydin, Polat, Dincer Yazan, Ilgin, Elbasan et al., Effects of Vitamin D Receptor Gene Polymorphisms on the Prognosis of COVID-19, Clin. Endocrinol
Biesalski, Vitamin D Deficiency and Co-Morbidities in COVID-19 Patients-A Fatal Relationship?, NFS J
Das, Bhanushali, Lajpal, Kulkarni, Chavan et al., Frequency of FokI and TaqI Polymorphism of Vitamin D Receptor Gene in Indian Population and Its Association with 25-Hydroxyvitamin D Levels, Indian J. Hum. Genet
Kresfelder, Janssen, Bont, Venter, Confirmation of an Association between Single Nucleotide Polymorphisms in the VDR Gene with Respiratory Syncytial Virus Related Disease in South African Children, J. Med. Virol
Muscogiuri, Barrea, Somma, Laudisio, Salzano et al., Sex Differences of Vitamin D Status across BMI Classes: An Observational Prospective Cohort Study, Nutrients
Vallejo, Blümel, Arteaga, Aedo, Tapia et al., Gender Differences in the Prevalence of Vitamin D Deficiency in a Southern Latin American Country: A Pilot Study, Climacteric