Impact of vitamin D deficiency on COVID-19
Analysis of vitamin D deficiency and COVID-19 cases and deaths in 47 countries, showing vitamin D deficiency significantly associated with mortality.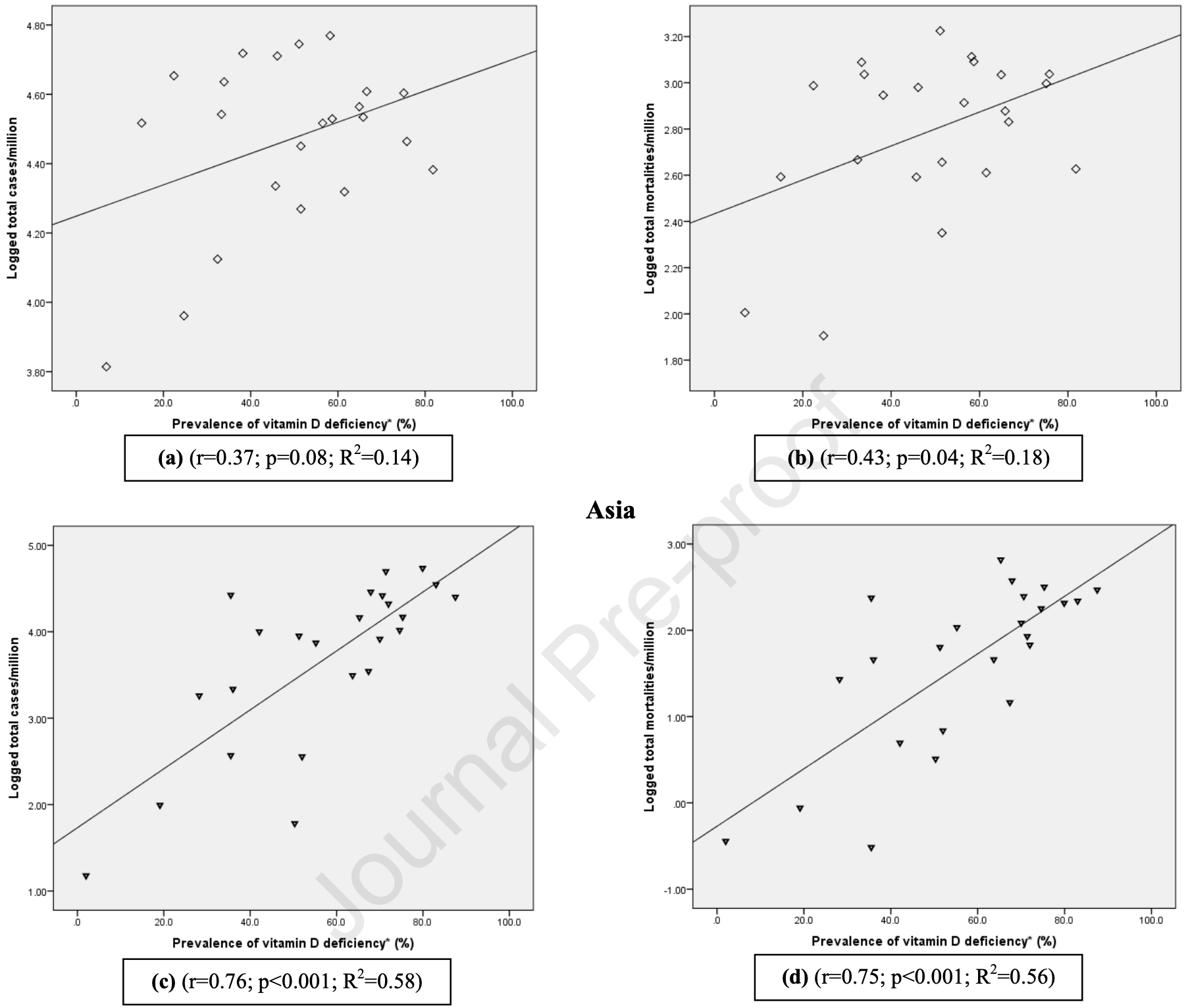 Sooriyaarachchi et al., 29 May 2021, peer-reviewed, 4 authors.
Abstract: Clinical Nutrition ESPEN 44 (2021) 372e378 Contents lists available at ScienceDirect Clinical Nutrition ESPEN journal homepage: http://www.clinicalnutritionespen.com Original article Impact of vitamin D deficiency on COVID-19 Piumika Sooriyaarachchi a, b, Dhanushya T. Jeyakumar b, c, Neil King a, Ranil Jayawardena a, d, * a Queensland University of Technology, School of Exercise & Nutrition Sciences, Brisbane, Queensland, Australia Health and Wellness Unit, Faculty of Medicine, University of Colombo, Colombo, Sri Lanka c Department of Biosystems Technology, Faculty of Technology, Sabaragamuwa University of Sri Lanka, Sri Lanka d Department of Physiology, Faculty of Medicine, University of Colombo, Colombo, Sri Lanka b a r t i c l e i n f o s u m m a r y Article history: Received 11 May 2021 Accepted 14 May 2021 Background & aims: COVID-19 has emerged as a global pandemic affecting millions of people. Vitamin D deficiency is one of the risk factors for increased susceptibility to COVID-19. This study aimed to examine the correlation between the prevalence of vitamin D deficiency and COVID-19 infection and mortality rates among the adult population in European and Asian continents. Methods: Prevalence of vitamin D deficiency in each country was retrieved through literature searching on PubMed® database for the last ten years. As of December, 31st 2020, COVID-19 infections and mortalities per million population were extracted from the 'real time' statistics of the Worldometer website. The association between both vitamin D deficiency and COVID-19 infections and mortalities were explored. Results: Forty seven countries were included in the analysis. The prevalence of vitamin D deficiency ranged from 6.9 to 81.8% in European countries and 2.0e87.5% in Asian countries. Significantly positive correlations were observed for both COVID-19 infection (r ¼ 0.76; p < 0.001) and mortality rates (r ¼ 0.75; p < 0.001) in the Asian continent. The correlation values for the infections and mortality rates in the European continent were (r ¼ 0.37; p ¼ 0.08) and (r ¼ 0.43; p ¼ 0.04) respectively. When both the continents were combined, the correlation results for both infection (r ¼ 0.42; p ¼ 0.003) and mortality (r ¼ 0.35; p ¼ 0.016) rates with vitamin D deficiency values remained significant. Conclusion: Prevalence of vitamin D deficiency was significantly associated with the mortality rate of COVID-19 in Europe and Asia. The association between the infection rate and prevalence of vitamin D deficiency was significant for Asia only. Both the associations were significant when the two continents were combined in the analysis. Therefore we suggest that vitamin D supplementation could play a key role in the prevention and/or treatment of the COVID-19 patients. © 2021 European Society for Clinical Nutrition and Metabolism. Published by Elsevier Ltd. All rights reserved. Keywords: Vitamin D Deficiency COVID-19 Infections Mortalities Europe Asia
Please send us corrections, updates, or comments. Vaccines and treatments are complementary. All practical, effective, and safe means should be used based on risk/benefit analysis. No treatment, vaccine, or intervention is 100% available and effective for all current and future variants. We do not provide medical advice. Before taking any medication, consult a qualified physician who can provide personalized advice and details of risks and benefits based on your medical history and situation.
FLCCC
and
WCH
provide treatment protocols.
Submit