PSM retrospective 2,661 molnupiravir patients in Israel, showing lower mortality and severe COVID-19, without statistical significance. Significant benefit was seen in some subgroups, and significant harm was seen in the <75 subgroup.
Concerns have been raised that the mutagenic mechanism of action may create dangerous variants or cause cancer [Hadj Hassine, Swanstrom]. See [Fountain-Jones, Sanderson, ] for analysis of variants potentially created by molnupiravir.
risk of death,

19.0% lower

, HR 0.81, p = 0.48
, treatment 22 of 2,661 (0.8%), control 27 of 2,661 (1.0%), NNT 532, propensity score matching.
risk of progression,

17.0% lower

, HR 0.83, p = 0.34
, treatment 50 of 2,661 (1.9%), control 60 of 2,661 (2.3%), NNT 266, severe COVID-19 or COVID-19 mortality, propensity score matching.
risk of severe case,

25.0% lower

, HR 0.75, p = 0.15
, treatment 43 of 2,661 (1.6%), control 57 of 2,661 (2.1%), NNT 190, propensity score matching.
Effect extraction follows pre-specified rules prioritizing more serious outcomes. Submit updates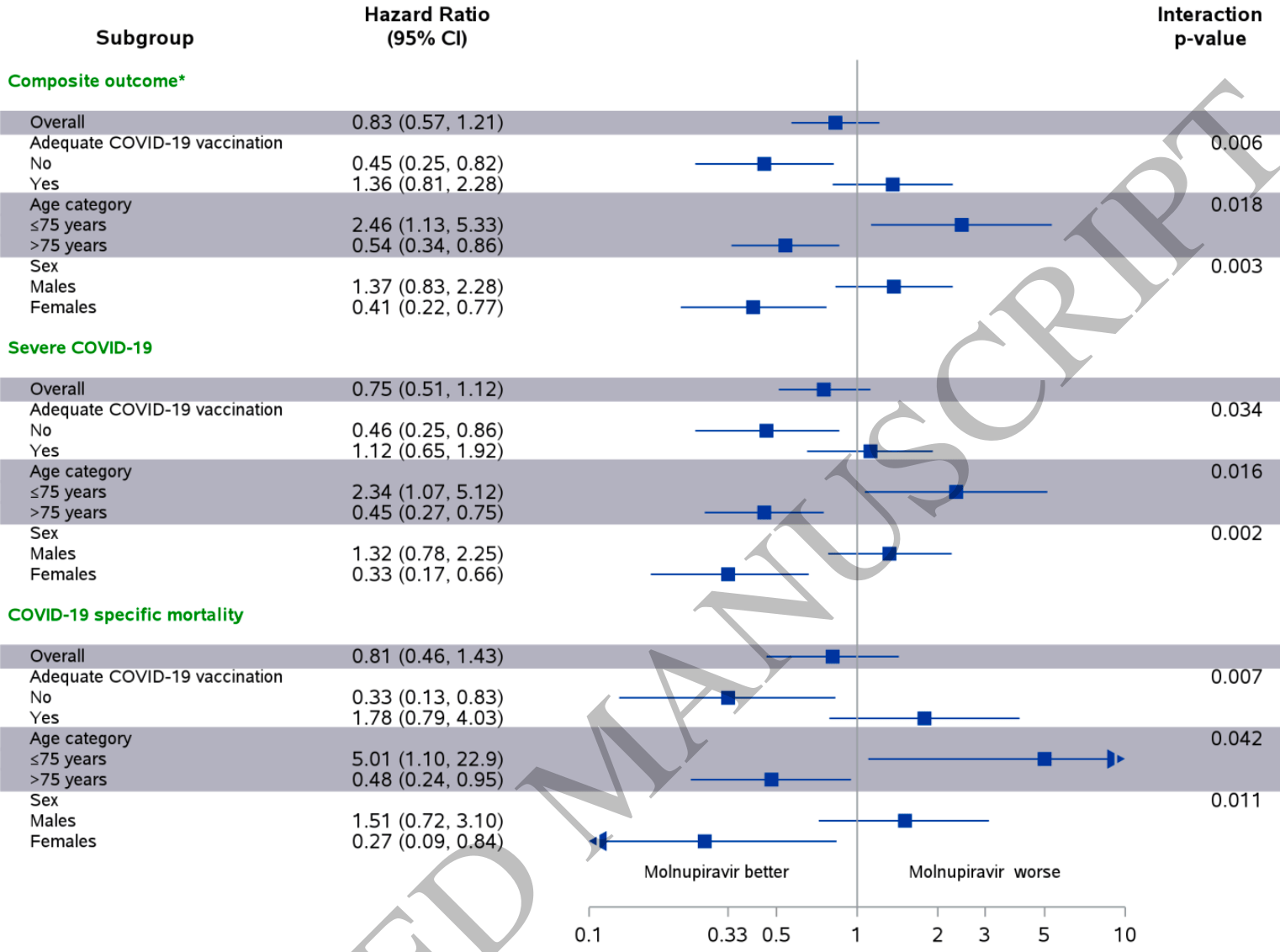 Najjar-Debbiny et al., 20 Sep 2022, retrospective, Israel, peer-reviewed, 8 authors, study period January 2022 - February 2022.
Contact: ronzana@clalit.org.il, ronza.najjar@gmail.com, saliba_wa@clalit.org.il, salibuss@technion.ac.il.
Effectiveness of Molnupiravir in High Risk Patients: a Propensity Score Matched Analysis
Background: Molnupiravir was granted emergency use authorization for the treatment of mild to moderate . In this study we used population-based real-world data to evaluate the effectiveness of Molnupiravir. Methods: The database of the largest healthcare provider in Israel was used to identify all adults with first ever positive test for SARS-CoV-2 performed in the community during January-February 2022, who were at high risk for severe COVID-19 and had no contraindications for Molnupiravir use. Patients were included regardless of SARS-CoV-2 vaccination status. A total of 2661 patients who received Molnupiravir were propensity score-matched with 2661 patients who have not received Molnupiravir (control group). Patients were followed through 10 March 2022 for up to 28 days for the first occurrence of the composite severe COVID-19 or COVID-19 specific mortality. Results: The composite outcome occurred in 50 patients in the Molnupiravir group and 60 patients in the control group. Molnupiravir was associated with a nonsignificant reduced risk of the composite outcome HR, 0.83 (95% CI, 0.57-1.21). However, subgroup analyses showed that Molnupiravir was associated with a significant decrease in the risk of the composite outcome in older patients 0.54 (0.34-0.86), in females 0.41 (0.22-0.77), and in patients with inadequate COVID-19 vaccination 0.45 (0.25-0.82). The results were similar when each component of the composite outcome were examined separately. Conclusions: This study suggests that in the era of omicron and in real life setting Molnupiravir might be effective in reducing the risk of severe COVID-19 and COVID-19 related mortality, particularly in specific subgroups.
Conflict of interest The authors report no potential conflicts of interest. A C C E P T E D
References
Najjar-Debbiny, Gronich, Weber, Effectiveness of Paxlovid in Reducing Severe COVID-19 and Mortality in High Risk Patients