Retrospective 113 consecutive mechanically ventilated COVID+ ICU patients in Greece, 10 receiving high dose IV vitamin C, showing lower mortality with treatment, without statistical significance (
p
=0.11).The associated meta analysis includes only 11 studies, while there are currently 61 studies, 36 with mortality results. Authors only include critical patients, however not all studies with critical patients are included, for example
[Hamidi-Alamdari, Majidi, Yüksel, Özgünay]
. The meta analysis also uses unadjusted results, while PSM, Cox proportional hazards, or KM results are reported by
[Al Sulaiman, Gao, Zhang, Zheng]
. For
[Zhang]
authors use 28 day mortality, while the study reports longer term in-hospital mortality.This is the
40th of 61 COVID-19 controlled studies
for vitamin C, which collectively show efficacy with
p=0.00000098
.
15 studies are RCTs
, which show efficacy with
p=0.00013
.
risk of death,

58.0% lower

, RR 0.42, p = 0.11
, treatment 2 of 10 (20.0%), control 49 of 103 (47.6%), NNT 3.6.
Effect extraction follows pre-specified rules prioritizing more serious outcomes. Submit updates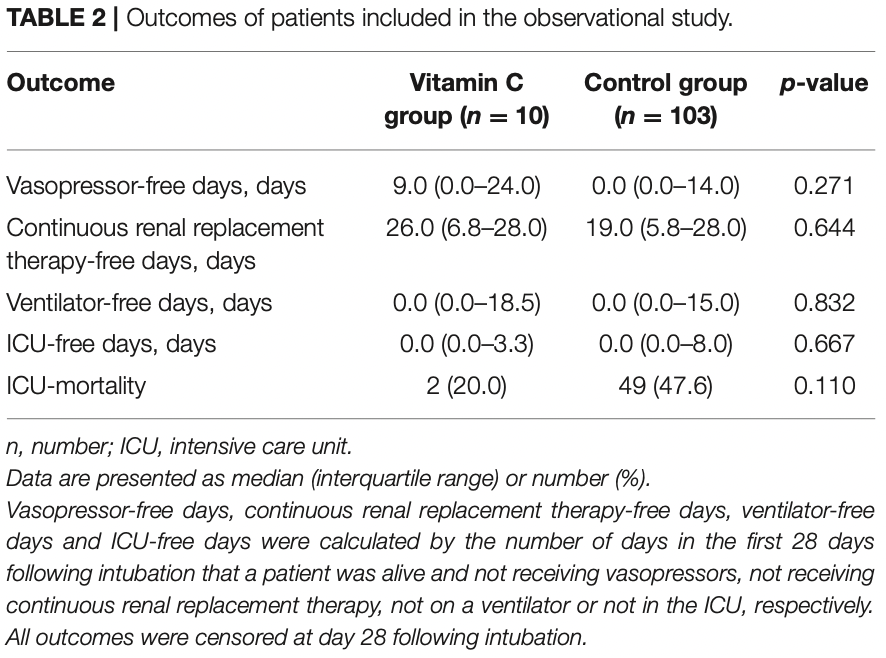 Gavrielatou et al., 11 Feb 2022, retrospective, Greece, peer-reviewed, 10 authors, study period 21 October, 2020 - 8 March, 2021, average treatment delay 5.5 days.
Effect of Vitamin C on Clinical Outcomes of Critically Ill Patients With COVID-19: An Observational Study and Subsequent Meta-Analysis
Frontiers in Medicine, doi:10.3389/fmed.2022.814587
of mortality among critically ill patients with COVID-19. Additional evidence is anticipated from relevant large randomized controlled trials which are currently underway.
AUTHOR CONTRIBUTIONS EG contributed to study design, collected data, and interpreted data. EX and NX contributed to study design and the execution of the meta-analysis and they wrote the first draft of the manuscript. EX also undertook statistical analyses. AM, EI, and AKa contributed to data collection. DZ contributed to study design and data interpretation. CR and AKo contributed to data interpretation and critically revised the manuscript. IS conceived of the study, designed the study, supervised the data collection and statistical analyses, and is the guarantor, and final responsibility for the decision to submit for publication. All authors read and approved the final manuscript. SUPPLEMENTARY MATERIAL The Supplementary Material for this article can be found online at: https://www.frontiersin.org/articles/10.3389/fmed. 2022.814587/full#supplementary-material Conflict of Interest: The authors declare that the research was conducted in the absence of any commercial or financial relationships that could be construed as a potential conflict of interest. Publisher's Note: All claims expressed in this article are solely those of the authors and do not necessarily represent those of their affiliated organizations, or those of the publisher, the editors and the reviewers. Any product that may be evaluated in this article, or claim that may be made by its manufacturer, is not guaranteed or endorsed by the publisher. Copyright © 2022 Gavrielatou, Xourgia, Xixi, Mantelou,..
References
Carr, Vitamin C in pneumonia and sepsis
Higgins, Thomas, Chandler, Cumpston, Li et al., Cochrane Handbook for Systematic Reviews of Interventions version