PSM retrospective 8 ICU patients treated with vitamin C and 24 matched controls, showing no significant difference. Authors note that "it is possible for the delayed timing of IV vitamin C to have blunted the beneficial effects as these patients may have already progressed to the late fibroproliferative phase or ARDS". IV vitamin C 1.5 grams every 6 hours.This is the
27th of 61 COVID-19 controlled studies
for vitamin C, which collectively show efficacy with
p=0.00000098
.
15 studies are RCTs
, which show efficacy with
p=0.00013
. This study is excluded in the after exclusion results of meta analysis: very late stage, ICU patients.
risk of death,

10.5% higher

, RR 1.11, p = 1.00
, treatment 7 of 8 (87.5%), control 19 of 24 (79.2%), PSM.
Effect extraction follows pre-specified rules prioritizing more serious outcomes. Submit updates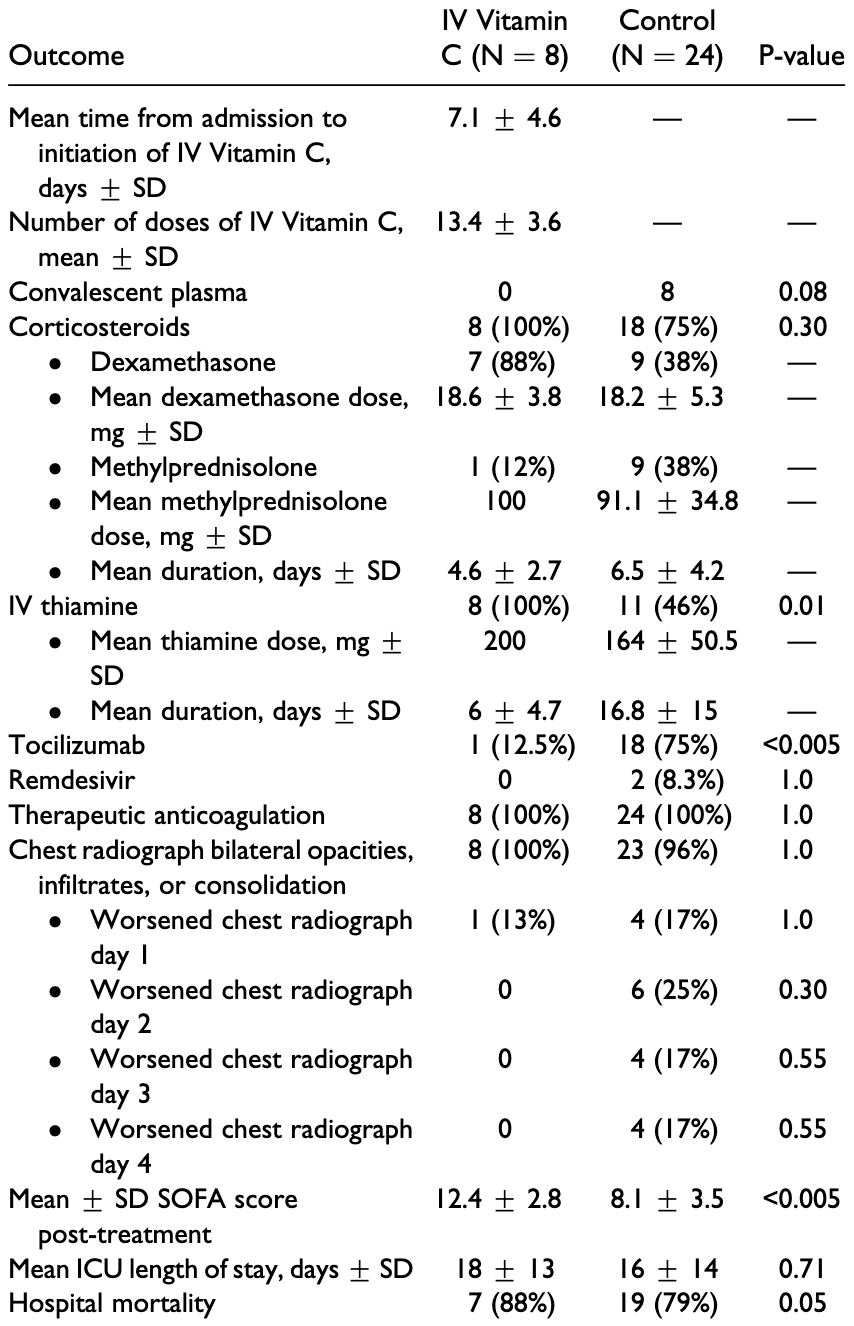 Li et al., 8 Jun 2021, retrospective, propensity score matching, USA, peer-reviewed, 6 authors.
Use of Intravenous Vitamin C in Critically Ill Patients With COVID-19 Infection
Journal of Pharmacy Practice, doi:10.1177/08971900211015052
Introduction: The pathophysiology for Coronavirus Disease 2019 (COVID-19) infection is characterized by cytokine oxidative stress and endothelial dysfunction. Intravenous (IV) vitamin C has been utilized as adjuvant therapy in critically ill patients with sepsis for its protective effects against reactive oxygen species and immunomodulatory effects. The primary objective of this study was to evaluate the effects of IV vitamin C in critically ill patients with COVID-19 infection. Methods: Retrospective observational cohort study with propensity score matching of intensive care unit (ICU) patients who received 1.5 grams IV vitamin C every 6 hours for up to 4 days for COVID-19 infection. The primary study outcome was in-hospital mortality. Secondary outcomes included vasopressor requirements in norepinephrine equivalents, ICU length of stay, and change in Sequential Organ Failure Assessment (SOFA) score. Results: Eight patients received IV vitamin C and were matched to 24 patients. Patients in the IV vitamin C group had higher rates of hospital mortality [7 (88%) vs. 19 (79%), P ¼ 0.049]. There was no difference in the daily vasopressor requirement in the treatment group or between the 2 groups. The mean SOFA scores post-treatment was higher in the IV vitamin C group (12.4 + 2.8 vs. 8.1 + 3.5, P < 0.005). There was no difference in ICU length of stay between the treatment and control groups. Conclusion: Adjunctive IV vitamin C for the management of COVID-19 infection in critically ill patients may not decrease the incidence of mortality, vasopressor requirements, SOFA scores, or ventilator settings.
ORCID iD Matthew Li, PharmD, BCPS, BCCCP https://orcid.org/0000-0003-1320-7134
References
Ascor, None
Carr, Wohlrab, Young, Stability of intravenous vitamin C solutions: a technical report, Crit Care Resusc
Corrao, Use of Ascorbic Acid in Patients with COVID 19
Lamontagne, Lessening Organ Dysfunction with Vitamin C-COVID-19 (LOVIT-COVID)
Woolum, Abner, Kelly, Effect of thiamine administration on lactate clearance and mortality in patients with septic shock, Crit Care Med