risk of death,

50.9% lower

, RR 0.49, p = 0.07
, high D levels (≥20ng/mL) 7 of 61 (11.5%), low D levels (<20ng/mL) 25 of 107 (23.4%), NNT 8.4.
risk of death,

3.0% lower

, OR 0.97, p = 0.32
, adjusted per study, continuous values, multivariable, RR approximated with OR.
Effect extraction follows pre-specified rules prioritizing more serious outcomes. Submit updates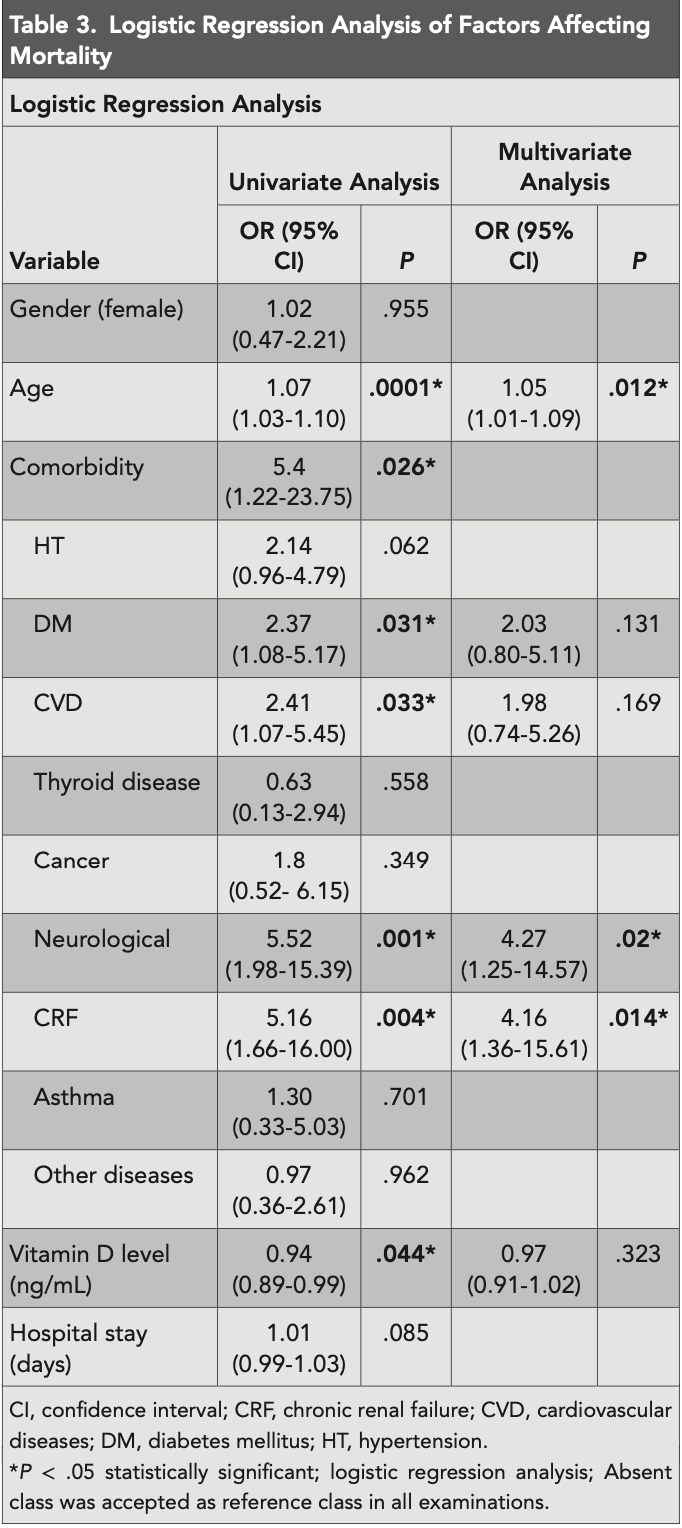 Cetin Ozbek et al., 24 Mar 2023, retrospective, Turkey, peer-reviewed, mean age 63.4, 6 authors, study period 1 August, 2021 - 31 October, 2021.
Contact: sevancetin@yiu.edu.tr.
Does the Level of Vitamin D in COVID-19 Patients Affect the Survival and Duration of Hospital Stay?
Clinical Science of Nutrition, doi:10.5152/clinscinutr.2023.22059
Objective: This study aimed to evaluate the effect of categorized and normal vitamin D levels on hospital stay and mortality in adult patients with COVID-19. Methods: One hundred sixty-eight hospitalized patients due to coronavirus disease 2019 were retrospectively evaluated. The study data were collected from medical records (age, gender, comorbidity, vitamin D level, duration of hospital stay, mortality/ survival status). Serum 25(OH) vitamin D level ≥ 30 ng/mL is defined as normal, 20-29 ng/mL is an insufficiency level, and less than 20 ng/mL is defined as a deficiency level. Results: The mean vitamin D level of 168 patients was 18.72 ± 11.18 ng/mL, and 79.4% of patients with vitamin D deficiency had comorbidity. When vitamin D levels were categorized, there was no difference between the groups regarding hospital stay and survival (P > .05). However, when the mean vitamin D levels between the deceased and surviving patients were assessed, vitamin D levels were significantly higher in the survivors (P = .019). Vitamin D significantly affected survival compared to the univariate model (P = .044), while there was no significant effect on the multivariate model (P > .05). Even when the factors affecting the vitamin D level were adjusted, no significant results were found. Conclusion: Among hospitalized COVID-19 patients, vitamin D levels did not support an association between the duration of hospital stay and mortality.
References
Alpdemir, Alpdemir, Vitamin D deficiency status in Turkey: a meta-analysis, Int J Biochem
Crf, chronic renal failure; CVD, cardiovascular diseases; DM, diabetes mellitus
Grant, Holick, Benefits and requirements of vitamin D for optimal health: a review, Altern Med Rev
Kaufman, Niles, Kroll, Bi, Holick, SARS-CoV-2 positivity rates associated with circulating 25-hydroxyvitamin D levels, PLoS One
Mitchell, Vitamin-D and COVID-19: do deficient risk a poorer outcome?, Lancet Diabetes Endocrinol
Rashedi, Poor, Asgharzadeh, Risk factors for COVID-19, Infez Med
Teshome, Adane, Girma, Mekonnen, The impact of vitamin D level on COVID-19 infection: systematic review and meta-analysis, Front Public Health