Retrospective 93 hospitalized patients with vitamin D levels 1-365 days before admission, not showing significant differences with vitamin D deficiency or vitamin D levels. Vitamin D levels may vary significantly throughout the year creating a major cofounder that authors do not adjust for.This is the
34th of 175 COVID-19 sufficiency studies
for vitamin D, which collectively show higher levels reduce risk with
p<0.0000000001 (1 in 18 vigintillion)
.
risk of death,

5.6% higher

, RR 1.06, p = 1.00
, high D levels 14 of 58 (24.1%), low D levels 8 of 35 (22.9%).
risk of mechanical ventilation,

39.7% lower

, RR 0.60, p = 0.21
, high D levels 10 of 58 (17.2%), low D levels 10 of 35 (28.6%), NNT 8.8.
risk of no hospital discharge,

26.7% higher

, RR 1.27, p = 0.50
, high D levels 21 of 58 (36.2%), low D levels 10 of 35 (28.6%).
Effect extraction follows pre-specified rules prioritizing more serious outcomes. Submit updates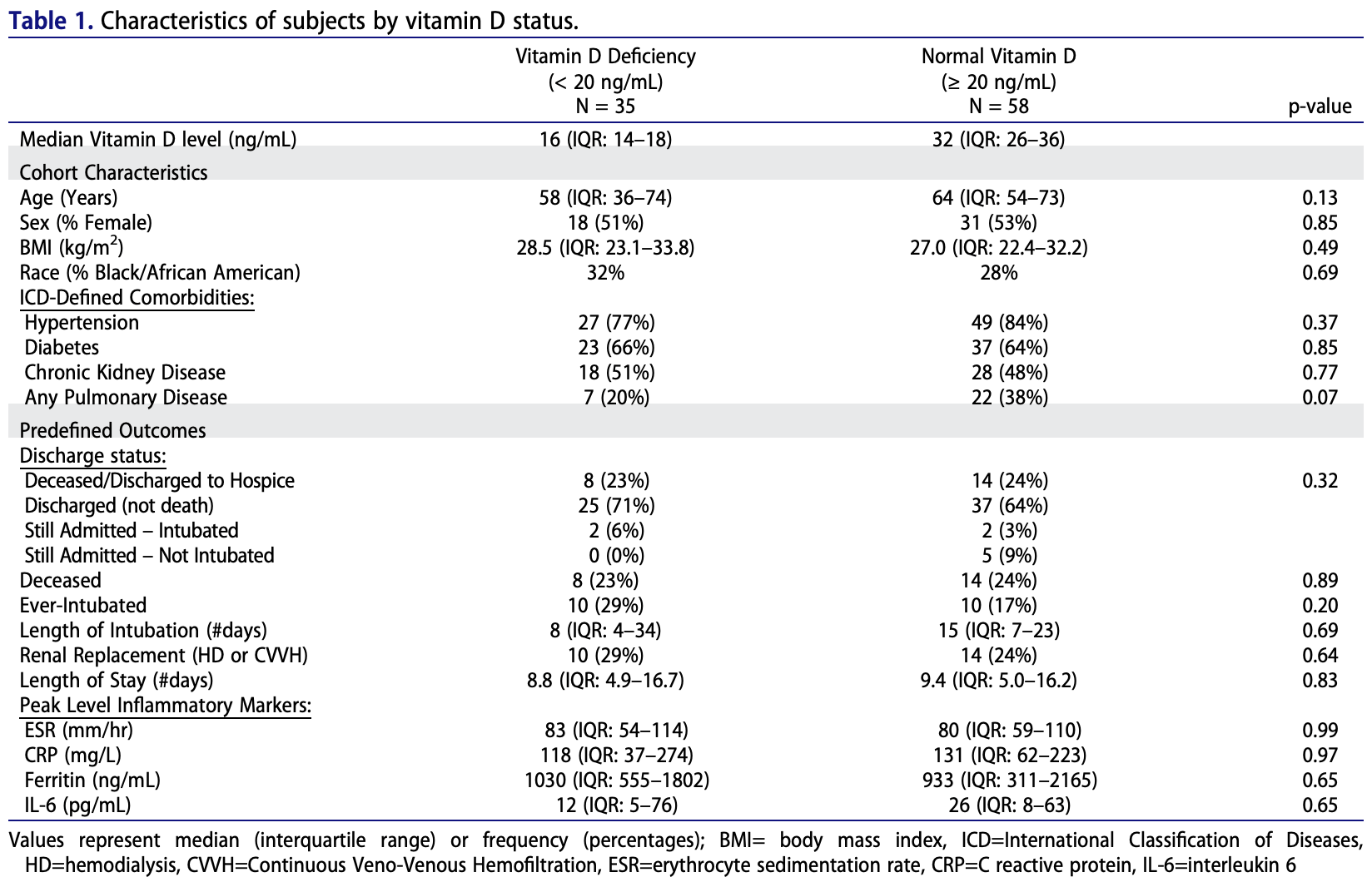 Szeto et al., 30 Dec 2020, retrospective, USA, peer-reviewed, 7 authors.
Vitamin D Status and COVID-19 Clinical Outcomes in Hospitalized Patients
Endocrine Research, doi:10.1080/07435800.2020.1867162
Context: Populations severely affected by COVID-19 are also at risk for vitamin D deficiency. Common risk factors include older age, chronic illness, obesity, and non-Caucasian race. Vitamin D deficiency has been associated with risk for respiratory infections and failure, susceptibility and response to therapy for enveloped virus infection, and immune-mediated inflammatory reaction. Objective: To test the hypothesis that 25-hydroxyvitamin D[25(OH)D] deficiency is a risk factor for severity of COVID-19 respiratory and inflammatory complications. Design: We examined the relationship between prehospitalization 25(OH)D levels (obtained 1-365 days prior to admission) and COVID-19 clinical outcomes in 700 COVID-19 positive hospitalized patients.
Disclosure Statement The authors have nothing to disclose.
References
Alipio, Vitamin D supplementation could possibly improve clinical outcomes of patients infected with Coronavirus
Daneshkhah, Agrawal, Eshein, Subramanian, Roy et al., The possible role of vitamin D in suppressing cytokine storm and associated mortality in COVID-19 patients
Gennari, Vitamin D deficiency is independently associated with COVID-19 severity and mortality
Laird, Rhodes, Kenny, Vitamin D and Inflammation: potential implications for severity of Covid-19, Ir Med J
Meltzer, Best, Zhang, Vokes, Arora et al., Association of vitamin d deficiency and treatment with COVID-19 incidence
O'connor, Exploring links between Coronavirus and vitamin D, The New York Times
Raharusuna, Priambada, Budiarti, Agung, Budi, Patterns of COVID-19 mortality and vitamin D: an Indonesian study
Umhau, Casting sunlight on an epidemic -is vitamin D a critical host factor to prevent COVID-19? MedPage Today