Vitamin D status and outcomes for hospitalised older patients with COVID-19
Prospective study of 105 hospitalized patients, showing lower vitamin D levels in the COVID-19 positive group (27.0 nmol/L vs 52.0 nmol/L, p=0.0008), and non-statistically significant higher mortality with vitamin D deficiency.
risk of death,

28.6% lower

, RR 0.71, p = 0.50
, high D levels 4 of 31 (12.9%), low D levels 6 of 39 (15.4%), adjusted per study, inverted to make RR<1 favor high D levels, >30nmol/L.
Effect extraction follows pre-specified rules prioritizing more serious outcomes. Submit updates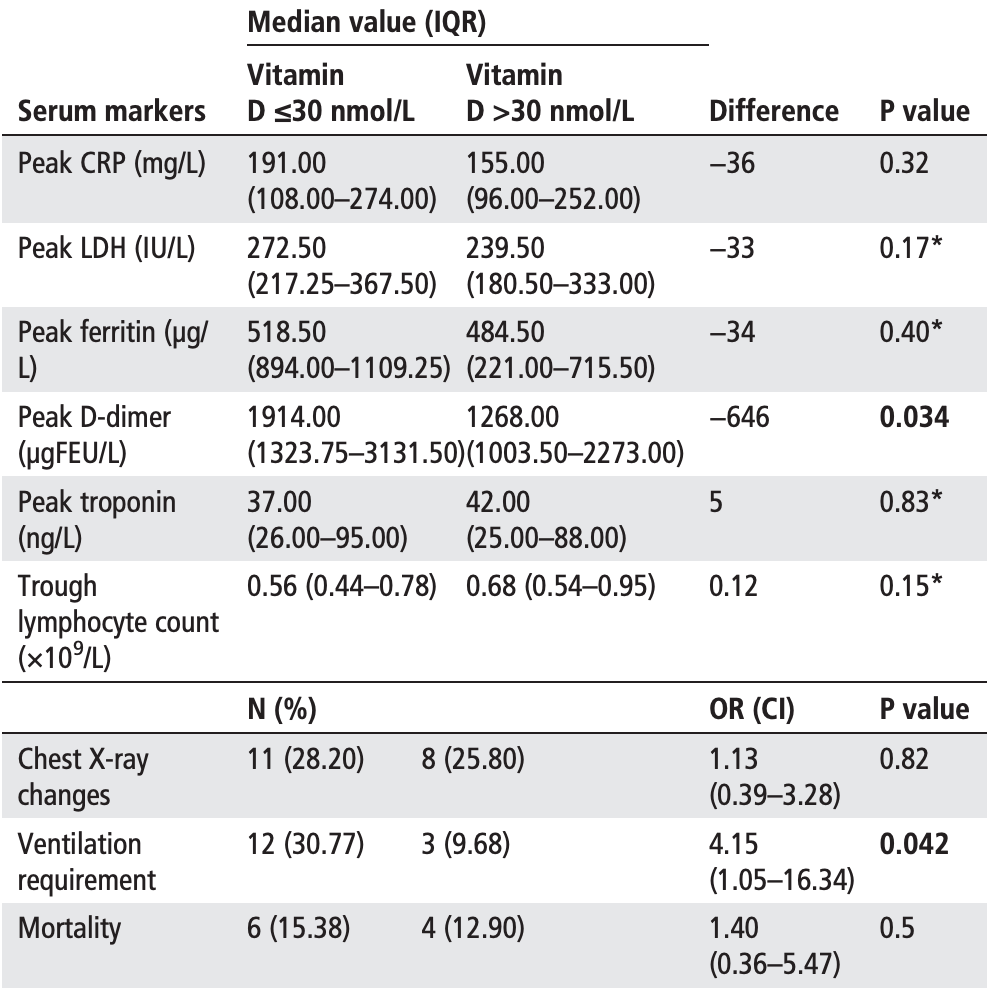 Baktash et al., 27 Aug 2020, prospective, United Kingdom, peer-reviewed, 8 authors.
Abstract: Vitamin D status and outcomes for hospitalised older patients with COVID-19 Vadir Baktash,1 Tom Hosack,1 Nishil Patel,1 Shital Shah,1 Pirabakaran Kandiah,1 Koenraad Van Den Abbeele,1 Amit K J Mandal ,1 Constantinos G Missouris1,2 1 Department of Medicine, Frimley Health NHS Foundation Trust, Wexham Park Hospital, Slough, UK 2 Department of Cardiology, University of Cyprus Medical School, Nicosia, Cyprus Correspondence to Constantinos G Missouris, Department of Medicine, Wexham Park Hospital, Frimley Health NHS Foundation Trust, Wexham Street, Slough, UK; dinos.mis souris@nhs.net Received 18 July 2020 Accepted 1 August 2020 Revised 1 August 2020 ABSTRACT Purpose Older adults are more likely to be vitamin D deficient. The aim of the study was to determine whether these patients have worse outcomes with COVID-19. Methods We conducted a prospective cohort study between 1 March and 30 April 2020 to assess the importance of vitamin D deficiency in older patients with COVID-19. The cohort consisted of patients aged ≥65 years presenting with symptoms consistent with COVID-19 (n=105). All patients were tested for serum 25hydroxyvitamin D (25(OH)D) levels during acute illness. Diagnosis of COVID-19 was confirmed via viral reverse transcriptase PCR swab or supporting radiological evidence. COVID-19-positive arm (n=70) was sub-divided into vitamin D-deficient (≤30 nmol/L) (n=39) and -replete groups (n=35). Subgroups were assessed for disease severity using biochemical, radiological and clinical markers. Primary outcome was in-hospital mortality. Secondary outcomes were laboratory features of cytokine storm, thoracic imaging changes and requirement of non-invasive ventilation (NIV). Results COVID-19-positive arm demonstrated lower median serum 25(OH)D level of 27 nmol/L (IQR=20–47 nmol/L) compared with COVID-19-negative arm, with median level of 52 nmol/L (IQR=31.5–71.5 nmol/L) (p value=0.0008). Among patients with vitamin D deficiency, there was higher peak D-dimer level (1914.00 μgFEU/L vs 1268.00 μgFEU/L) (p=0.034) and higher incidence of NIV support and high dependency unit admission (30.77% vs 9.68%) (p=0.042). No increased mortality was observed between groups. Conclusion Older adults with vitamin D deficiency and COVID-19 may demonstrate worse morbidity outcomes. Vitamin D status may be a useful prognosticator.
Please send us corrections, updates, or comments. Vaccines and treatments are complementary. All practical, effective, and safe means should be used based on risk/benefit analysis. No treatment, vaccine, or intervention is 100% available and effective for all current and future variants. We do not provide medical advice. Before taking any medication, consult a qualified physician who can provide personalized advice and details of risks and benefits based on your medical history and situation.
FLCCC
and
WCH
provide treatment protocols.
Submit