risk of death,

28.6% lower

, RR 0.71, p = 0.50
, high D levels 4 of 31 (12.9%), low D levels 6 of 39 (15.4%), adjusted per study, inverted to make RR<1 favor high D levels, >30nmol/L.
Effect extraction follows pre-specified rules prioritizing more serious outcomes. Submit updates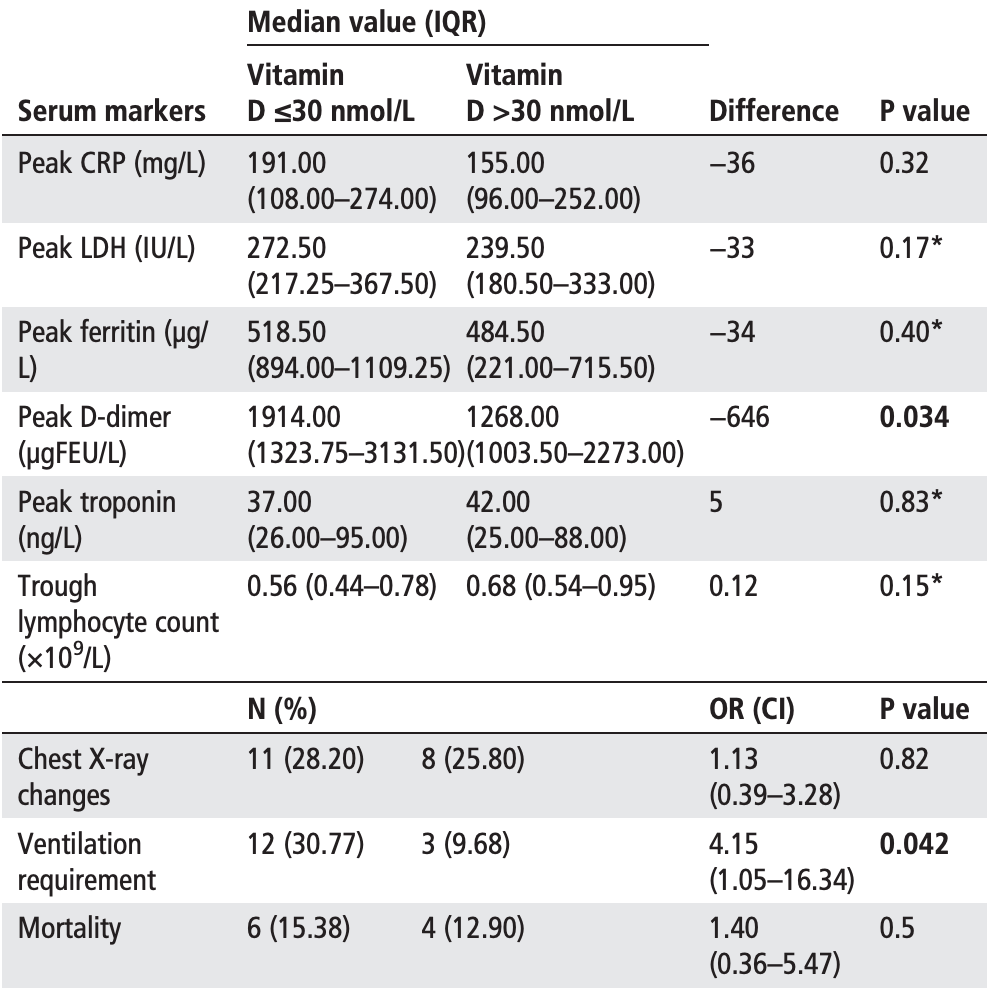 Baktash et al., 27 Aug 2020, prospective, United Kingdom, peer-reviewed, 8 authors.
Vitamin D status and outcomes for hospitalised older patients with COVID-19
Postgraduate Medical Journal, doi:10.1136/postgradmedj-2020-138712
Purpose Older adults are more likely to be vitamin D deficient. The aim of the study was to determine whether these patients have worse outcomes with COVID-19. Methods We conducted a prospective cohort study between 1 March and 30 April 2020 to assess the importance of vitamin D deficiency in older patients with COVID-19. The cohort consisted of patients aged ≥65 years presenting with symptoms consistent with COVID-19 (n=105). All patients were tested for serum 25hydroxyvitamin D (25(OH)D) levels during acute illness. Diagnosis of COVID-19 was confirmed via viral reverse transcriptase PCR swab or supporting radiological evidence. COVID-19-positive arm (n=70) was sub-divided into vitamin D-deficient (≤30 nmol/L) (n=39) and -replete groups (n=35). Subgroups were assessed for disease severity using biochemical, radiological and clinical markers. Primary outcome was in-hospital mortality. Secondary outcomes were laboratory features of cytokine storm, thoracic imaging changes and requirement of non-invasive ventilation (NIV). Results COVID-19-positive arm demonstrated lower median serum 25(OH)D level of 27 nmol/L (IQR=20-47 nmol/L) compared with COVID-19-negative arm, with median level of 52 nmol/L (IQR=31.5-71.5 nmol/L) (p value=0.0008). Among patients with vitamin D deficiency, there was higher peak D-dimer level (1914.00 μgFEU/L vs 1268.00 μgFEU/L) (p=0.034) and higher incidence of NIV support and high dependency unit admission (30.77% vs 9.68%) (p=0.042). No increased mortality was observed between groups. Conclusion Older adults with vitamin D deficiency and COVID-19 may demonstrate worse morbidity outcomes. Vitamin D status may be a useful prognosticator.
Contributors All authors contributed to the manuscript. All were involved in the design of the study. VB, PK and NP collected the data. VB and TH were responsible for the statistical analysis. VB, TH, AKJM, KVDA, SS and CGM wrote the manuscript and all authors were involved in the final approval of the manuscript. Competing interests All authors understand the policy of declaration of interests. CGM is a former member of the Fellowship of Postgraduate Medicine (FPM) council and is currently an FPM Fellow. VB, TH, NP, SS, PK, KVDA, AKJM all declare that they have no competing interests. Patient consent for publication Not required. Ethics approval As an audit using clinically collected, non-identifiable data, this work does not fall under the remit of National Health Service Research Ethics Committees. This statement is also present in the 'Methods and material' section of our manuscript. Provenance and peer review Not commissioned; externally peer reviewed. Main messages • Older patients with COVID-19 infection and vitamin D deficiency (≤30 nmol/L) have higher peak D-dimer level and higher incidence of NIV support and HDU admission. • Vitamin D deficiency may be associated with worse outcomes from COVID-19, and vitamin D status may be a useful prognosticator. What is already known on the subject • There appears to be an association between increased COVID-19 incidence and mortality and countries with an increased prevalence of vitamin D deficiency. • Vitamin D plays an..
References