Probiotics: A potential immunomodulator in COVID-19 infection management
et al., Nutrition Research,
Review of studies supporting the use of probiotics for respiratory infections and identification of microbial strains potentially beneficial for COVID-19.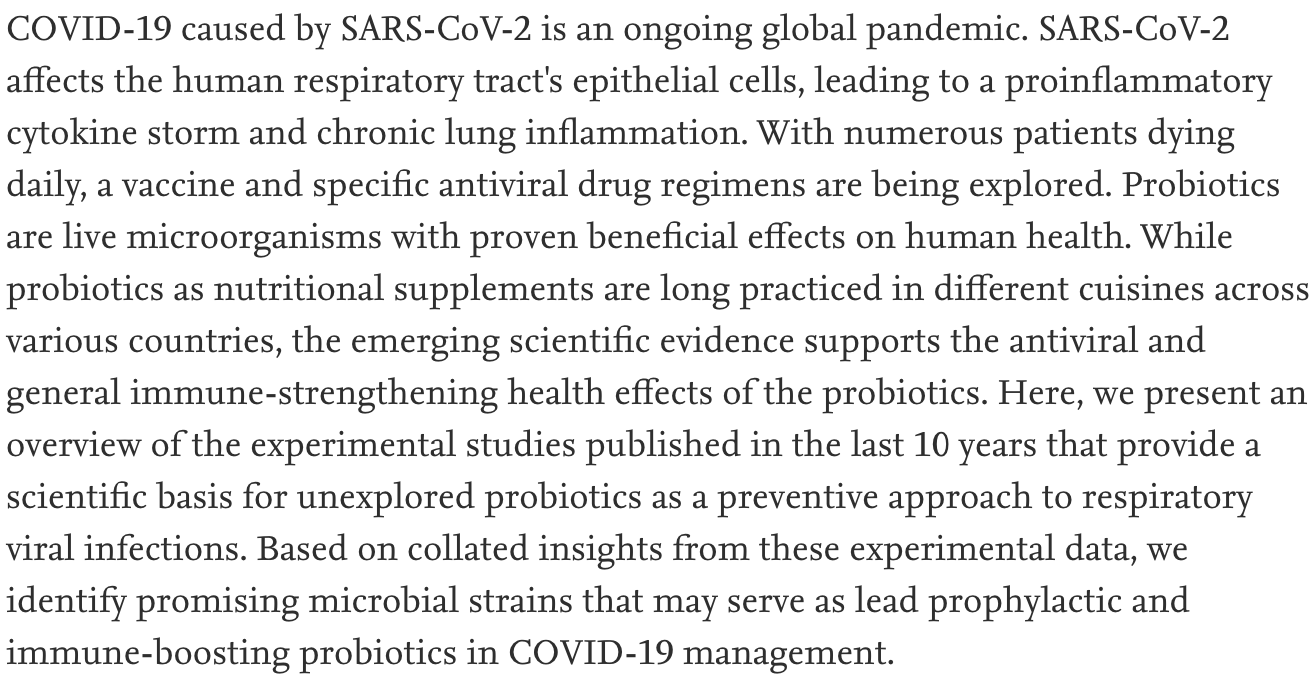 Singh et al., 13 Feb 2021, peer-reviewed, 2 authors.
Abstract: Nutrition Research 87 (2021) 1–12 Available online at www.sciencedirect.com journal homepage: www.elsevier.com/locate/NTR Review Article Probiotics: A potential immunomodulator in COVID-19 infection management Kuljit Singh a,#, Alka Rao a,b,∗ a CSIR-Institute b Academy of Microbial Technology, Sector 39A, Chandigarh 160036 India of Scientific and Innovation Research (AcSIR), Ghaziabad, Uttar Pradesh 201002 India a r t i c l e i n f o a b s t r a c t Article history: COVID-19 caused by SARS-CoV-2 is an ongoing global pandemic. SARS-CoV-2 affects the Received 1 June 2020 human respiratory tract's epithelial cells, leading to a proinflammatory cytokine storm and Revised 2 December 2020 chronic lung inflammation. With numerous patients dying daily, a vaccine and specific an- Accepted 15 December 2020 tiviral drug regimens are being explored. Probiotics are live microorganisms with proven beneficial effects on human health. While probiotics as nutritional supplements are long practiced in different cuisines across various countries, the emerging scientific evidence Keywords: supports the antiviral and general immune-strengthening health effects of the probiotics. COVID-19 Here, we present an overview of the experimental studies published in the last 10 years Influenza virus that provide a scientific basis for unexplored probiotics as a preventive approach to respira- Lactobacillus tory viral infections. Based on collated insights from these experimental data, we identify Probiotics promising microbial strains that may serve as lead prophylactic and immune-boosting pro- Respiratory viral infection biotics in COVID-19 management. SARS-CoV-2
Please send us corrections, updates, or comments. Vaccines and treatments are complementary. All practical, effective, and safe means should be used based on risk/benefit analysis. No treatment, vaccine, or intervention is 100% available and effective for all current and future variants. We do not provide medical advice. Before taking any medication, consult a qualified physician who can provide personalized advice and details of risks and benefits based on your medical history and situation.
FLCCC
and
WCH
provide treatment protocols.
Submit