Enhanced fatty acid oxidation through Metformin and Baicalin as therapy for COVID-19 and associated inflammatory states in lung and kidney
Retrospective study showing shorter ICU stay with metformin, animal study showing that metformin minimized lung damage in an ARDS model, and
in vitro
study showing increased mitochondrial function and decreased TGF-β-induced fibrosis, apoptosis, and inflammation markers in lung epithelial cells. Currently there is only an abstract available.
2 In Vitro studies
support the efficacy of metformin
[Miguel, Parthasarathy]
.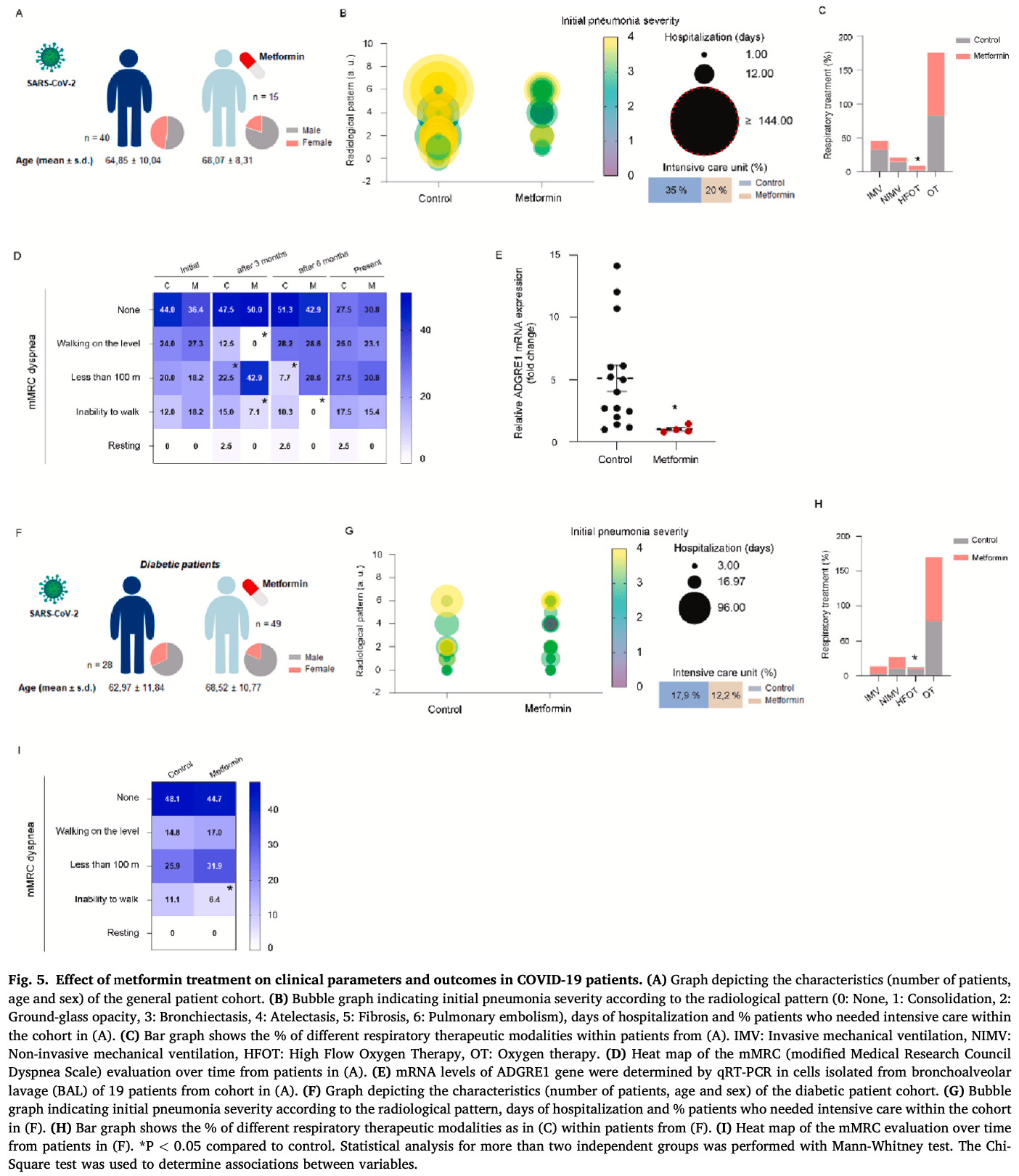 Miguel et al., 19 May 2023, retrospective, Spain, peer-reviewed, 17 authors.
Abstract: Abstracts Free Radical Biology and Medicine 201 (2023) 1–64 Jose Miguel Rodríguez Gonzalez-Moro 3, Santiago Lamas 1. 1 Program of Physiological and Pathological Processes, Centro de Biología Molecular "Severo Ochoa" (CBMSO) (CSIC-UAM), Madrid, Spain; 2 Department of Pathology. University Hospital "Príncipe de Asturias", Alcal a de Henares, Madrid, Spain; 3 Department of Pneumology, University Hospital "Principe de Asturias", Alcala de Henares, Madrid, Spain; 4 Institute for Computational Genomics, RWTH Aachen University Hospital, Aachen, Germany; 5 Joint Research Center for Computational Biomedicine, RWTH Aachen University Hospital, Aachen, Germany; 6 Institute of Experimental Medicine and Systems Biology, RWTH Aachen University Hospital, Aachen, Germany; 7 Institute for Biomedical Technologies, Department of Cell Biology, RWTH Aachen University, Aachen, Germany; 8 Department of Nephrology and Hypertensive Disorders, Rheumatology, and Clinical Immunology (Medical Clinic II), University Hospital RWTH Aachen, Germany; 9 Department of Pathology, Radboud Institute for Molecular Life Sciences, Radboud University Medical Center, Nijmegen, The Netherlands; 10 Instituto de Química Medica (IQMCSIC), Madrid, Spain as subfertility, congenital anomalies, and neuropsychiatric disorders in the offspring. Studies conducted on sperm samples offer a perspective limited to the outcome of age- and oxidative stress-related mechanisms that affect spermatogenesis, completely ignoring what happens to the precursor germ cells of spermatozoa. Germ cells reside inside the seminiferous tubules of the testicles and experience complex differentiation processes that are sensitive to free radicals and other ROS. Using the D-Galactose mouse model of accelerated aging, we studied free radical production in different types of germ cells, peritubular myoid cells, and also in Sertoli cells, the nurse cells for spermatogenesis. We think that the single-cell reporting capacity of diamond magnetometry applied for the first time to the complex scenario of the male germ line is attractive for the field of Reproductive Medicine and highlights the versatility of nanodiamonds as nanoscale biosensors. doi: https://doi.org/10.1016/j.freeradbiomed.2023.03.184 PP IX_89 * Corresponding author BCL-XL, A MITOCHONDRIAL PROTEIN INVOLVED IN SUCCESSFUL AGING AND FRAILTY PREVENTION Progressive respiratory failure is the primary cause of death in the coronavirus disease 2019 (COVID-19) pandemic. It is the final outcome of the acute respiratory distress syndrome (ARDS), characterized by an initial exacerbated inflammatory response and ultimate tissue scarring. Energy balance may be crucial for the recovery of clinical COVID-19. Hence, we asked if two key pathways involved in energy generation, AMP-activated protein kinase (AMPK)/acetylCoA carboxylase (ACC) signaling and fatty acid oxidation (FAO) could be beneficial. We tested the drugs Metformin (AMPk activator) and Baicalin (Cpt1A activator) in different experimental models mimicking COVID-19 associated inflammation in lung and kidney. We also studied two different cohorts of COVID19 patients that had been previously treated with Metformin. These drugs ameliorated lung damage in an ARDS animal model, while activation of AMPK/ ACC signaling increased mitochondrial function and decreased TGF-β-induced fibrosis, apoptosis and inflammation markers in lung epithelial cells. Similar results were observed with two new indole derivatives IND6 and..
Please send us corrections, updates, or comments. Vaccines and treatments are complementary. All practical, effective, and safe means should be used based on risk/benefit analysis. No treatment, vaccine, or intervention is 100% available and effective for all current and future variants. We do not provide medical advice. Before taking any medication, consult a qualified physician who can provide personalized advice and details of risks and benefits based on your medical history and situation.
FLCCC
and
WCH
provide treatment protocols.
Submit