Retrospective 113 outpatients, 53 (patient choice) treated with zinc, quercetin, vitamin C/D/E, l-lysine, and quina, showing lower cases with treatment. Results are subject to selection bias and limited information on the groups is provided. See
journals.sagepub.com
.
risk of case,

94.4% lower

, RR 0.06, p = 0.003
, treatment 0 of 53 (0.0%), control 9 of 60 (15.0%), NNT 6.7, relative risk is not 0 because of continuity correction due to zero events (with reciprocal of the contrasting arm).
risk of COVID-19 or flu-like illness,

81.1% lower

, RR 0.19, p = 0.01
, treatment 2 of 53 (3.8%), control 12 of 60 (20.0%), NNT 6.2.
Effect extraction follows pre-specified rules prioritizing more serious outcomes. Submit updates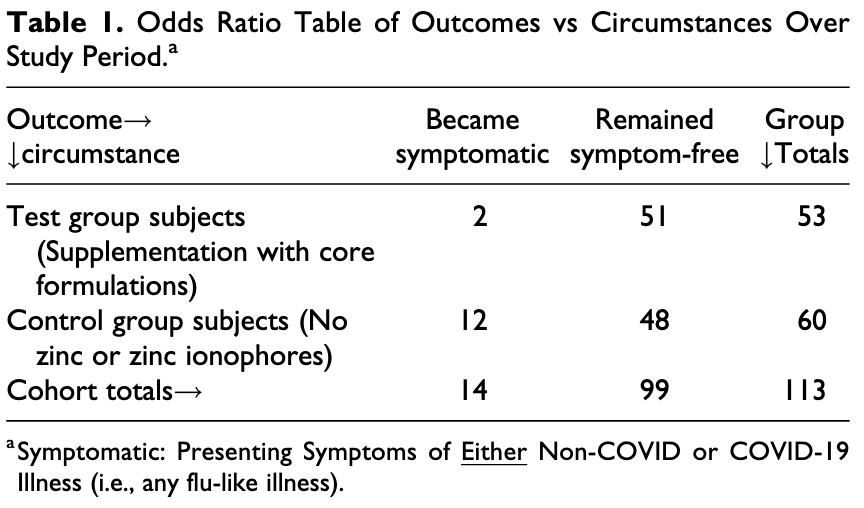 Margolin et al., 6 Jul 2021, retrospective, USA, peer-reviewed, 5 authors, this trial uses multiple treatments in the treatment arm (combined with quercetin, vitamin C/D/E, l-lysine, and quina) - results of individual treatments may vary.
20-Week Study of Clinical Outcomes of Over-the-Counter COVID-19 Prophylaxis and Treatment
Journal of Evidence-Based Integrative Medicine, doi:10.1177/2515690x211026193
Objectives and Setting. As the lethal COVID-19 pandemic enters its second year, the need for effective modalities of alleviation remains urgent. This includes modalities that can readily be used by the public to reduce disease spread and severity. Such preventive measures and early-stage treatments may temper the immediacy of demand for advanced anti-COVID measures (drugs, antibodies, vaccines) and help relieve strain also on other health system resources. Design and Participants. We present results of a clinical study with a multi-component OTC "core formulation" regimen used in a multiply exposed adult population. Analysis of clinical outcome data from our sample of over 100 subjects À comprised of roughly equal sized regimen-compliant (test) and non-compliant (control) groups meeting equivalent inclusion criteria À demonstrates a strong statistical significance in favor of use of the core formulations. Results. While both groups were moderate in size, the difference between them in outcomes over the 20-week study period was large and stark: Just under 4% of the compliant test group presented flu-like symptoms, but none of the test group was COVID-positive; whereas 20% of the non-compliant control group presented flu-like symptoms, three-quarters of whom (15% overall of the control group) were COVID-positive. Conclusions. Offering a low cost, readily implemented anti-viral approach, the study regimen may serve, at the least, as a stopgap modality and, perhaps, as a useful tool in combatting the pandemic.
Authors' Note This article complies with CPMI guidelines. No PHI is included. Declaration of Conflicting Interests The author(s) declared no potential conflicts of interest with respect to the research, authorship, and/or publication of this article. ORCID iDs Leon Margolin, MD, PhD https://orcid.org/0000-0002-0642-300X Jeremy Luchins, PhD https://orcid.org/0000-0003-2806-6872
References
Chen, Wang, Yi, Epidemiological characteristics of infection in COVID-19 close contacts in Ningbo city
Hewings-Martin, How do SARS and MERS compare with COVID-19?, Medical News Today
Osterholm, Possible scenarios for the course of the COVID-19 pandemic: are we prepared for at least another 18-24 months of significant COVID-19 activity? VuMedi Presentation
Racaniello, Dr, VuMedi presentation (TWIV: This Week in Virology)
Rastogi, Ayurveda co-interventions have supported complete recovery in Severe COVID-19 infection with a chest severity score 18/25: a case report, J Ayurveda Integr Med
Roohani, Hurrell, Kelishadi, Zinc and its importance for human health: an integrative review, J Res Med Sci
Szumilas, Explaining odds ratios, J Can Acad Child Adolesc Psychiatry