Compassionate Use of Remdesivir for Patients with Severe Covid-19
Report on compassionate use of remdesivir with 61 severe COVID-19 patients, showing clinical improvement in 36 of 53 patients.
[Gérard, Zhou]
show significantly increased risk of acute kidney injury with remdesivir.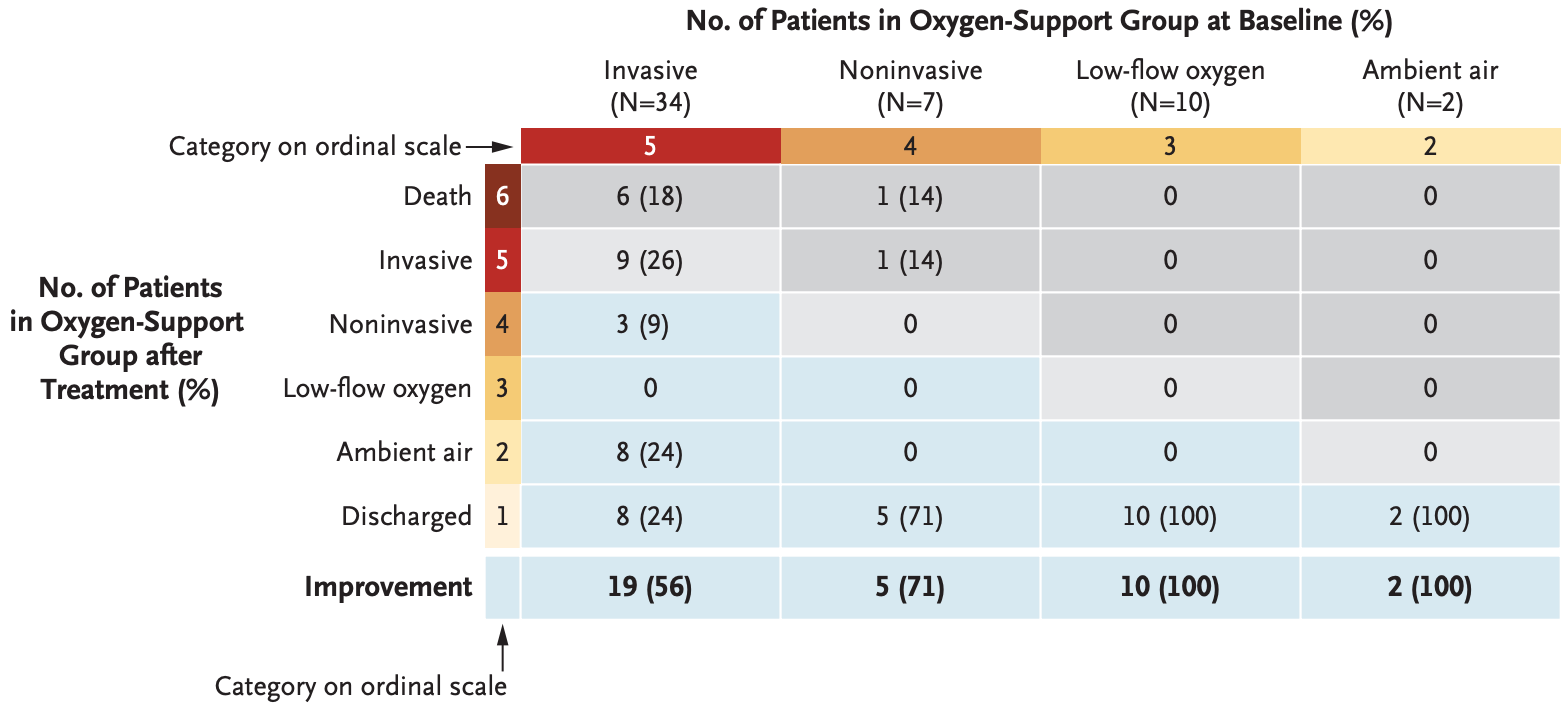 Grein et al., 10 Apr 2020, peer-reviewed, 59 authors.
Abstract: The n e w e ng l a n d j o u r na l of m e dic i n e Original Article Compassionate Use of Remdesivir for Patients with Severe Covid-19 J. Grein, N. Ohmagari, D. Shin, G. Diaz, E. Asperges, A. Castagna, T. Feldt, G. Green, M.L. Green, F.-X. Lescure, E. Nicastri, R. Oda, K. Yo, E. Quiros‑Roldan, A. Studemeister, J. Redinski, S. Ahmed, J. Bernett, D. Chelliah, D. Chen, S. Chihara, S.H. Cohen, J. Cunningham, A. D'Arminio Monforte, S. Ismail, H. Kato, G. Lapadula, E. L'Her, T. Maeno, S. Majumder, M. Massari, M. Mora‑Rillo, Y. Mutoh, D. Nguyen, E. Verweij, A. Zoufaly, A.O. Osinusi, A. DeZure, Y. Zhao, L. Zhong, A. Chokkalingam, E. Elboudwarej, L. Telep, L. Timbs, I. Henne, S. Sellers, H. Cao, S.K. Tan, L. Winterbourne, P. Desai, R. Mera, A. Gaggar, R.P. Myers, D.M. Brainard, R. Childs, and T. Flanigan​​ A BS T R AC T BACKGROUND Remdesivir, a nucleotide analogue prodrug that inhibits viral RNA polymerases, has shown in vitro activity against SARS-CoV-2. METHODS We provided remdesivir on a compassionate-use basis to patients hospitalized with Covid-19, the illness caused by infection with SARS-CoV-2. Patients were those with confirmed SARS-CoV-2 infection who had an oxygen saturation of 94% or less while they were breathing ambient air or who were receiving oxygen support. Patients received a 10-day course of remdesivir, consisting of 200 mg administered intravenously on day 1, followed by 100 mg daily for the remaining 9 days of treatment. This report is based on data from patients who received remdesivir during the period from January 25, 2020, through March 7, 2020, and have clinical data for at least 1 subsequent day. The authors' full names, academic degrees, and affiliations are listed in the Appendix. Address reprint requests to Dr. Brainard at Gilead Sciences, 333 Lakeside Dr., Foster City, CA 94404, or at ­diana​ .­brainard@​­gilead​.­com. This article was published on April 10, 2020, at NEJM.org. N Engl J Med 2020;382:2327-36. DOI: 10.1056/NEJMoa2007016 Copyright © 2020 Massachusetts Medical Society. RESULTS Of the 61 patients who received at least one dose of remdesivir, data from 8 could not be analyzed (including 7 patients with no post-treatment data and 1 with a dosing error). Of the 53 patients whose data were analyzed, 22 were in the United States, 22 in Europe or Canada, and 9 in Japan. At baseline, 30 patients (57%) were receiving mechanical ventilation and 4 (8%) were receiving extracorporeal membrane oxygenation. During a median follow-up of 18 days, 36 patients (68%) had an improvement in oxygen-support class, including 17 of 30 patients (57%) receiving mechanical ventilation who were extubated. A total of 25 patients (47%) were discharged, and 7 patients (13%) died; mortality was 18% (6 of 34) among patients receiving invasive ventilation and 5% (1 of 19) among those not receiving invasive ventilation. CONCLUSIONS In this cohort of patients hospitalized for severe Covid-19 who were treated with compassionate-use remdesivir, clinical improvement was observed in 36 of 53 patients (68%). Measurement of efficacy will require ongoing randomized, placebocontrolled trials of remdesivir therapy. (Funded by Gilead Sciences.) n engl j med 382;24 nejm.org June 11, 2020 The New England Journal of Medicine Copyright © 2020 Massachusetts Medical Society. All rights reserved. 2327 The n e w e ng l a n d j o u r na..
Please send us corrections, updates, or comments. Vaccines and treatments are complementary. All practical, effective, and safe means should be used based on risk/benefit analysis. No treatment, vaccine, or intervention is 100% available and effective for all current and future variants. We do not provide medical advice. Before taking any medication, consult a qualified physician who can provide personalized advice and details of risks and benefits based on your medical history and situation.
FLCCC
and
WCH
provide treatment protocols.
Submit