In Silico analysis identifying folic acid and derivates like tetrahydrofolic acid and 5-methyl tetrahydrofolic acid as potentially beneficial for SARS- COV-2.
This study includes vitamin B9 and
vitamin C
.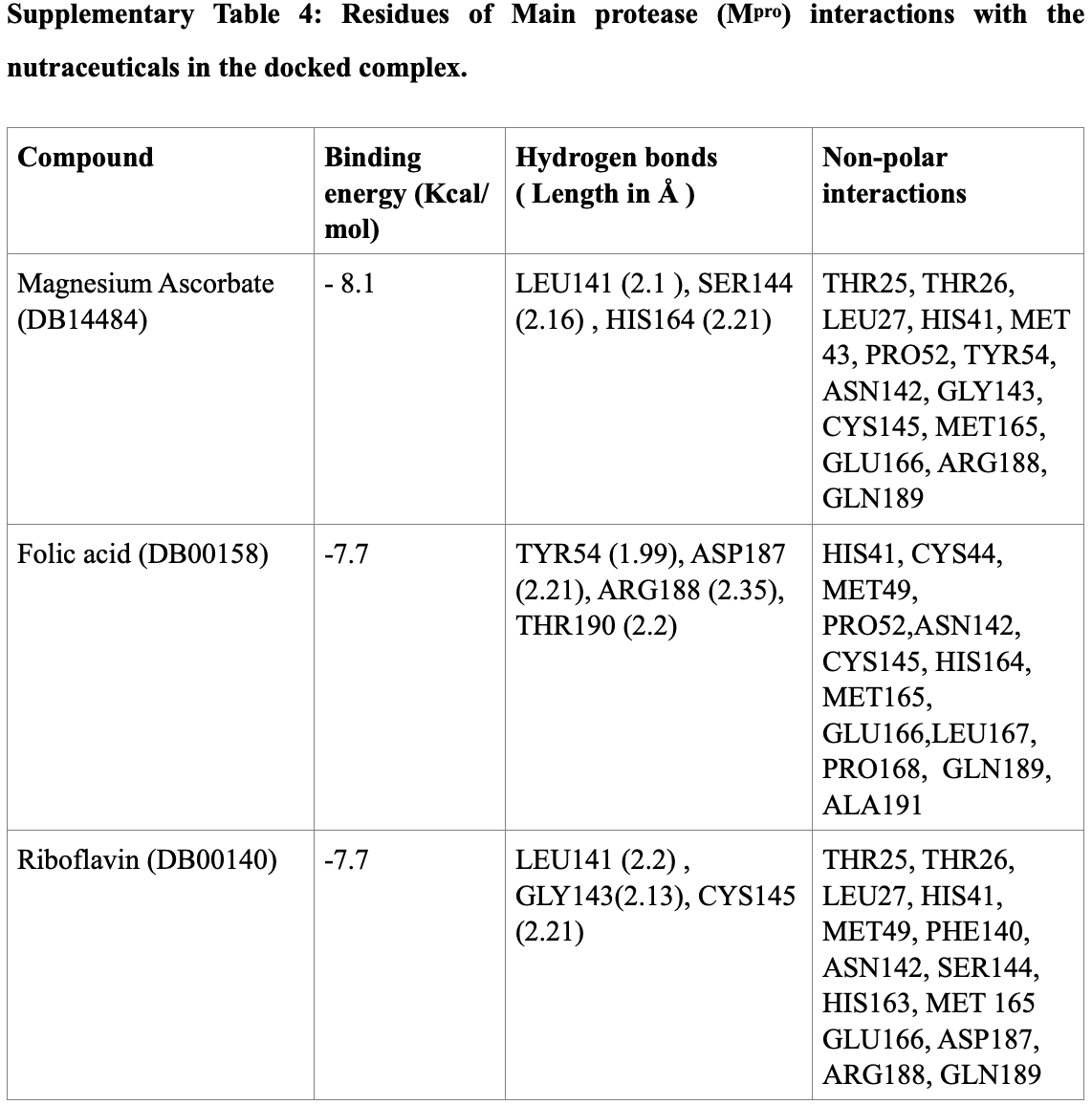 Kumar et al., 27 May 2020, peer-reviewed, 3 authors.
Contact: manoj.20283@lpu.co.in, vipul2732@gmail.com, sudhakar@devlabwerks.com.
In Silico studies are an important part of preclinical research, however results may be very different in vivo.
In silico virtual screening-based study of nutraceuticals predicts the therapeutic potentials of folic acid and its derivatives against COVID-19
The recent outbreak of the novel coronavirus (SARS-CoV-2) in the Wuhan province of China has taken millions of lives worldwide. In this pandemic situation and absence of known drugs and vaccines against novel coronavirus disease (COVID-19), there is an urgent need for the repurposing of the existing drugs against it. So, here we have examined a safe and cheap alternative against this virus by screening hundreds of nutraceuticals compounds against known therapeutic targets of SARS-COV-2 by molecular docking. The virtual screening results were then analyzed for binding energy and interactive residues and compared with some already known hits in the best binding pose. All these analyses of this study strongly predicted the potential of Folic acid and its derivates like Tetrahydrofolic acid and 5-methyl tetrahydrofolic acid against SARS-COV-2. The strong and stable binding affinity of this water-soluble vitamin and its derivatives against the SARS-COV-2, indicating that they could be valuable drugs against the management of this COVID-19 pandemic. This study could serve as the starting point for further investigation of these molecules through in vitro and in vivo assays.
References
Biovia, Discovery studio modeling environment
Kolifarhood, Epidemiological and clinical aspects of COVID-19; a narrative review, Arch Acad Emerg Med
Nasri, New concepts in nutraceuticals as alternative for pharmaceuticals, Int J Prev Med
Ortiz-Alcantara, Bhardwaj, Palaninathan, Frieman, Baric et al., Small molecule inhibitors of the SARS-CoV Nsp15 endoribonuclease. Virus Adapt Treat Virus Adapt Treat
Rimanshee, Potential inhibitors against papain-like protease of novel coronavirus (SARS-CoV-2) from FDA approved drugs
Tyrrell, Myint, Coronaviruses
Vatansever, Targeting the SARS-CoV-2 main protease to repurpose drugs for COVID-19
Zahra, The role of folic acid in the management of respiratory disease caused by COVID-19