Vitamin C and COVID-19
et al., Frontiers in Medicine,
Review of the use of vitamin C for infections and the potential benefit for COVID-19.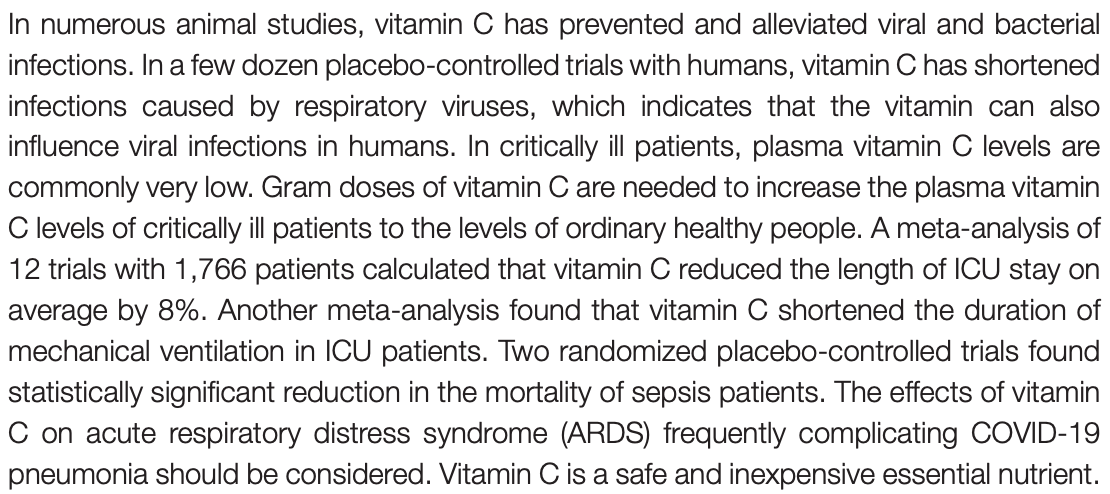 Hemilä et al., 18 Jan 2021, peer-reviewed, 2 authors.
Abstract: PERSPECTIVE published: 18 January 2021 doi: 10.3389/fmed.2020.559811 Vitamin C and COVID-19 Harri Hemilä 1* and Angelique M. E. de Man 2 1 Department of Public Health, University of Helsinki, Helsinki, Finland, 2 Department of Intensive Care Medicine, Amsterdam University Medical Centers, Amsterdam, Netherlands In numerous animal studies, vitamin C has prevented and alleviated viral and bacterial infections. In a few dozen placebo-controlled trials with humans, vitamin C has shortened infections caused by respiratory viruses, which indicates that the vitamin can also influence viral infections in humans. In critically ill patients, plasma vitamin C levels are commonly very low. Gram doses of vitamin C are needed to increase the plasma vitamin C levels of critically ill patients to the levels of ordinary healthy people. A meta-analysis of 12 trials with 1,766 patients calculated that vitamin C reduced the length of ICU stay on average by 8%. Another meta-analysis found that vitamin C shortened the duration of mechanical ventilation in ICU patients. Two randomized placebo-controlled trials found statistically significant reduction in the mortality of sepsis patients. The effects of vitamin C on acute respiratory distress syndrome (ARDS) frequently complicating COVID-19 pneumonia should be considered. Vitamin C is a safe and inexpensive essential nutrient. Keywords: artificial respiration, ascorbic acid, coronavirus, critical care, pneumonia, respiratory distress syndrome, respiratory tract infections Edited by: Ata Murat Kaynar, University of Pittsburgh, United States Reviewed by: Yoshinori Ohta, Hyogo College of Medicine, Japan Anitra C. Carr, University of Otago, New Zealand Margreet C. M. Vissers, University of Otago, New Zealand *Correspondence: Harri Hemilä harri.hemila@helsinki.fi Specialty section: This article was submitted to Intensive Care Medicine and Anesthesiology, a section of the journal Frontiers in Medicine Received: 07 May 2020 Accepted: 02 December 2020 Published: 18 January 2021 Citation: Hemilä H and de Man AME (2021) Vitamin C and COVID-19. Front. Med. 7:559811. doi: 10.3389/fmed.2020.559811 Frontiers in Medicine | www.frontiersin.org
Please send us corrections, updates, or comments. Vaccines and treatments are complementary. All practical, effective, and safe means should be used based on risk/benefit analysis. No treatment, vaccine, or intervention is 100% available and effective for all current and future variants. We do not provide medical advice. Before taking any medication, consult a qualified physician who can provide personalized advice and details of risks and benefits based on your medical history and situation.
FLCCC
and
WCH
provide treatment protocols.
Submit