Retrospective 41 favipiravir patients finding that early treatment was more successful.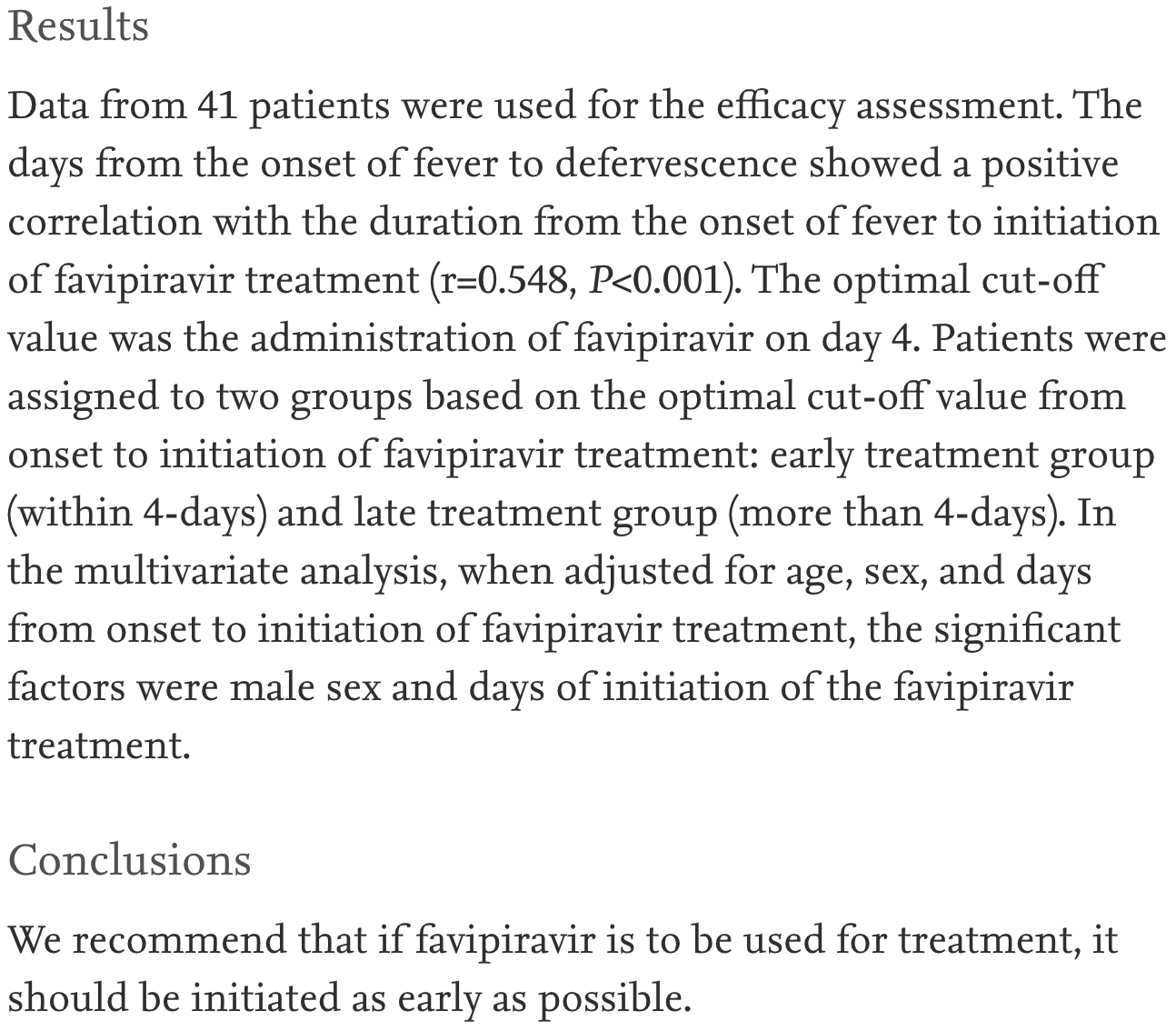 Fujii et al., 17 Apr 2021, peer-reviewed, 10 authors.
Early favipiravir treatment was associated with early defervescence in non-severe COVID-19 patients
Journal of Infection and Chemotherapy, doi:10.1016/j.jiac.2021.04.013
Introduction: The antiviral drug favipiravir has been shown to have in vitro antiviral activity against severe-acute-respiratory-syndrome-coronavirus-2 (SARS-CoV-2). In this study, we investigated the clinical benefits and initiation of favipiravir treatment in patients with non-severe coronavirus-disease-2019 . Methods: This study was a single-center retrospective cohort study. Receiver operating characteristic curves were drawn to calculate the area under the curve, and the optimal cut-off values for the time to initiate favipiravir treatment were calculated to predict defervescence within seven days. Univariate and multivariate Cox regression analyses were performed to identify potential influencing factors of defervescence. This was defined as a body temperature of less than 37 C for at least 2 days. Results: Data from 41 patients were used for the efficacy assessment. The days from the onset of fever to defervescence showed a positive correlation with the duration from the onset of fever to initiation of favipiravir treatment (r ¼ 0.548, P < 0.001). The optimal cut-off value was the administration of favipiravir on day 4. Patients were assigned to two groups based on the optimal cut-off value from onset to initiation of favipiravir treatment: early treatment group (within 4-days) and late treatment group (more than 4-days). In the multivariate analysis, when adjusted for age, sex, and days from onset to initiation of favipiravir treatment, the significant factors were male sex and days of initiation of the favipiravir treatment. Conclusions: We recommend that if favipiravir is to be used for treatment, it should be initiated as early as possible.
References