Prospective observational study of 598 hospitalized patients in Saudi Arabia, showing higher risk of mortality and longer hospitalization time with favipiravir.
risk of death,

263.0% higher

, HR 3.63, p = 0.04
, treatment 156, control 442, Cox proportional hazards, day 65.
risk of oxygen therapy,

40.6% lower

, RR 0.59, p < 0.001
, treatment 52 of 156 (33.3%), control 248 of 442 (56.1%), NNT 4.4.
hospitalization time,

40.0% higher

, relative time 1.40, p = 0.03
, treatment 156, control 442.
Effect extraction follows pre-specified rules prioritizing more serious outcomes. Submit updates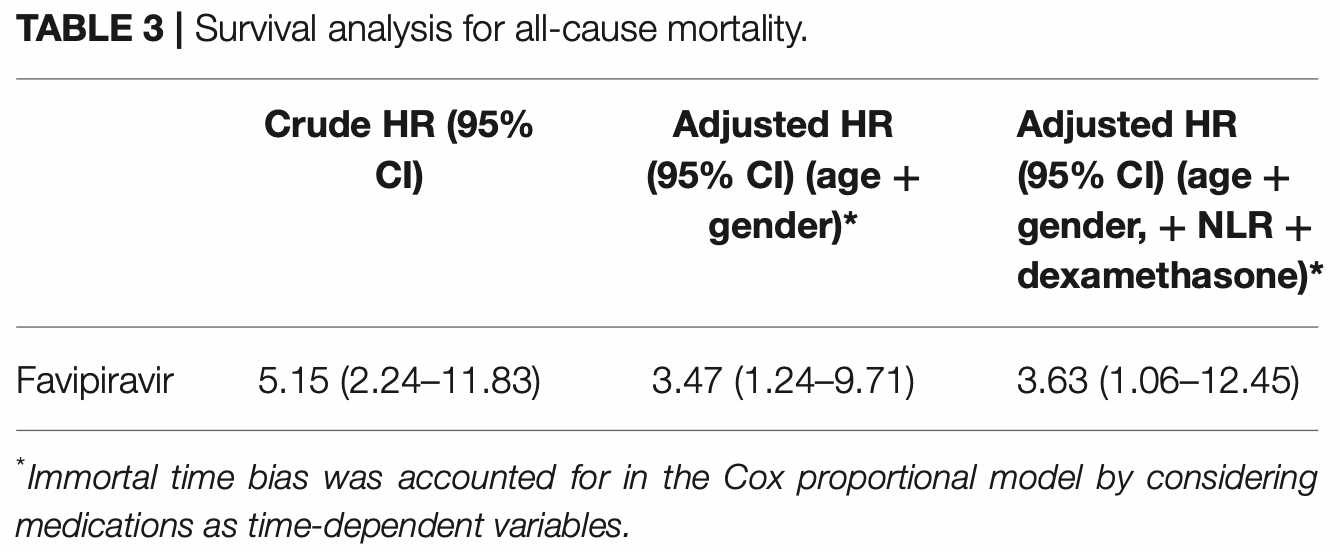 Al-Muhsen et al., 4 Mar 2022, prospective, Saudi Arabia, peer-reviewed, 11 authors, study period June 2020 - January 2021.
Contact: almuhsen@ksu.edu.sa, rhalwani@sharjah.ac.ae, hayakbaa@gmail.com.
Favipiravir Effectiveness and Safety in Hospitalized Moderate-Severe COVID-19 Patients: Observational Prospective Multicenter Investigation in Saudi Arabia
Frontiers in Medicine, doi:10.3389/fmed.2022.826247
Objectives: There are limited data on the efficacy and safety of favipiravir antiviral in coronavirus disease 2019 , particularly in the more progressed disease phase. This study aims to evaluate the favipiravir effect on reducing the length of hospital stay and in-hospital mortality among moderate and severe hospitalized COVID-19 patients. Methods: A prospective, multicenter observational study was conducted that included moderate and severe hospitalized adult COVID-19 patients in four major regions (Riyadh (Riyadh), Eastern (Dammam), Al-Qassem (Buraydah), and Macca (Jeddah) of Saudi Arabia. For the primary outcome of all-cause mortality, a Cox proportional hazard analysis was performed. While the association between favipiravir use and length of hospital stay was determined using adjusted generalized linear model. This study was approved by the Central Institutional Review Board in The Saudi Ministry of Health (MoH) with the approval number IRB # 20-85-M. Results: This study included 598 moderate and severe COVID-19 patients, of whom 156 (26%) received favipiravir. Favipiravir treatment was associated with more extended hospital stays (14 vs. 10 median days, P = 0.034) and higher mortality rate (aHR 3.63; 95% CI 1.06-12.45) compared to no favipiravir regimen. Despite lack of effectiveness, favipiravir use was only associated with higher diarrhea adverse effects (12 vs. 5%, P = 0.002), but it did not affect the renal and liver profiles of patients. Conclusion: Favipiravir was ineffective in reducing the length of hospital stay and in-hospital mortality in patients with moderate and severe COVID-19.
ETHICS STATEMENT The studies involving human participants were reviewed and approved by Central Institutional Review Board in The Saudi Ministry of Health (MoH) approval number (IRB # 20-85-M). The patients/participants provided their written informed consent to participate in this study. AUTHOR CONTRIBUTIONS HA-S, RH, SA-M, NA-N, MA, FA, and NS conceived and designed the study. RB, BA, and AJ collected the data. NS, FS, and RH analyzed the data. All authors contributed to writing and revision of the manuscript. Conflict of Interest: HA-S was employed by Hevolution Foundation. FUNDING The remaining authors declare that the research was conducted in the absence of any commercial or financial relationships that could be construed as a potential conflict of interest. Publisher's Note: All claims expressed in this article are solely those of the authors and do not necessarily represent those of their affiliated organizations, or those of the publisher, the editors and the reviewers. Any product that may be evaluated in this article, or claim that may be made by its manufacturer, is not guaranteed or endorsed by the publisher.
References