Retrospective 10,000 adults in Qatar, showing higher risk of COVID-19 cases with a modern diet characterized by foods high in refined carbohydrates and saturated fat (e.g. fast food, soft drinks, and dessert). Authors do not analyze COVID-19 severity. Results represents the risk per standard deviation change in the modern dietary pattern score.
risk of case,

7.4% lower

, OR 0.93, p = 0.02
, higher quality diet 316, lower quality diet 9,684, adjusted per study, inverted to make OR<1 favor higher quality diet, traditional vs. modern dietary pattern, DT, multivariable, model 2, RR approximated with OR, per standard deviation change.
Effect extraction follows pre-specified rules prioritizing more serious outcomes. Submit updates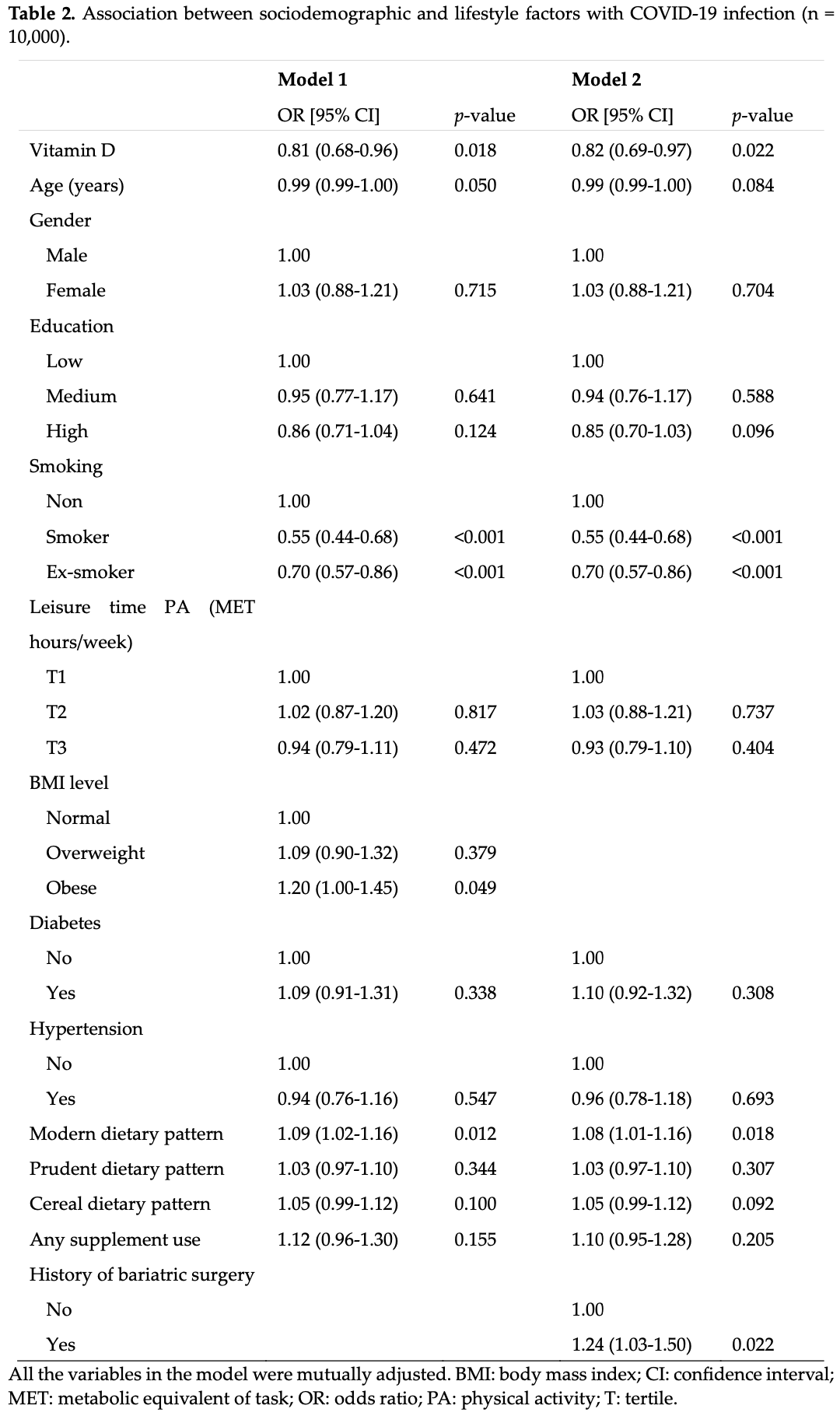 Akbar et al., 7 Nov 2023, Qatar, preprint, survey, mean age 40.3, 9 authors.
Contact: za1404491@student.qu.edu.qa, zumin@qu.edu.qa, almansouri@qu.edu.qa, h.alkhatib@qu.edu.qa, aaja@qu.edu.qa, abdshaito@qu.edu.qa, jessica.saliba@balamand.edu.lb, jamilnidal@gmail.com.
Association between lifestyle factors and COVID-19: findings from Qatar Biobank
doi:10.20944/preprints202311.0330.v1
Coronavirus Disease 2019 (COVID-19) exhibits a significant variation in presentation of symptoms ranging from mild to severe life-threatening symptoms, including death. COVID-19 infection susceptibility has been linked with various covariates, but studies in Qatar are limited. Data from Qatar Biobank (QBB) (n = 10,000; 18-to 79-year-old adults) were analyzed for associations between sociodemographic and lifestyle factors and susceptibility to COVID-19. Logistic regression was used to assess the associations between COVID-19 and age, gender, body mass index (BMI), smoking status, education level, dietary patterns, supplement use, physical activity, history of bariatric surgery, diabetes, and hypertension. In total, 10.5% (n = 1045) of the participants had COVID-19. Compared to non-smokers, current and ex-smokers had lower odds of having COVID-19 (odds ratio [OR]= 0.55; 95% CI: 0.44-0.68 and OR= 0.70; 95% CI: 0.57-0.86, respectively). Vitamin D supplement use was associated with an 18% reduction of the likelihood of contracting COVID-19 (OR = 0.82; 95% CI: 0.69-0.97). Obesity (BMI ≥30 kg/m 2 ), history of bariatric surgery and higher adherence to the modern dietary pattern-characterized by consumption of foods high in saturated fat and refined carbohydrates-were positively associated with COVID-19. Our findings indicate that adopting a healthy lifestyle may be helpful in the prevention of COVID-19 infection.
Author Contributions: Conceptualization, A.A.S. and Z.S.; investigation, A.A.S., Z.S., Z.A., J.S.; resources, A.A.S., Z.S.; writing-original draft preparation, A.A.S., Z.S., Z.A., ; writing-review and editing, All Authors; Supervision, A.A.S., Z.S., A.A.A.T; project administration, A.A.S.; funding acquisition, A.A.S. All authors have read and agreed to the published version of the manuscript. Funding: Qatar National Research Fund (QNRF) grant number RRC02-0807-210,022 to A.A.S. The funding source (QNRF) had no role in study design, in the collection, analysis and interpretation of data, in the writing of the manuscript, or in the decision to submit the article for publication. Institutional Review Board
References
Giusti, Suter, Héraïef, Gaillard, Burckhardt, Effects of Laparoscopic Gastric Banding on Body Composition, Metabolic Profile and Nutritional Status of Obese Women: 12-Months Follow-Up, Obes. Surg
Ho, Fernando, Chan, Sia, Obesity in COVID-19: A Systematic Review and Meta-Analysis, Ann. Acad. Med
Kaeuffer, Le Hyaric, Fabacher, Mootien, Dervieux et al., Clinical Characteristics and Risk Factors Associated with Severe COVID-19: Prospective Analysis of 1,045 Hospitalised Cases in North-Eastern France, Euro Surveill
Mehta, Mcauley, Brown, Sanchez, Tattersall et al., Consider Cytokine Storm Syndromes and Immunosuppression, Lancet
Michalakis, Ilias, SARS-CoV -2 Infection and Obesity: Common Inflammatory and Metabolic Aspects, Diabetes Metab Syndr