Retrospective 7,158 hospitalized COVID-19 patients in the USA analyzing famotidine treatment, showing no significant difference in mortality with associated remdesivir treatment.
Gérard, Wu, Zhou
show significantly increased risk of acute kidney injury with remdesivir.
risk of death,

24.0% higher

, OR 1.24, p = 0.87
, treatment 32, control 7,126, adjusted per study, multivariable, day 30, RR approximated with OR.
Effect extraction follows pre-specified rules prioritizing more serious outcomes. Submit updates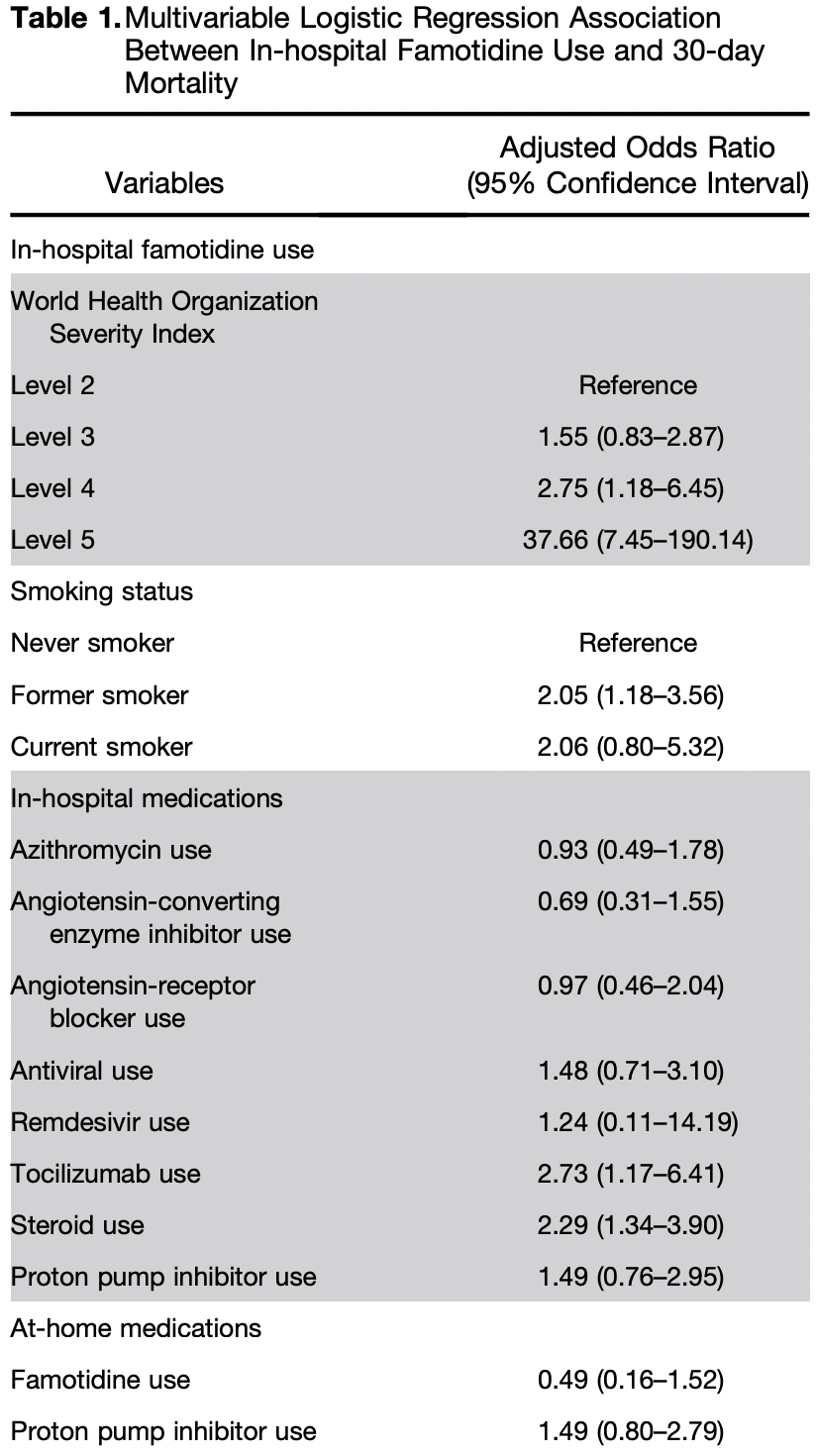 Yeramaneni et al., 28 Feb 2021, retrospective, USA, peer-reviewed, 6 authors, study period 11 February, 2020 - 8 May, 2020.
Famotidine Use Is Not Associated With 30-day Mortality: A Coarsened Exact Match Study in 7158 Hospitalized Patients With Coronavirus Disease 2019 From a Large Healthcare System
Gastroenterology, doi:10.1053/j.gastro.2020.10.011
P revious reports have found that in-hospital famotidine use in coronavirus disease 2019 (COVID-19) patients was associated with reduced risk of death or intubation. 1, 2 In 1 of these studies the authors proposed that famotidine inhibits the severe acute respiratory syndrome coronavirus 2 (SARS-CoV-2) protease, 3-chymotrypsin-like protease, that is essential for breakdown of the immature SARS-CoV-2 protein particles that contribute to the inflammatory response seen in some COVID-19-infected individuals, 1 which in turn can lead to acute respiratory distress syndrome, multiorgan dysfunction, physiologic deterioration, and death. 3 In a global pandemic with a lack of US Food and Drug Administration-approved targeted therapeutic agents, identification and repurposing of well-established drugs with a proven track record of safety, affordability, and widespread availability are necessary. 4 The purpose of this study was to evaluate the reported protective effect of famotidine on mortality in hospitalized COVID-19 patients.
Supplementary Material Note: To access the supplementary material accompanying this article, visit the online version of Gastroenterology at www.gastrojournal.org and at https://doi.org/10.1053/ j.gastro.2020.10.011. Conflicts of interest The authors disclose no conflicts.
References
Dr, Luther, Boulevard, Suite 800
Freedberg, None, Gastroenterology
Iacus, None, Political Analysis
Mather, None, Am J Gastroenterol
Rogosnitzky, None, JMIR Public Health Surveill
Wang, None, Lancet
Zhou, None, Lancet