Prospective study of 57 consecutive hospitalized COVID-19 patients in Switzerland, showing lower risk of mortality/ICU admission with vitamin B9. Adjustments only considered age.
risk of death/ICU,

12.0% lower

, OR 0.88, p = 0.02
, adjusted per study, multivariable, RR approximated with OR, per standard deviation change.
risk of death/ICU,

98.3% lower

, RR 0.02, p < 0.001
, high vitamin B9 levels (≥7nmol/l) 0 of 54 (0.0%), low vitamin B9 levels (<7nmol/l) 3 of 3 (100.0%), NNT 1.0, relative risk is not 0 because of continuity correction due to zero events (with reciprocal of the contrasting arm).
Effect extraction follows pre-specified rules prioritizing more serious outcomes. Submit updates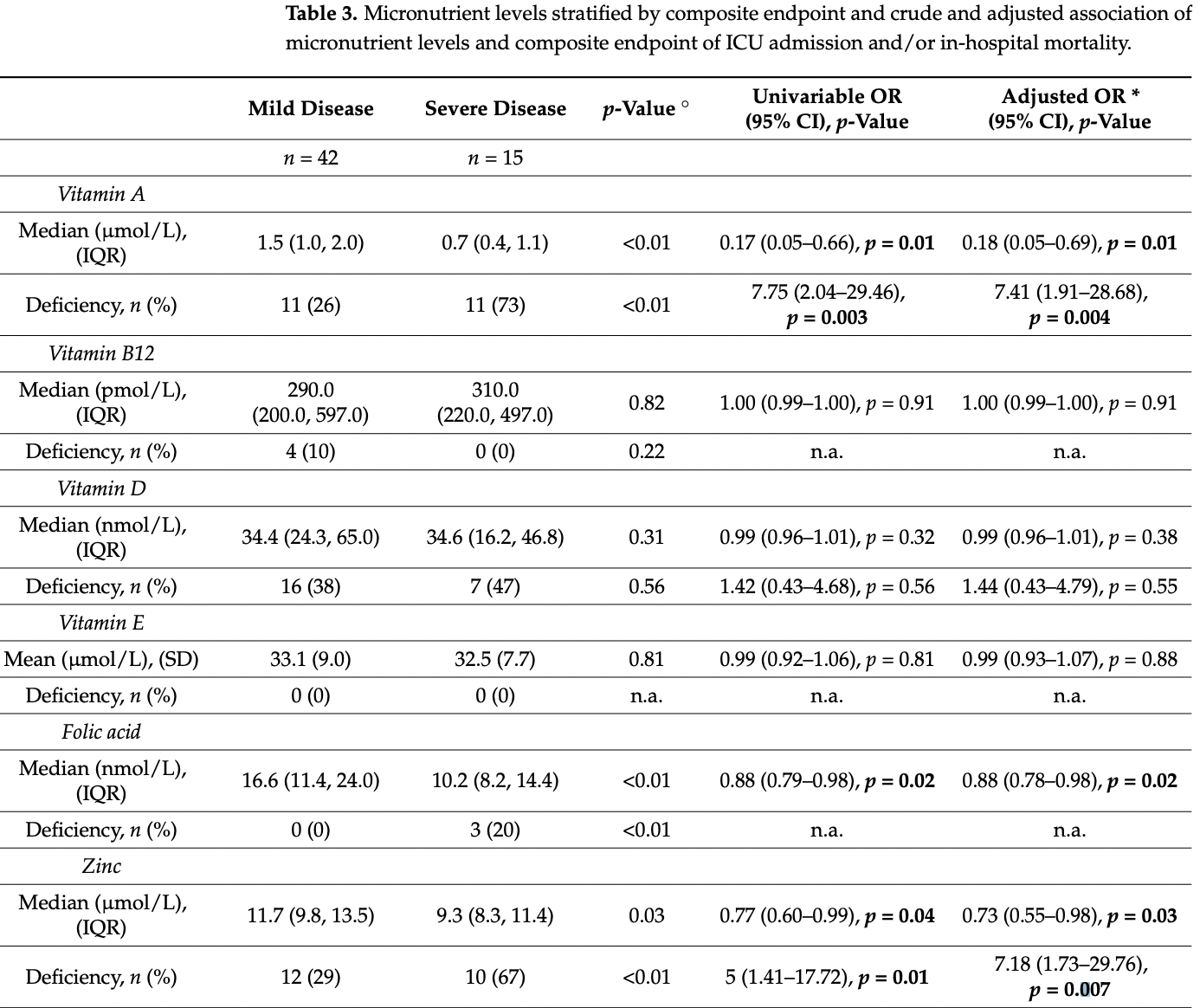 Voelkle et al., 30 Apr 2022, prospective, Switzerland, peer-reviewed, median age 67.0, 9 authors, study period 17 March, 2020 - 30 April, 2020.
Contact: schuetzph@gmail.com (corresponding author), manyola.voelkle@ksa.ch, claudia.gregoriano@ksa.ch, daniel.koch@ksa.ch, alexander.kutz@ksa.ch, beat.mueller@ksa.ch, anna.conen@ksa.ch, peter.neyer@ksa.ch, luca.bernasconi@ksa.ch.
Prevalence of Micronutrient Deficiencies in Patients Hospitalized with COVID-19: An Observational Cohort Study
Nutrients, doi:10.3390/nu14091862
Background: A higher risk for severe clinical courses of coronavirus disease 2019 (COVID-19) has been linked to deficiencies of several micronutrients. We therefore studied the prevalence of deficiencies of eight different micronutrients in a cohort of hospitalized COVID-19-patients. Methods: We measured admission serum/plasma levels of vitamins A, B12, D, and E, as well as folic acid, zinc, selenium, and copper in 57 consecutively admitted adult patients with confirmed COVID-19 and analyzed prevalence of micronutrient deficiencies and correlations among micronutrient levels. Further, we studied associations of micronutrient levels with severe disease progression, a composite endpoint consisting of in-hospital mortality and/or need for intensive care unit (ICU) treatment with logistic regression. Results: Median age was 67.0 years (IQR 60.0, 74.2) and 60% (n = 34) were male. Overall, 79% (n = 45) of patients had at least one deficient micronutrient level and 33% (n = 19) had ≥3 deficiencies. Most prevalent deficiencies were found for selenium, vitamin D, vitamin A, and zinc (51%, 40%, 39%, and 39%, respectively). We found several correlations among micronutrients with correlation coefficients ranging from r = 0.27 to r = 0.42. The strongest associations with lower risk for severe COVID-19 disease progression (adjusted odds ratios) were found for higher levels of vitamin A (0.18, 95% CI 0.05-0.69, p = 0.01), zinc (0.73, 95% CI 0.55-0.98, p = 0.03), and folic acid (0.88, 95% CI 0.78-0.98, p = 0.02). Conclusions: We found a high prevalence of micronutrient deficiencies in mostly older patients hospitalized for COVID-19, particularly regarding selenium, vitamin D, vitamin A, and zinc. Several deficiencies were associated with a higher risk for more severe COVID-19 courses. Whether supplementation of micronutrients is useful for prevention of severe clinical courses or treatment of COVID-19 warrants further research.
References
Berardicurti, Ruscitti, Ursini, D'andrea, Ciaffi et al., Mortality in tocilizumab-treated patients with COVID-19: A systematic review and meta-analysis, Clin. Exp. Rheumatol
Conzade, Koenig, Heier, Schneider, Grill et al., Prevalence and Predictors of Subclinical Micronutrient Deficiency in German Older Adults: Results from the Population-Based KORA-Age Study, Nutrients
Greaves, Woollard, Hoad, Walmsley, Johnson et al., Laboratory medicine best practice guideline: Vitamins a, e and the carotenoids in blood, Clin. Biochem. Rev
Jothimani, Kailasam, Danielraj, Nallathambi, Ramachandran et al., COVID-19: Poor outcomes in patients with zinc deficiency, Int. J. Infect. Dis
Lin, Li, The Roles of Vitamin D and Its Analogs in Inflammatory Diseases, Curr. Top. Med. Chem