Meta analysis showing lower mortality in COVID-19 patients with zinc treatment.
Currently there are
42 zinc treatment for COVID-19 studies
, showing 29% lower mortality
[10‑44%]
, 44% lower ventilation
[4‑68%]
, 26% lower ICU admission
[-7‑49%]
, 29% lower hospitalization
[7‑45%]
, and 22% fewer cases
[-10‑45%]
.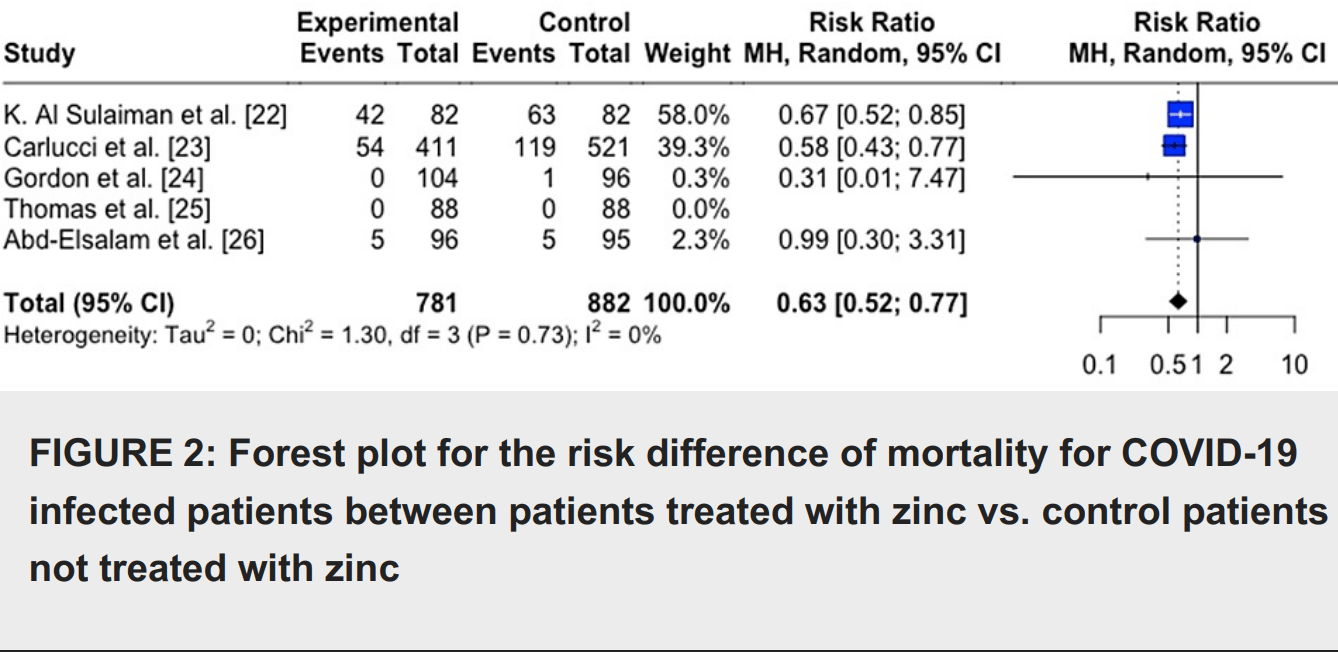 Rheingold et al., 10 Jun 2023, peer-reviewed, 4 authors.
Contact: patrick@nova.edu.
Zinc Supplementation Associated With a Decrease in Mortality in COVID-19 Patients: A Meta-Analysis
Cureus, doi:10.7759/cureus.40231
The COVID-19 pandemic has had a significant impact on the world, resulting in millions of deaths worldwide and imposing economic, political, and social problems. The use of nutritional supplementation for the prevention and mitigation of COVID-19 remains controversial. This meta-analysis aims to investigate the association between zinc supplementation, mortality, and symptomatology, among COVID-19-infected patients. A meta-analysis was conducted to compare the outcomes of mortality and symptomology of patients with COVID-19 receiving zinc supplementation and those not receiving zinc supplementation. PubMed/Medline, Cochrane, Web of Science, and CINAHL Complete were independently searched with the search terms "zinc" AND "covid" OR "sars-cov-2" "COVID-19" OR "coronavirus". After duplicates were removed, 1215 articles were identified. Five of these studies were used to assess mortality outcomes, and two were used to assess symptomatology outcomes. The meta-analysis was conducted through R 4.2.1 software (R Foundation, Vienna, Austria). Heterogeneity was evaluated by calculating the I 2 index. The Preferred Reporting Items for Systematic Reviews and Meta-Analyses (PRISMA) guidelines were used. It was found that COVID-19-infected individuals treated with zinc supplements had a reduced risk of mortality compared with individuals not treated with a zinc supplement RR=0.63 (95%CI;0.52,0.77), p=0.005. For symptomology, it was found that COVID-19-infected individuals treated with zinc had no difference in symptomology than individuals not treated with a zinc supplement RR=0.52 (95%CI;0.00,24315.42), p=0.578. This data indicates that zinc supplementation is associated with decreased mortality in those with COVID-19 but does not change symptomatology. This is promising as zinc is widely available and may be valuable as a cost-effective way to prevent poor outcomes for those with COVID-19.
Additional Information Disclosures Conflicts of interest: In compliance with the ICMJE uniform disclosure form, all authors declare the following: Payment/services info: All authors have declared that no financial support was received from any organization for the submitted work. Financial relationships: All authors have declared that they have no financial relationships at present or within the previous three years with any organizations that might have an interest in the submitted work. Other relationships: All authors have declared that there are no other relationships or activities that could appear to have influenced the submitted work.
References