Zinc supplementation and COVID-19 mortality: a meta-analysis
Meta analysis of five zinc treatment studies for COVID-19, showing significantly lower mortality.Currently there are
40 zinc studies
and meta analysis shows:
risk of death,

43.0% lower

, OR 0.57, p < 0.001
, RR approximated with OR.
Effect extraction follows pre-specified rules prioritizing more serious outcomes. Submit updates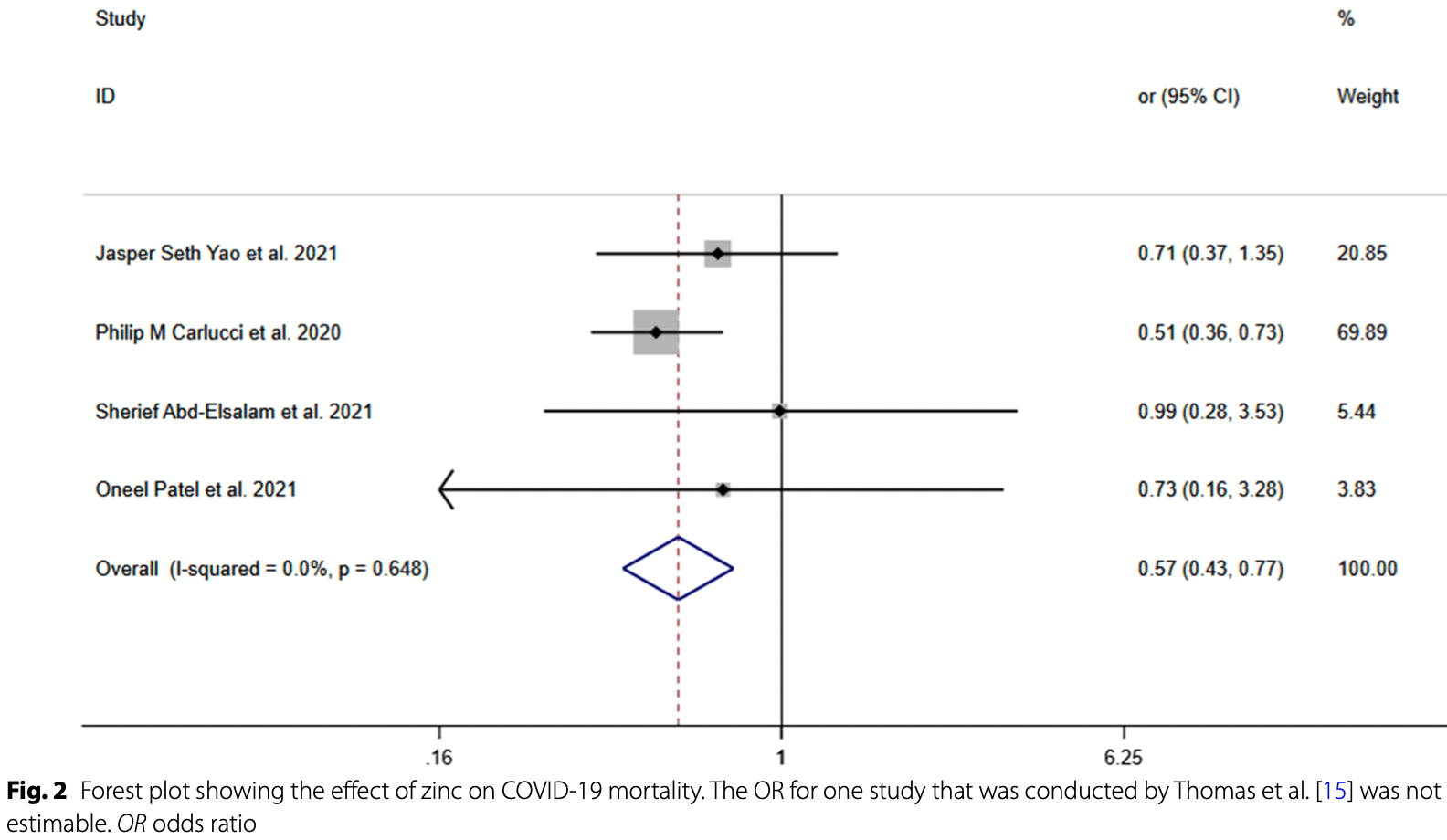 Tabatabaeizadeh et al., 23 May 2022, peer-reviewed, 1 author.
Contact: tabatabaei.amir@yahoo.com (corresponding author).
Abstract: Tabatabaeizadeh  European Journal of Medical Research (2022) 27:70 https://doi.org/10.1186/s40001-022-00694-z European Journal of Medical Research Open Access REVIEW Zinc supplementation and COVID‑19 mortality: a meta‑analysis Seyed‑Amir Tabatabaeizadeh* Abstract Background and aims: Severe acute respiratory syndrome coronavirus 2 (SARS-CoV-2) is the agent of a pneumonia outbreak and was called 2019 novel coronavirus disease (COVID-19). COVID-19 emerged in December 2019 and now considered a pandemic. Zinc supplementation can reduce mortality in patients with severe pneumonia. This study aimed at meta-analysis of the results of related studies and evaluate the effect of zinc supplementation on COVID-19 mortality. Methods: A systematic search has conducted for manuscripts through PUBMED/Medline and Google Scholar (Cochrane guideline has considered it as the gray literature) up to September 2021. This meta-analysis followed Pre‑ ferred Reporting Items for Systematic Reviews and Meta-analysis (PRISMA) Guideline for evaluation of the effect zinc supplementation on COVID-19 mortality. Based on the heterogeneity a fixed-effect or random-effect model, the OR and 95% CI were used to assess the combined risk. Results: After assessment, five studies with 1506 participants in case and control groups were included in meta-anal‑ ysis. The OR for one study was not estimable, and the pool OR was estimated for other studies with 1398 participants. The meta-analysis showed that zinc supplementation in cases led to a significant lower risk of mortality when it was compared with the control group; pooled OR (95% CI) was 0.57 [0.43, 0.77] (P < 0.001). Conclusion: This meta-analysis has suggested that zinc supplementation is associated with a lower mortality rate in COVID-19 patients. Zinc supplementation could be considered as a simple way and cost benefit approach for reduc‑ tion of mortality in COVID-19 patients. Keywords: SARS-CoV-2, COVID-19, Zinc, Mortality, Meta-analysis
Please send us corrections, updates, or comments. Vaccines and treatments are complementary. All practical, effective, and safe means should be used based on risk/benefit analysis. No treatment, vaccine, or intervention is 100% available and effective for all current and future variants. We do not provide medical advice. Before taking any medication, consult a qualified physician who can provide personalized advice and details of risks and benefits based on your medical history and situation.
FLCCC
and
WCH
provide treatment protocols.
Submit