Retrospective 508 hospitalized COVID-19 patients in Iran showing lower mortality with vitamin D supplementation (not reaching statistical significance), and an association between lower vitamin D levels and disease severity, ICU admission, and increased mortality. Details of supplementation are not provided. The multivariate result for vitamin D deficiency is in the preprint, the journal version only contains the multivariate result for serum level.This is the
18th of 116 COVID-19 controlled studies
for vitamin D, which collectively show efficacy with
p<0.0000000001 (1 in 38 sextillion)
.
28 studies are RCTs
, which show efficacy with
p=0.0000081
.
risk of death,

30.4% lower

, RR 0.70, p = 0.45
, treatment 7 of 88 (8.0%), control 48 of 420 (11.4%), NNT 29, vitamin D supplementation.
risk of ICU admission,

63.8% lower

, RR 0.36, p = 0.009
, treatment 13 of 185 (7.0%), control 53 of 323 (16.4%), NNT 11, adjusted per study, inverted to make RR<1 favor treatment, vitamin D levels >30ng/mL.
Effect extraction follows pre-specified rules prioritizing more serious outcomes. Submit updates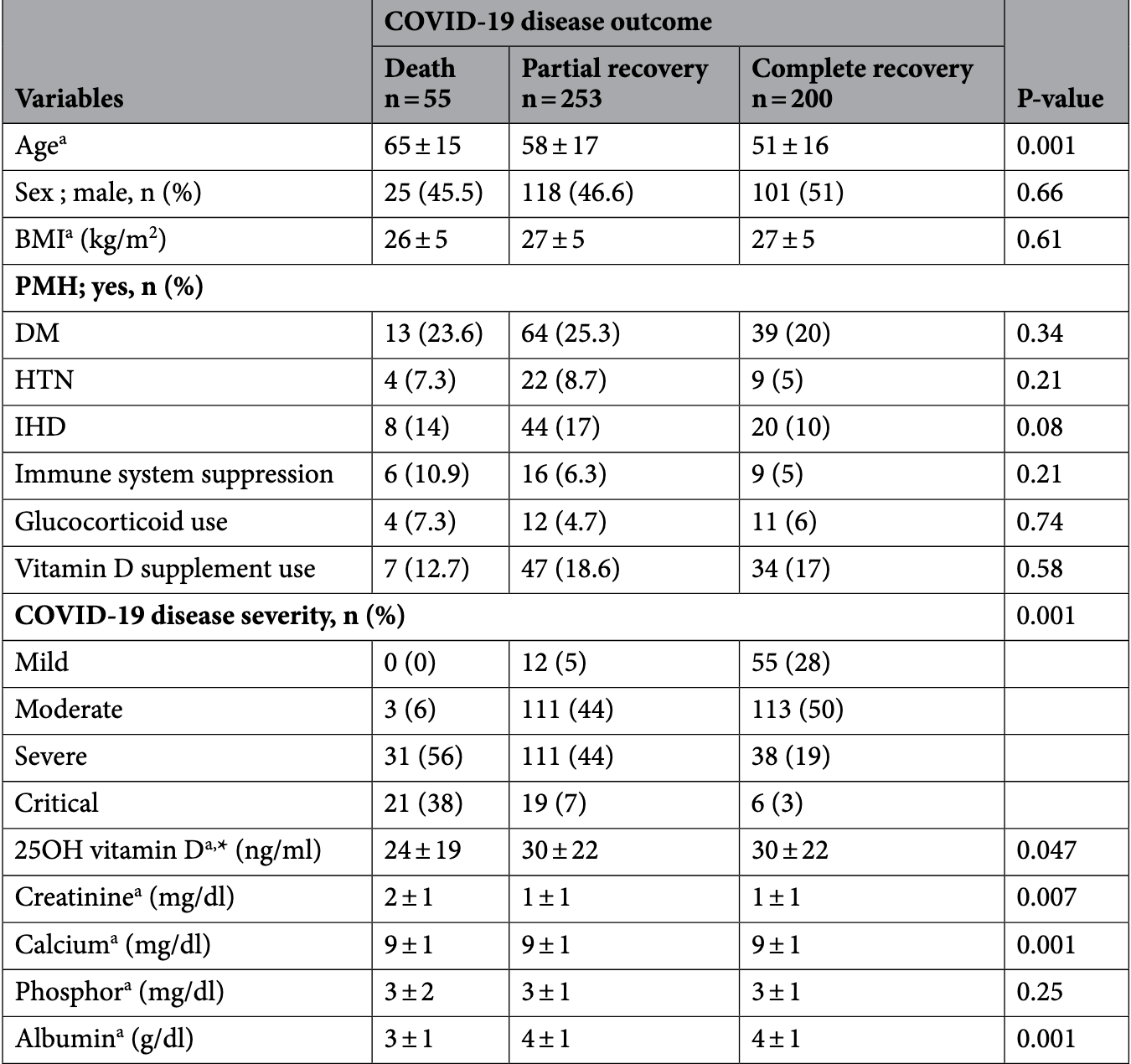 Vasheghani et al., 18 Jan 2021, retrospective, Iran, preprint, 6 authors, dosage not specified.
The relationship between serum 25-hydroxyvitamin D levels and the severity of COVID-19 disease and its mortality
Scientific Reports, doi:10.1038/s41598-021-97017-9
Supplemental vitamin D can reduce the risk and mortality of viral pneumonia. The relationship between 25 hydroxyvitamin D [25(OH)D] levels and the severity and mortality of Coronavirus disease 2019 (COVID-19) was evaluated. In this cross-sectional study, the admitted patients with COVID-19 were categorized as mild, moderate, severe, and critical based on clinical and radiologic characteristics. Calcium, phosphorus, albumin, creatinine, and serum 25(OH)D were measured and their correlation with the severity of disease and mortality were analyzed. During 2 months, 508 patients (442 patients in general wards and 66 patients in the intensive care unit (ICU)) were included. The participants were 56 ± 17 years old (52% male, 37% with comorbidity). Concerning severity, 13%, 42%, 36%, and 9% had mild, moderate, severe, and critical diseases, respectively. The mortality rate was 10.8%. Admission to ICU, severity of disease and mortality decreased significantly across quartiles of 25(OH)D. According to multivariate logistic regression analysis, disease mortality had a positive correlation with age and had a negative correlation with the serum level of 25(OH)D, calcium, and albumin. In hospitalized patients with COVID-19, low 25(OH)D was associated with severe disease and increased ICU admission and mortality rate. In late 2019, a new coronavirus was identified as a cause of a cluster of pneumonia cases in China which is named COVID-19 disease 1 . Currently, COVID-19 is pandemic 2 . In Iran, 612,772 people as the definitive cases of COVID-19 have been reported by November 10, 2020, and 34,864 people have died 3 . Manifestations of the COVID-19 range from asymptomatic carriers to acute respiratory failure and death 4 . Complications include acute respiratory failure, cytokine release syndrome, increased coagulation factors, and multi-organ damage which are associated with poor prognosis 5, 6 . The overall mortality rate until November 18, 2020, is about 2.4% (1,333,742 deaths between 55,326,907 patients) 7 . Old age, cardiovascular disease, diabetes, high blood pressure, chronic lung disease, cancer, chronic kidney disease, people with defective or suppressed immune systems, obesity, and chronic liver disease have been identified as risk factors for severe disease or mortality 4, 6, 8, 9 . There is currently no specific treatment against COVID-19 disease 10 . Currently, the most important way to deal with this disease is prevention and control of the conditions that are considered as a risk factor for the more severe course, and complications. There is evidence from influenza A and severe acute respiratory syndrome (SARS) epidemics suggesting a role for vitamin D in these diseases 11 . Previous studies have suggested an association between vitamin D deficiency and an increased chance of developing bacterial and/or viral pneumonia due to viruses such as SARS, MERS, and Influenza A. COVID-19 disease is more prevalent and severe in winter and is more common..
Author contributions M.V. designed and worked in all steps of project. She wrote the manuscript and reviewed it. She revised and edited the article in all steps; N.J. collected data; P.B. Analyzed data; MR: had done laboratory tests. She reviewed and edited manuscript. R.A.: Analyzed data, corrected manuscript after revision. M.M.: supervised investigation and edited the manuscript. Funding The authors do not receive any funding for this study. Competing interests The authors declare no competing interests.
References
Bakhshayeshkaram, Haseli, Iranpour, Radiological mimickers of COVID-19 pneumonia: A pictorial review, Tanaffos
Mccartney, Byrne, Optimization of vitamin D status for enhanced immuno-protection against COVID-19, Iran. Med. J
Tabrizi, High prevalence of vitamin D deficiency among iranian population: A systematic review and meta-analysis, Iran. J. Med. Sci