Computational Identification of a Putative Allosteric Binding Pocket in TMPRSS2
Computational Identification of a Putative Allosteric Binding Pocket in TMPRSS2
,
Frontiers in Molecular Biosciences, doi:10.3389/fmolb.2021.666626
,
In Silico study of TMPRSS2 inhibition by camostat, nafamostat, and bromhexine, suggesting allosteric binding for bromhexine, compared to camostat and nafamostat which bind to the active site of TMPRSS2 forming covalent adducts.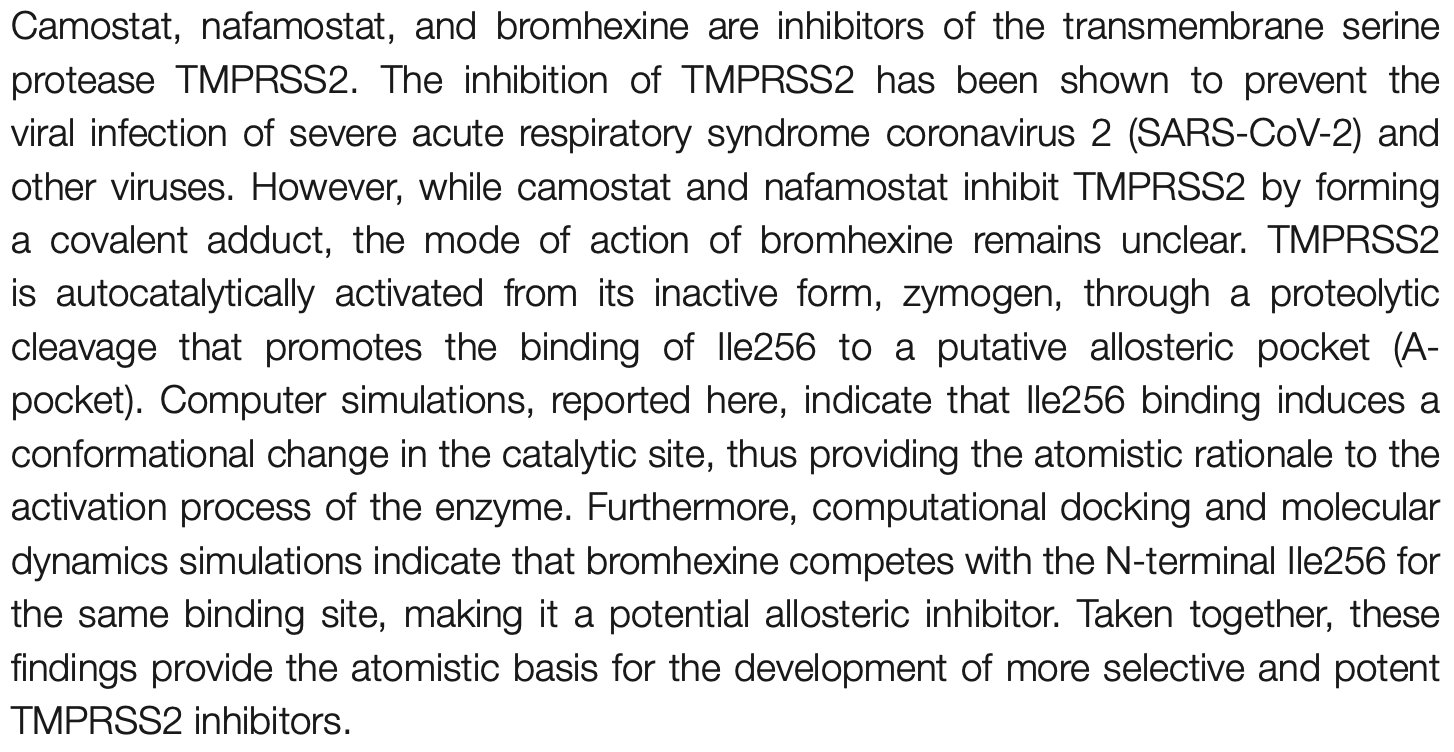 Sgrignani et al., 30 Apr 2021, peer-reviewed, 2 authors.
In Silico studies are an important part of preclinical research, however results may be very different in vivo.
Abstract: ORIGINAL RESEARCH published: 30 April 2021 doi: 10.3389/fmolb.2021.666626 Computational Identification of a Putative Allosteric Binding Pocket in TMPRSS2 Jacopo Sgrignani 1* and Andrea Cavalli 1,2* 1 Institute for Research in Biomedicine, Università della Svizzera Italiana, Bellinzona, Switzerland, 2 Swiss Institute of Bioinformatics, Lausanne, Switzerland Edited by: Massimiliano Bonomi, Institut Pasteur, France Reviewed by: Therese E. Malliavin, Institut Pasteur, France Matteo Masetti, University of Bologna, Italy *Correspondence: Jacopo Sgrignani jacopo.sgrignani@irb.usi.ch Andrea Cavalli andrea.cavalli@irb.usi.ch Specialty section: This article was submitted to Biological Modeling and Simulation, a section of the journal Frontiers in Molecular Biosciences Received: 10 February 2021 Accepted: 01 April 2021 Published: 30 April 2021 Citation: Sgrignani J and Cavalli A (2021) Computational Identification of a Putative Allosteric Binding Pocket in TMPRSS2. Front. Mol. Biosci. 8:666626. doi: 10.3389/fmolb.2021.666626 Camostat, nafamostat, and bromhexine are inhibitors of the transmembrane serine protease TMPRSS2. The inhibition of TMPRSS2 has been shown to prevent the viral infection of severe acute respiratory syndrome coronavirus 2 (SARS-CoV-2) and other viruses. However, while camostat and nafamostat inhibit TMPRSS2 by forming a covalent adduct, the mode of action of bromhexine remains unclear. TMPRSS2 is autocatalytically activated from its inactive form, zymogen, through a proteolytic cleavage that promotes the binding of Ile256 to a putative allosteric pocket (Apocket). Computer simulations, reported here, indicate that Ile256 binding induces a conformational change in the catalytic site, thus providing the atomistic rationale to the activation process of the enzyme. Furthermore, computational docking and molecular dynamics simulations indicate that bromhexine competes with the N-terminal Ile256 for the same binding site, making it a potential allosteric inhibitor. Taken together, these findings provide the atomistic basis for the development of more selective and potent TMPRSS2 inhibitors. Keywords: TMPRSS2 protein, molecular modeling, allosteric pocket, docking, MD simulation
Please send us corrections, updates, or comments. Vaccines and treatments are complementary. All practical, effective, and safe means should be used based on risk/benefit analysis. No treatment, vaccine, or intervention is 100% available and effective for all current and future variants. We do not provide medical advice. Before taking any medication, consult a qualified physician who can provide personalized advice and details of risks and benefits based on your medical history and situation.
FLCCC
and
WCH
provide treatment protocols.
Submit