In Silico study of TMPRSS2 inhibition by camostat, nafamostat, and bromhexine, suggesting allosteric binding for bromhexine, compared to camostat and nafamostat which bind to the active site of TMPRSS2 forming covalent adducts.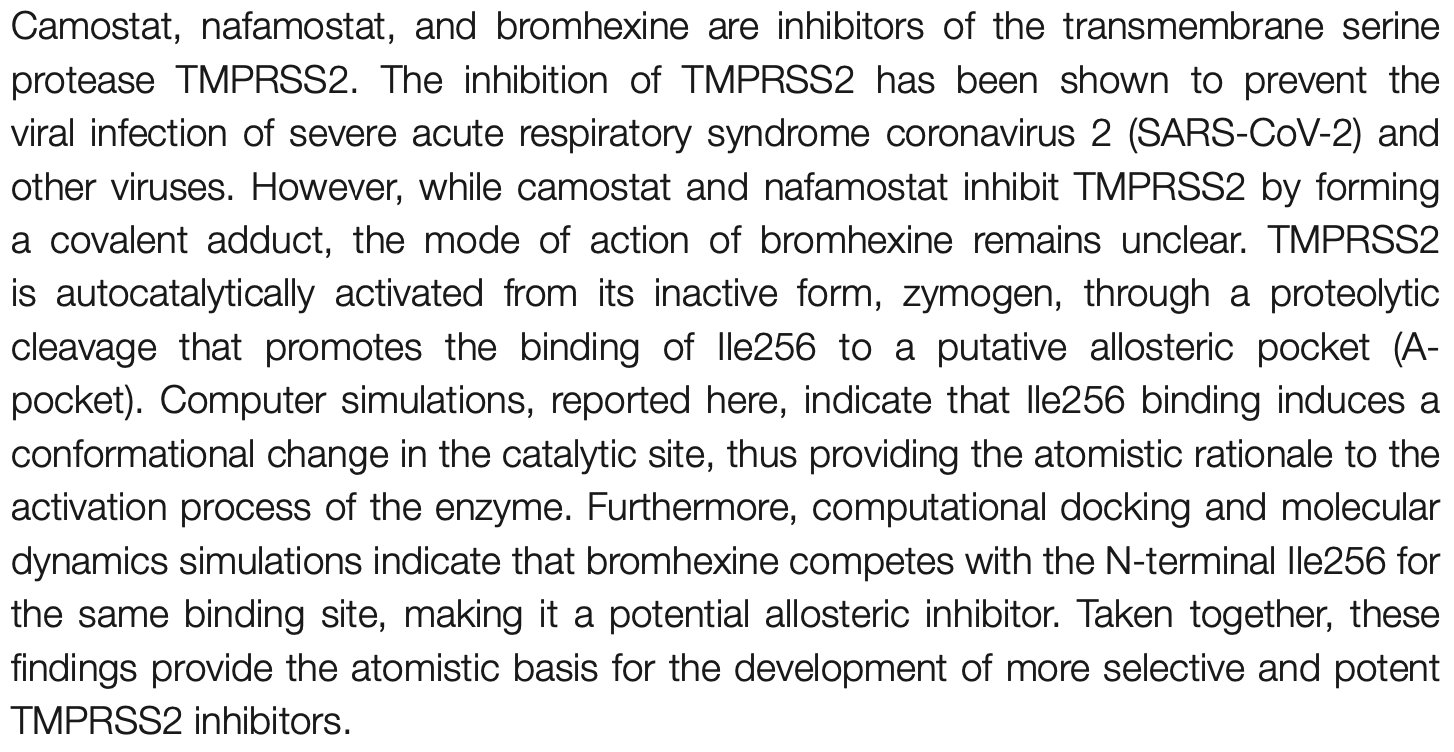 Sgrignani et al., 30 Apr 2021, peer-reviewed, 2 authors.
In Silico studies are an important part of preclinical research, however results may be very different in vivo.
Computational Identification of a Putative Allosteric Binding Pocket in TMPRSS2
Frontiers in Molecular Biosciences, doi:10.3389/fmolb.2021.666626
Camostat, nafamostat, and bromhexine are inhibitors of the transmembrane serine protease TMPRSS2. The inhibition of TMPRSS2 has been shown to prevent the viral infection of severe acute respiratory syndrome coronavirus 2 (SARS-CoV-2) and other viruses. However, while camostat and nafamostat inhibit TMPRSS2 by forming a covalent adduct, the mode of action of bromhexine remains unclear. TMPRSS2 is autocatalytically activated from its inactive form, zymogen, through a proteolytic cleavage that promotes the binding of Ile256 to a putative allosteric pocket (Apocket). Computer simulations, reported here, indicate that Ile256 binding induces a conformational change in the catalytic site, thus providing the atomistic rationale to the activation process of the enzyme. Furthermore, computational docking and molecular dynamics simulations indicate that bromhexine competes with the N-terminal Ile256 for the same binding site, making it a potential allosteric inhibitor. Taken together, these findings provide the atomistic basis for the development of more selective and potent TMPRSS2 inhibitors.
AUTHOR CONTRIBUTIONS JS designed the study, performed and analyzed simulations and experiments, and wrote and revised the manuscript. AC designed the study, analyzed the results of simulations and experiments, and wrote and revised the manuscript. Both authors contributed to the article and approved the submitted version. SUPPLEMENTARY MATERIAL The Supplementary Material for this article can be found online at: https://www.frontiersin.org/articles/10.3389/fmolb. 2021.666626/full#supplementary-material Conflict of Interest: The authors declare that the research was conducted in the absence of any commercial or financial relationships that could be construed as a potential conflict of interest.
References
Afar, Vivanco, Hubert, Kuo, Chen et al., Catalytic cleavage of the androgen-regulated TMPRSS2 protease results in its secretion by prostate and prostate cancer epithelia, Cancer Res
Friesner, Banks, Murphy, Halgren, Klicic et al., Glide: a new approach for rapid, accurate docking and scoring
Guarnera, Berezovsky, Toward comprehensive allosteric control over protein activity, Structure
Hoffmann, Kleine-Weber, Schroeder, Krüger, Herrler et al., SARS-CoV-2 cell entry depends on ACE2 and TMPRSS2 and Is blocked by a clinically proven protease inhibitor, Cell
Stubbs, Renatus, Bode, An active zymogen: unravelling the mystery of tissue-type plasminogen activator, Biol. Chem
Waterhouse, Bertoni, Bienert, Studer, Tauriello et al., SWISS-MODEL: homology modelling of protein structures and complexes, Nucleic Acids Res
Wiederstein, Sippl, ProSA-web: interactive web service for the recognition of errors in three-dimensional structures of proteins, Nucl. Acids Res
Xu, Wang, Hu, Gao, Ma et al., CavityPlus: a web server for protein cavity detection with pharmacophore modelling, allosteric site identification and covalent ligand binding ability prediction, Nucleic Acids Res