Repurposing the mucolytic cough suppressant and TMPRSS2 protease inhibitor bromhexine for the prevention and management of SARS-CoV-2 infection
et al., Pharmacol Res.,
Repurposing the mucolytic cough suppressant and TMPRSS2 protease inhibitor bromhexine for the prevention and..
,
Pharmacol Res., doi:10.1016/j.phrs.2020.104837 (Review)
,
Proposal to use bromhexine for prophylaxis and treatment of COVID-19 based on TMPRSS2 inhibition, widespread clinical use, and supporting pharmacokinetic and safety data.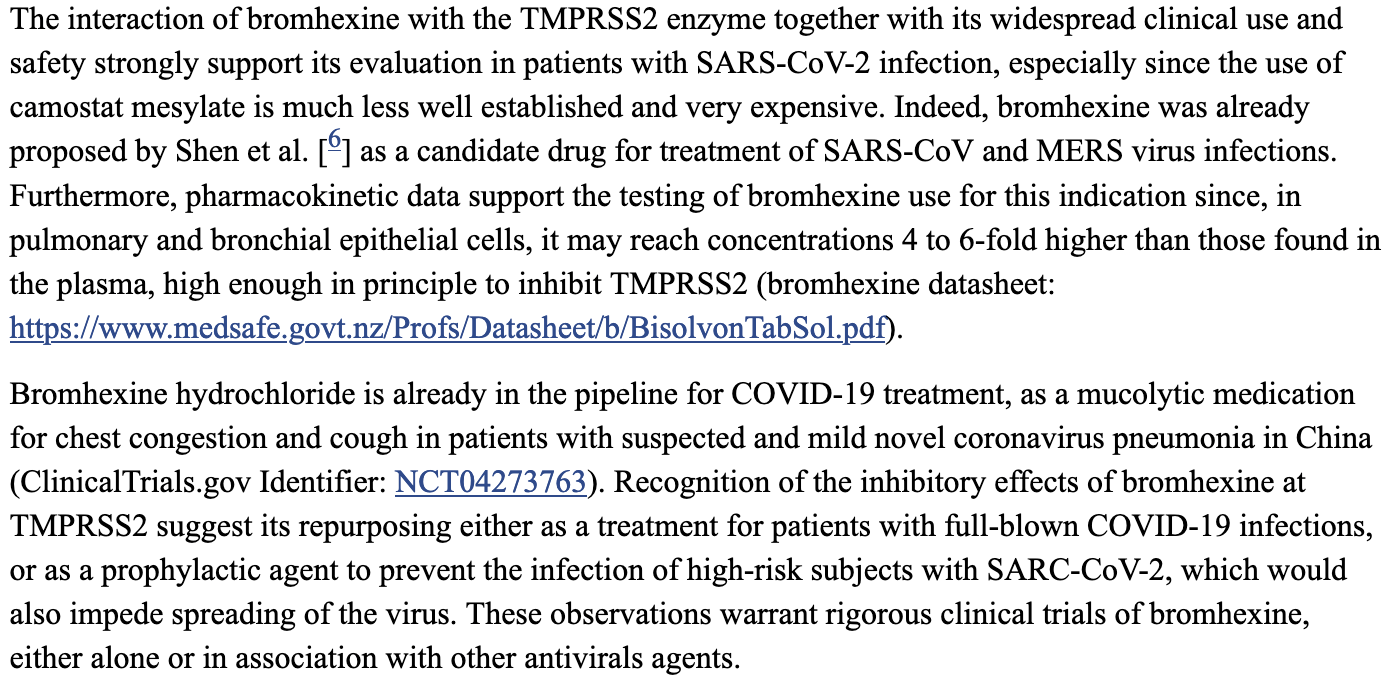 Maggio et al., 22 Apr 2020, peer-reviewed, 2 authors.
Abstract: Since January 2020 Elsevier has created a COVID-19 resource centre with free information in English and Mandarin on the novel coronavirus COVID19. The COVID-19 resource centre is hosted on Elsevier Connect, the company's public news and information website. Elsevier hereby grants permission to make all its COVID-19-related research that is available on the COVID-19 resource centre - including this research content - immediately available in PubMed Central and other publicly funded repositories, such as the WHO COVID database with rights for unrestricted research re-use and analyses in any form or by any means with acknowledgement of the original source. These permissions are granted for free by Elsevier for as long as the COVID-19 resource centre remains active. Pharmacological Research 157 (2020) 104837 Contents lists available at ScienceDirect Pharmacological Research journal homepage: www.elsevier.com/locate/yphrs Letter to the Editor Repurposing the mucolytic cough suppressant and TMPRSS2 protease inhibitor bromhexine for the prevention and management of SARS-CoV-2 infection Dear Editor, Bromhexine is an over-the-counter mucolytic cough suppressant that was introduced in 1963 under the trademark of Bisolvon®. It is a widely prescribed drug for treatment of a range of respiratory conditions, mainly those associated with a disturbance of mucus secretion, and it is well tolerated and safe. Chemical library screening for discovery of suppressors of prostate cancer metastasis identified bromhexine as a potent and selective inhibitor of the TMPRSS2 (Transmembrane Protein Serine 2) protease displaying an IC50 of 0.75 μM [1]. This is important since TMPRSS2 is an androgen regulated cell-surface serine protease that belongs to the very few trypsin-like proteases expressed in the human respiratory tract. It plays a role in the proteolytic activation and invasion of the human airway epithelium by influenza [2] as well as SARS-CoV and MERS [3] viruses. The spread of the COVID-19 coronavirus pandemic is a major crisis of public health and has stimulated intensive efforts to find treatments active against the SARS-CoV-2 virus. Hoffmann et al. [4] proposed the TMPRSS2 serine protease inhibitor camostat mesylate [5], a drug approved in Japan for use in chronic pancreatitis, for off-label treatment of SARS-CoV-2-infected patients. Their proposal is grounded in the finding that SARS-CoV-2 cell entry depends on binding of the viral spike (S) protein to cellular angiotensin converting enzyme 2 receptor and priming of the S protein by host cell TMPRSS2 protease [4]. Hoffmann's study indicated that cleavage of the viral S protein by TMPRSS2 protease occurs at S1/S2 arginine rich multibasic site: this is prevented by camostat mesylate which accordingly inhibits the entry of SARS-CoV-2 virus into Calu-3 lung cell lines and primary human airway epithelial cells. Furthermore, based on studies of influenza and other coronaviruses, TMPRSS2 may also regulate viral assembly in the Golgi apparatus and release of SARS-CoV-2-from the plasma membrane as previously suggested by Shen et al. [6]. The interaction of bromhexine with the TMPRSS2 enzyme together with its widespread clinical use and safety strongly support its evaluation in patients with SARS-CoV-2 infection, especially since the use of camostat mesylate is much less well established and very expensive. Indeed, bromhexine was already proposed by Shen et al. [6] as a candidate drug..
Please send us corrections, updates, or comments. Vaccines and treatments are complementary. All practical, effective, and safe means should be used based on risk/benefit analysis. No treatment, vaccine, or intervention is 100% available and effective for all current and future variants. We do not provide medical advice. Before taking any medication, consult a qualified physician who can provide personalized advice and details of risks and benefits based on your medical history and situation.
FLCCC
and
WCH
provide treatment protocols.
Submit