Note on the potential use of bromhexine hydrochloride for prophylaxis of SARS-CoV-2, based on the role of TMPRSS2 in SARS-CoV-2 infection, and the TMPRSS2 inhibition of bromhexine hydrochloride.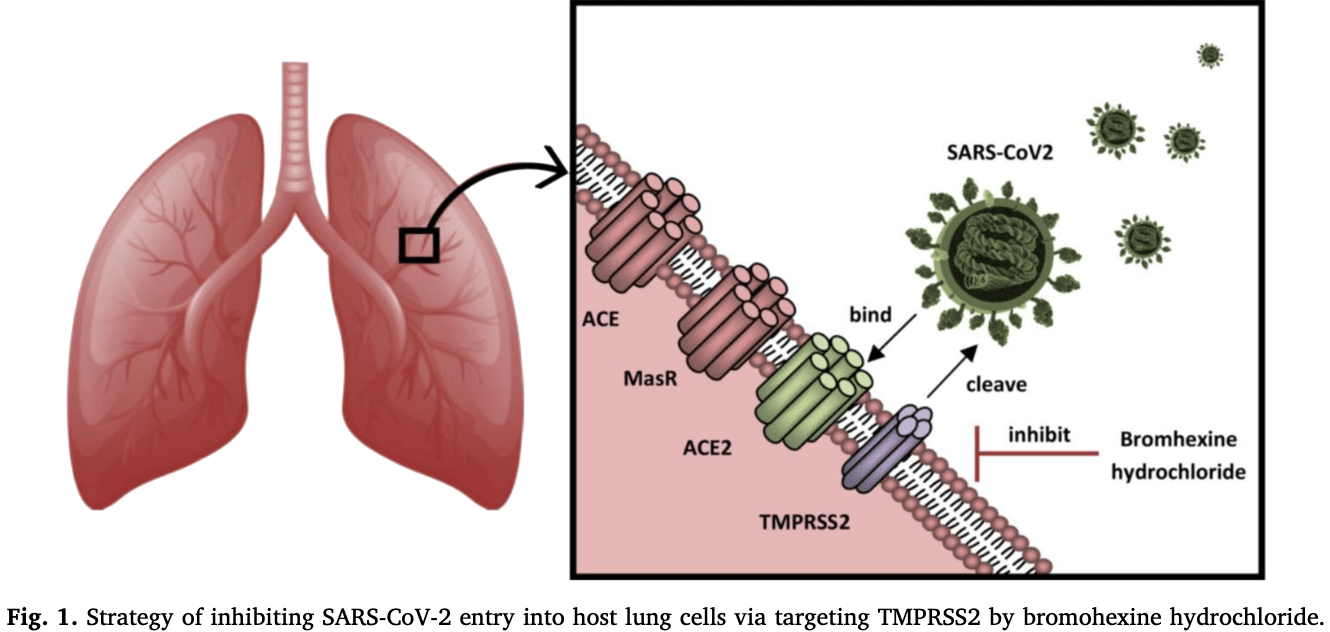 Habtemariam et al., 30 Apr 2020, peer-reviewed, 6 authors.
Since January 2020 Elsevier has created a COVID-19 resource centre with free information in English and Mandarin on the novel coronavirus COVID-19. The COVID-19 resource centre is hosted on Elsevier Connect, the company's public news and information website. Elsevier hereby grants permission to make all its COVID-19-related research that is available on the COVID-19 resource centre -including this research content -immediately available in PubMed Central and other publicly funded repositories, such as the WHO COVID database with rights for unrestricted research re-use and analyses in any form or by any means with acknowledgement of the original source. These permissions are granted for free by Elsevier for as long as the COVID-19 resource centre remains active.
Solomon Habtemariam Pharmacognosy Research Laboratories and Herbal Analysis
References
Hoffmann, Kleine-Weber, Schroeder, Krüger, Herrler et al., SARS-CoV-2 cell entry depends on ACE2 and TMPRSS2 and is blocked by a clinically proven protease inhibitor, Cell,
doi:10.1016/j.cell.2020.02.052
Iwata-Yoshikawa, Okamura, Shimizu, Hasegawa, Takeda et al., TMPRSS2 contributes to virus spread and immunopathology in the airways of murine models after coronavirus infection, J. Virol
Limburg, Harbig, Bestle, Stein, Moulton et al., TMPRSS2 is the major activating protease of influenza A virus in primary human airway cells and influenza B virus in human type II pneumocytes, J. Virol
Lukassen, Chua, Trefzer, Kahn, Schneider et al., SARS-CoV-2 receptor ACE2 and TMPRSS2 are primarily expressed in bronchial transient secretory cells, EMBO J,
doi:10.15252/embj.2020105114
Matsuyama, Nao, Shirato, Kawase, Saito et al., Enhanced isolation of SARS-CoV-2 by TMPRSS2-expressing cells, Proc. Natl. Acad. Sci,
doi:10.1073/pnas.2002589117
Shen, Mao, Wu, Tanaka, Zhang, TMPRSS2: a potential target for treatment of influenza virus and coronavirus infections, Biochimie
Zmora, Hoffmann, Kollmus, Moldenhauer, Danov et al., TMPRSS11A activates the influenza A virus hemagglutinin and the MERS coronavirus spike protein and is insensitive against blockade by HAI-1, J. Biol. Chem