RCT with 39 bromhexine and 39 control patients showing lower mortality, intubation, and ICU admission with treatment. The treatment group received bromhexine hydrochloride 8 mg three times a day for two weeks. All patients received SOC including HCQ.Bromhexine efficacy may vary depending on the degree of TMPRSS-dependent fusion for different variants
Peacock, Willett
.
risk of death,

90.9% lower

, RR 0.09, p = 0.05
, treatment 0 of 39 (0.0%), control 5 of 39 (12.8%), NNT 7.8, relative risk is not 0 because of continuity correction due to zero events (with reciprocal of the contrasting arm).
risk of mechanical ventilation,

88.9% lower

, RR 0.11, p = 0.01
, treatment 1 of 39 (2.6%), control 9 of 39 (23.1%), NNT 4.9.
risk of ICU admission,

81.8% lower

, RR 0.18, p = 0.01
, treatment 2 of 39 (5.1%), control 11 of 39 (28.2%), NNT 4.3.
Effect extraction follows pre-specified rules prioritizing more serious outcomes. Submit updates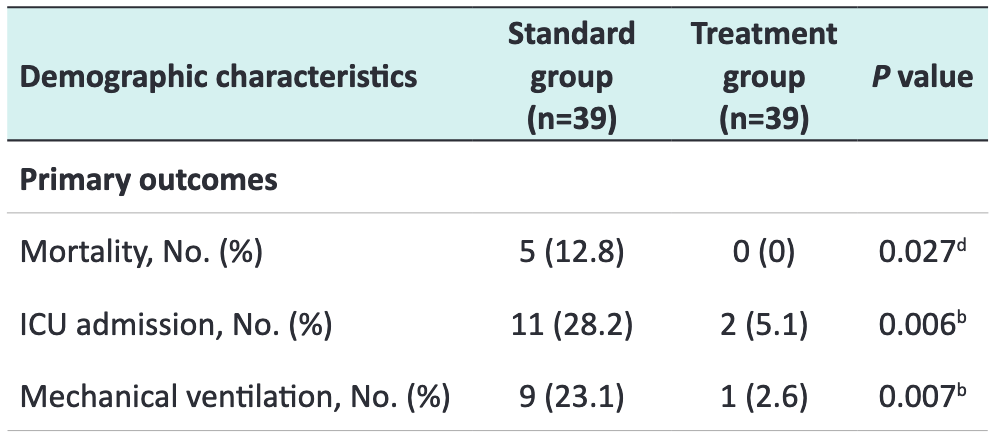 Ansarin et al., 19 Jul 2020, Randomized Controlled Trial, Iran, peer-reviewed, 11 authors, study period 18 April, 2020 - 19 May, 2020.
Effect of bromhexine on clinical outcomes and mortality in COVID-19 patients: A randomized clinical trial
BioImpacts, doi:10.34172/bi.2020.27
Introduction: Bromhexine is a potential therapeutic option in COVID-19, but no data from a randomized clinical trial has been available. The present study aimed to evaluate the efficacy of bromhexine in intensive care unit (ICU) admission, mechanical ventilation, and mortality in patients with COVID-19. Methods: An open-label randomized clinical trial study was performed in Tabriz, North-West of Iran. They were randomized to either the treatment with the bromhexine group or the control group, in a 1:1 ratio with 39 patients in each arm. Standard therapy was used in both groups and those patients in the treatment group received oral bromhexine 8 mg three times a day additionally. The primary outcome was a decrease in the rate of ICU admissions, intubation/ mechanical ventilation, and mortality. Results: A total of 78 patients with similar demographic and disease characteristics were enrolled. There was a significant reduction in ICU admissions (2 out of 39 vs. 11 out of 39, P = 0.006), intubation (1 out of 39 vs. 9 out of 39, P = 0.007) and death (0 vs. 5, P = 0.027) in the bromhexine treated group compared to the standard group. No patients were withdrawn from the study because of adverse effects. Conclusion: The early administration of oral bromhexine reduces the ICU transfer, intubation, and the mortality rate in patients with COVID-19. This affordable medication can easily be administered everywhere with a huge positive impact(s) on public health and the world economy. Altogether, the verification of our results on a larger scale and different medical centers is strongly recommended. Trial Registration: IRCT202003117046797N4; https://irct.ir/trial/46969.
BioImpacts, 2020, 10(4), 209-215 215 administered in remote and underserved areas. Despite the relatively small sample size and a single-center experience, our results are very encouraging, highlighting a potential breakthrough point in the management of patients with COVID-19 disease if confirmed after verification in largescale clinical trials. Considering the current state of the pandemic, it may be a game-changer and can have a huge positive impact on resolving public health issues as well as on the world economy. Ethical statement The study was approved by the Ethics Committee of the Tabriz University of Medical Sciences, Tabriz, Iran (IR.TBZMED.REC.1399.013). Competing interests The authors declare no conflict of interest in publishing this paper. This study not supported by any grant money from a pharmaceutical company or for-profit organization. Authors' contribution KA, MRA and SS designed the study. KA, RT, MRA, AT, ST and SS contributed to the protocol development. KA, MRA, AT, MV, ST, TV, HV and PS collected the data. Data analysis and interpretation were conducted by KA, MRA and SS. The initial manuscript was drafted by KA, MRA, RT, SS and KRC. All authors critically revised the manuscript for important intellectual content and approved it for submission.
References