Molnupiravir inhibits SARS-CoV-2 variants including Omicron in the hamster model
Syrian hamster study showing efficacy of molnupiravir for multiple variants including omicron.
Concerns have been raised that the mutagenic mechanism of action may create dangerous variants or cause cancer [Hadj Hassine, Swanstrom]. See [Fountain-Jones, Sanderson, ] for analysis of variants potentially created by molnupiravir.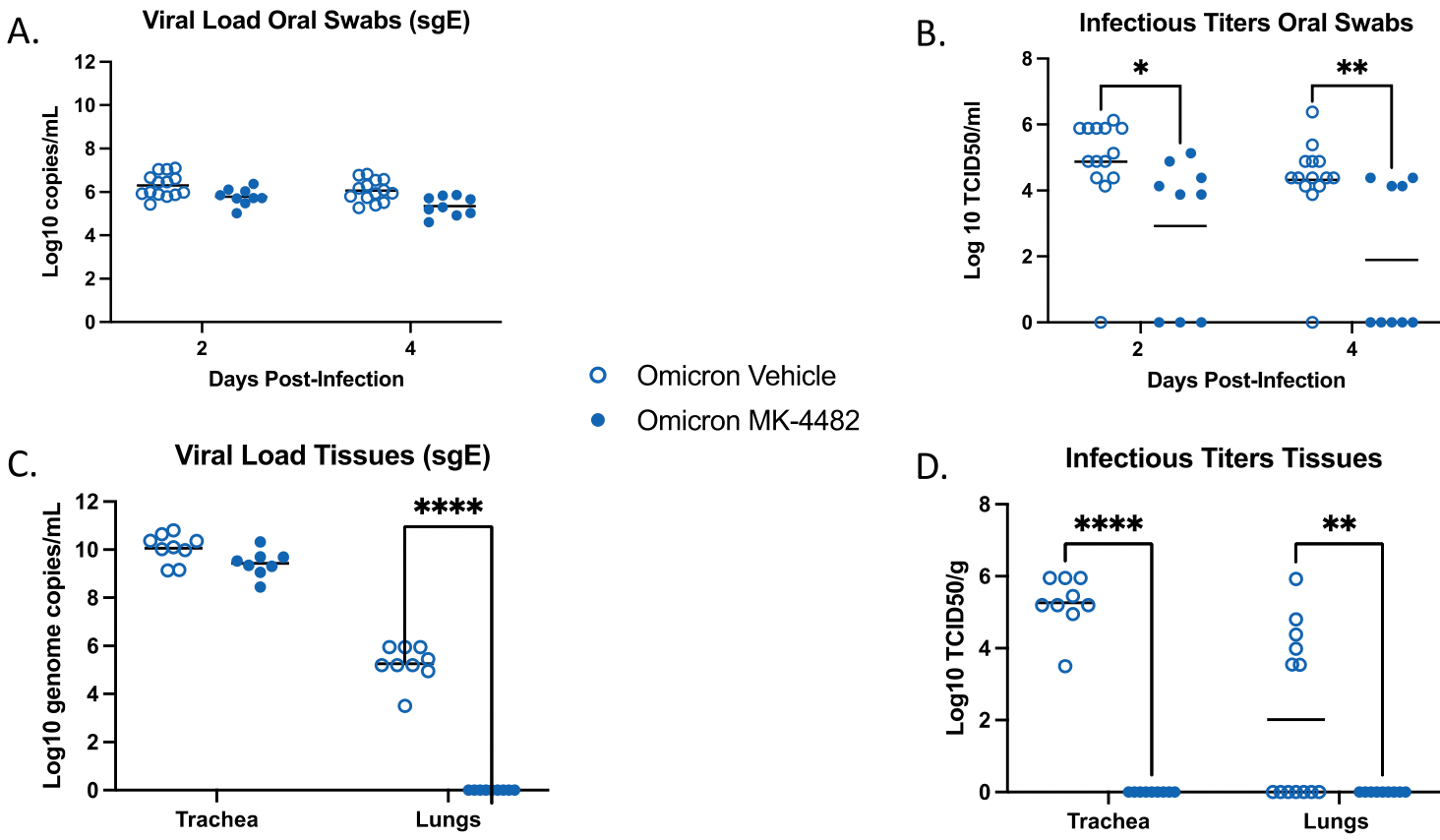 Rosenke et al., 17 May 2022, United Kingdom, peer-reviewed, 11 authors.
Contact: feldmannh@niaid.nih.gov, michael.jarvis@plymouth.ac.uk.
Abstract: 1 Title: Molnupiravir inhibits SARS-CoV-2 variants including Omicron in the hamster model 2 3 Authors: Kyle Rosenke1, Atsushi Okumura1, Matthew C. Lewis1, Friederike Feldmann2, 4 Kimberly Meade-White1, W. Forrest Bohler1, Amanda Griffin1, Rebecca Rosenke2, Carl Shaia2, 5 Michael A. Jarvis1,3,4*, Heinz Feldmann1* 6 7 Affiliations: 1Laboratory of Virology, 2Rocky Mountain Veterinary Branch, National Institute 8 of Allergy and Infectious Diseases, National Institutes of Health; Hamilton, MT, USA; 3School 9 of Biomedical Sciences, University of Plymouth; Plymouth, Devon, UK; 4The Vaccine Group 10 Ltd; Plymouth, Devon, UK. 11 12 *Corresponding authors: Heinz Feldmann, Rocky Mountain Laboratories, 903 S 4th Street, 13 Hamilton, MT, US-59840; Tel: (406)-375-7410; Email: feldmannh@niaid.nih.gov; 14 Michael A. Jarvis, University of Plymouth, School of Biomedical Sciences, Derriford Research 15 Facility, Plymouth, Devon, UK, PL6 8BU; Tel: +44 (0)1752-437444; Email: 16 michael.jarvis@plymouth.ac.uk 17 18 One Sentence Summary: MK-4482 inhibits replication of multiple SARS-CoV-2 variants of 19 concern, including Omicron, in the Syrian hamster COVID-19 model 20 21 Conflict of Interest Statement: The authors have declared that no conflict of interest exists. 1 22 23 ABSTRACT 24 The recent emergence of the SARS-CoV-2 Omicron variant of concern (VOC) containing a 25 heavily mutated spike protein capable of escaping preexisting immunity identifies a continued 26 need for interventional measures. Molnupiravir (MK-4482), an orally administered nucleoside 27 analog, has demonstrated efficacy against earlier SARS-CoV-2 lineages and was recently 28 approved for SARS-CoV-2 infections in high-risk adults. Here we assessed the efficacy of MK- 29 4482 against the earlier Alpha, Beta and Delta VOCs and Omicron in the hamster COVID-19 30 model. Omicron replication and associated lung disease in vehicle treated hamsters was reduced 31 compared to the earlier VOCs. MK-4482 treatment inhibited virus replication in the lungs of 32 Alpha, Beta and Delta VOC infected hamsters. Importantly, MK-4482 profoundly inhibited virus 33 replication in the upper and lower respiratory tract of hamsters infected with the Omicron VOC. 34 Consistent with its mutagenic mechanism, MK-4482 treatment had a more pronounced inhibitory 35 effect on infectious titers compared to viral RNA genome load. Histopathologic analysis showed 36 that MK-4482 treatment caused a concomitant reduction in the level of lung disease and viral 37 antigen load in infected hamsters across all VOCs examined. Together, our data indicate the 38 potential of MK-4482 as an effective antiviral against known SARS-CoV-2 VOCs, especially 39 Omicron, and likely future SARS-CoV-2 variants. 40
Please send us corrections, updates, or comments. Vaccines and treatments are complementary. All practical, effective, and safe means should be used based on risk/benefit analysis. No treatment, vaccine, or intervention is 100% available and effective for all current and future variants. We do not provide medical advice. Before taking any medication, consult a qualified physician who can provide personalized advice and details of risks and benefits based on your medical history and situation.
FLCCC
and
WCH
provide treatment protocols.
Submit