risk of case,

33.0% lower

, OR 0.67, p = 0.21
, treatment 32 of 60 (53.3%) cases, 75 of 119 (63.0%) controls, NNT 11, case control OR, vitamin D supplementation for ≥3 months in the last year.
Effect extraction follows pre-specified rules prioritizing more serious outcomes. Submit updates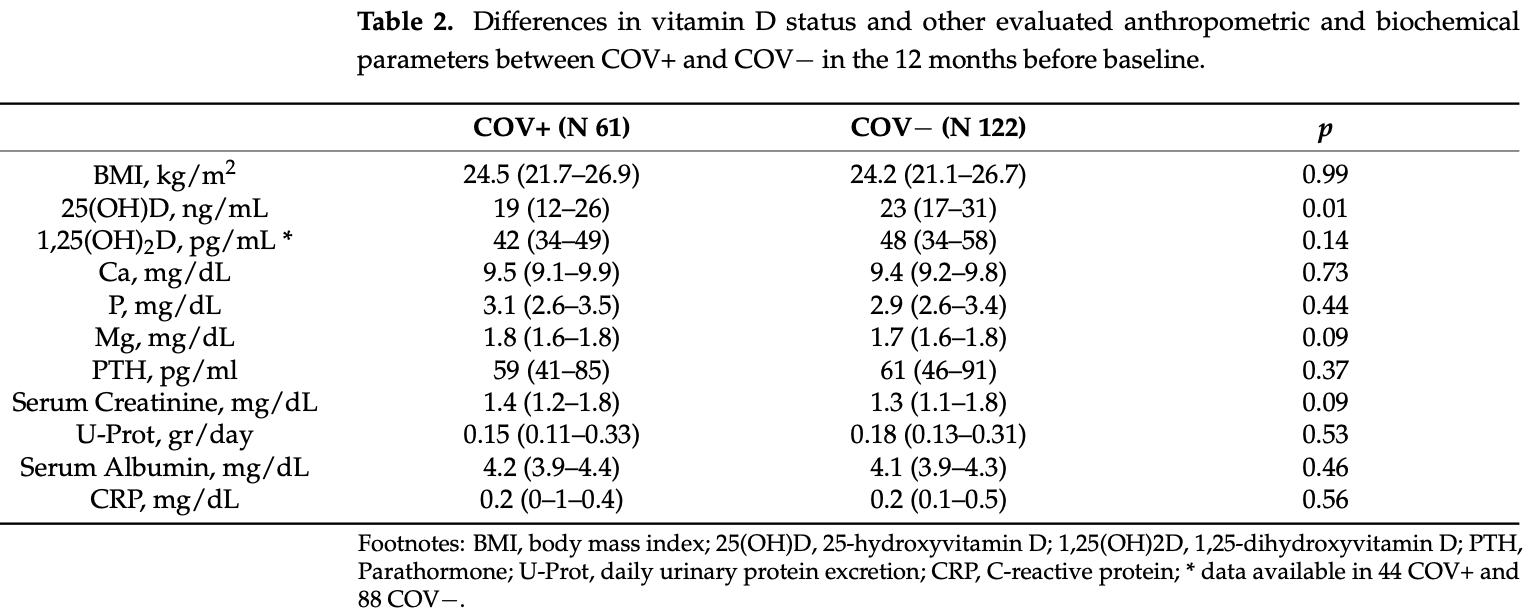 Regalia et al., 13 Jan 2022, retrospective, Italy, peer-reviewed, 10 authors, dosage varies.
Vitamin D Status and SARS-CoV-2 Infection in a Cohort of Kidney Transplanted Patients
Nutrients, doi:10.3390/nu14020317
Background: Recently the protective role of 25-hydroxyvitamin D (25(OH)D) against viral infections has been hypothesized. We evaluated the association between vitamin D status and SARS-CoV-2 infection susceptibility and severity in a cohort of kidney transplanted patients (KTxp). Methods: A total of 61 KTxp with SARS-CoV-2 infection (COV+) were matched with 122 healthy KTxp controls (COV−). Main biochemical parameters at 1, 6, and 12 months before SARS-CoV-2 infection were recorded. Vitamin D status was considered as the mean of two 25(OH)D measures obtained 6 ± 2 months apart during the last year. The severity of SARS-CoV-2 infection was based on the need for hospitalization (HOSP+) and death (D+). Results: 25(OH)D levels were lower in COV+ than in controls [19(12-26) vs. 23(17-31) ng/mL, p = 0.01]. No differences among the other biochemical parameters were found. The SARS-CoV-2 infection discriminative power of 25(OH)D was evaluated by ROC-curve (AUC 0.61, 95% CI 0.5-0.7, p = 0.01). 25(OH)D was not significantly different between vs. 20(15-26) ng/mL, p = 0.19] and between D+ and D− [14(6-23) vs. 20(14-26) ng/mL, p = 0.22] and had no significant correlation with disease length. Conclusions: During the year preceding the infection, 25(OH)D levels were lower in COV+ KTxp in comparison with controls matched for demographic features and comorbidities. No significant association between vitamin D status and SARS-CoV-2 infection related outcomes was found.
Informed Consent Statement: Given the observational and retrospective nature of the study, it was not necessary to obtain informed consent from patients. In any case, all of the data were collected digitally, analyzed, and reported in the results in a totally and anonymous manner. Conflicts of Interest: The authors declare no conflict of interest.
References
Campi, Gennari, Merlotti, Mingiano, Frosali et al., Vitamin D and COVID-19 severity and related mortality: A prospective study in Italy, BMC Infect. Dis
Hernández, Nan, Fernandez-Ayala, García-Unzueta, Hernández-Hernández et al., Vitamin D Status in Hospitalized Patients with SARS-CoV-2
Stroehlein, Wallqvist, Iannizzi, Mikolajewska, Metzendorf et al., Vitamin D supplementation for the treatment of COVID-19: A living systematic review, Cochrane Database Syst. Rev