Retrospective 100 patients in Turkey analyzing the effects of favipiravir on coagulation parameters in COVID-19 patients. Results showed prothrombin time (PT) and international normalized ratio (INR) were significantly prolonged in the favipiravir group, indicating impaired clotting ability. However, no difference was seen in activated partial thromboplastin time (aPTT) between groups. The authors conclude favipiravir prolongs clotting time, which could increase bleeding risk. They recommend close monitoring of coagulation and potential dosage adjustments of anticoagulants in COVID-19 patients receiving favipiravir. Further research is needed to confirm the coagulation effects of this antiviral medication.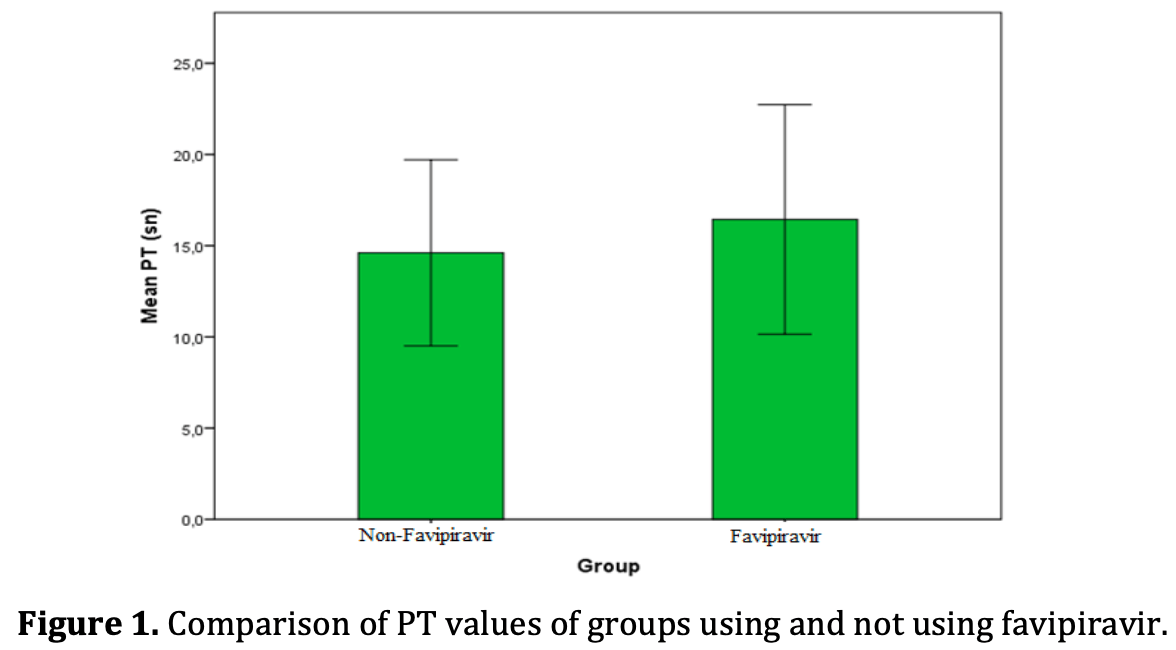 Gül et al., 3 Jan 2023, retrospective, Turkey, peer-reviewed, 4 authors, study period June 2021 - March 2022.
Contact: mehmetali.gul@amasya.edu.tr.
EFFECT OF FAVIPIRAVIR USE ON INR, PT, APTT TESTS OF COVID-19 PATIENTS
The 2019 coronavirus disease (COVID-19) has caused millions of cases worldwide. As the pandemic progresses, understanding the effects of this disease remains important. We aimed to examine the hematological effects of the disease. The research was carried out as a retrospective study, 50 patients using favipiravir and 50 patients not using favipiravir who had positive COVID-19 RT-PCR test in nasal and throat swabs were included in the study. INR, PTT, aPTT tests were evaluated on all patients. Results of patients using favipiravir; INR 1.3±0.2, PT(s) 16.4±3.4, aPTT(s) 40.7±10.1, while the results of patients who did not use favipiravir were INR 1,2±0.2, PT(s) 14.6±2.5, aPTT(s) was found 38.4±7.8. While PT and INR were found to significantly higher in patients using favipiravir (p<0.05), the elevation in aPTT values was not significant. As a consequence, it was obtained that favipiravir prolongs the clotting time. In the light of these results, it is recommended to consider this in anticoagulant therapy used for treatment.
Information This study was presented as an oral presentation at the VII. Turkey In Vitro Diagnostics (IVD) Symposium 2022. We would like to thank the staff and doctors of Sabuncuoğlu Şerefeddin Training and Research Hospital (especially laboratories and clinics related to COVID-19), who worked with great dedication. Conflicts of interest The authors declare that there are no potential conflicts of interest relevant to this article. Gul M. A., Kurt N., Capraz M., Ozturk A. (2022) . Effect of Favipiravir Use on INR, PT, aPTT Tests of 4(3), [14] [15] [16] [17] [18] [19] [20]
References
Atçalı, Yakut, Çağlayan, Ulucan, Kara, Effects of favipiravir on hematologic parameters and bone marrow in the rats, Journal of Experimental and Clinical Medicine
Gul, Kurt, Capraz, Ozturk, Effect of Favipiravir Use on INR, PT, aPTT Tests of COVID-19 Patients Sabuncuoglu, Serefeddin Health Science