Ecological study of European countries analyzing 10 vitamins and minerals endorsed by the European Food Safety Authority as having sufficient evidence for a causal relationship between intake and optimal immune system function: vitamins D, A, C, B6, B9, B12, zinc, copper, iron, and selenium.Dietary intake levels of all 10 showed an inverse correlation with the relative mortality rate, while all except vitamin B6 and selenium showed an inverse correlation with incidence and mortality. Most individual correlations did not reach statistical significance. Authors note greater association in populations genetically predisposed towards lower micronutrient status.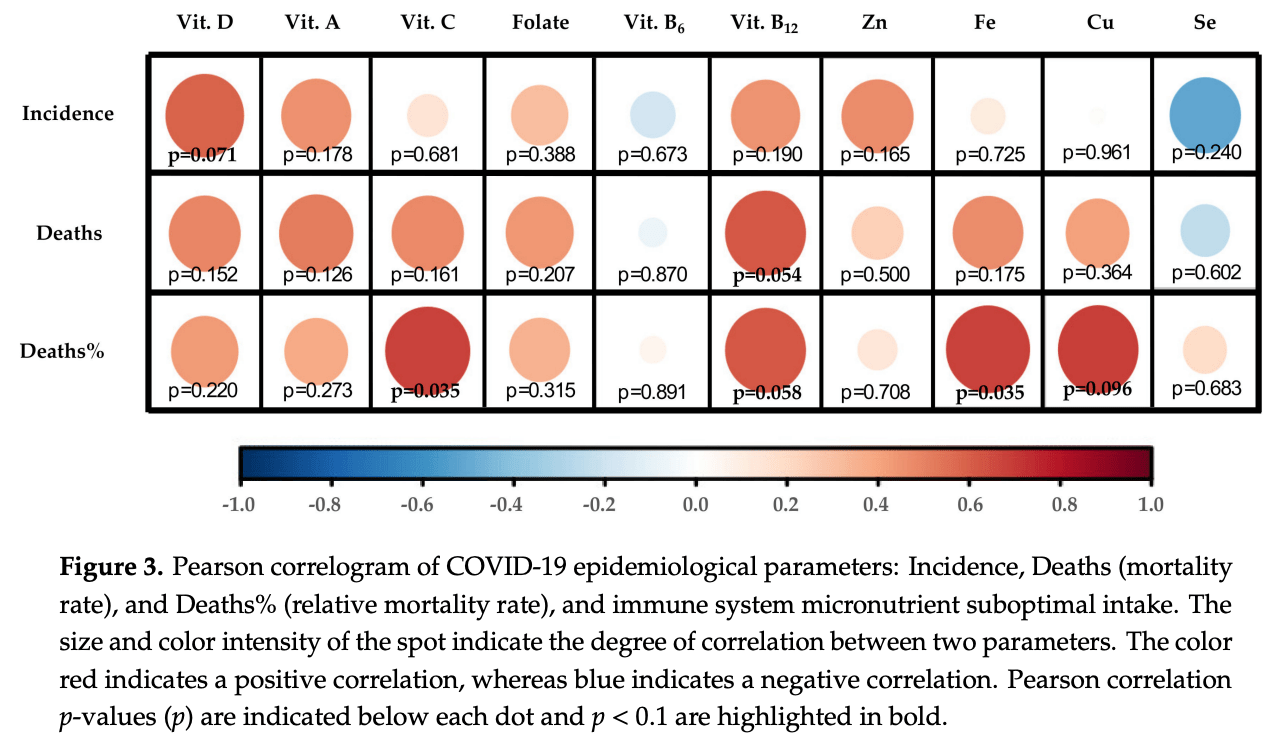 Galmés et al., 8 Sep 2020, retrospective, peer-reviewed, 3 authors.
Contact: francisca.serra@uib.es (corresponding author), s.galmes@uib.cat, andreu.palou@uib.es.
Current State of Evidence: Influence of Nutritional and Nutrigenetic Factors on Immunity in the COVID-19 Pandemic Framework
Nutrients, doi:10.3390/nu12092738
The pandemic caused by the new coronavirus has caused shock waves in many countries, producing a global health crisis worldwide. Lack of knowledge of the biological mechanisms of viruses, plus the absence of effective treatments against the disease (COVID-19) and/or vaccines have pulled factors that can compromise the proper functioning of the immune system to fight against infectious diseases into the spotlight. The optimal status of specific nutrients is considered crucial to keeping immune components within their normal activity, helping to avoid and overcome infections. Specifically, the European Food Safety Authority (EFSA) evaluated and deems six vitamins (D, A, C, Folate, B 6 , B 12 ) and four minerals (zinc, iron, copper and selenium) to be essential for the normal functioning of the immune system, due to the scientific evidence collected so far. In this report, an update on the evidence of the contribution of nutritional factors as immune-enhancing aspects, factors that could reduce their bioavailability, and the role of the optimal status of these nutrients within the COVID-19 pandemic context was carried out. First, a non-systematic review of the current state of knowledge regarding the impact of an optimal nutritional status of these nutrients on the proper functioning of the immune system as well as their potential role in COVID-19 prevention/treatment was carried out by searching for available scientific evidence in PubMed and LitCovid databases. Second, a compilation from published sources and an analysis of nutritional data from 10 European countries was performed, and the relationship between country nutritional status and epidemiological COVID-19 data (available in the Worldometers database) was evaluated following an ecological study design. Furthermore, the potential effect of genetics was considered through the selection of genetic variants previously identified in Genome-Wide Association studies (GWAs) as influencing the nutritional status of these 10 considered nutrients. Therefore, access to genetic information in accessible databases (1000genomes, by Ensembl) of individuals from European populations enabled an approximation that countries might present a greater risk of suboptimal status of the nutrients studied. Results from the review approach show the importance of maintaining a correct nutritional status of these 10 nutrients analyzed for the health of the immune system, highlighting the importance of Vitamin D and iron in the context of COVID-19. Besides, the ecological study demonstrates that intake levels of relevant micronutrients-especially Vitamins D, C, B 12 , and iron-are inversely associated with higher COVID-19 incidence and/or mortality, particularly in populations genetically predisposed to show lower micronutrient status. In conclusion, nutrigenetic data provided by joint assessment of 10 essential nutrients for the functioning of the immune system and of the genetic factors that can limit their..
Supplementary Materials: The following are available online at http://www.mdpi.com/2072-6643/12/9/2738/s1, Supplementary Figure S1 . Country genotype frequencies of Single Nucleotide Polymorphisms (SNPs) involved in specific Vitamins and Minerals nutritional status. Author Contributions: Conceptualization, methodology, data curation, and writing-original draft preparationwere done by S.G., F.S., and A.P.; writing-review and editing-and supervision was performed by F.S. and A.P.; project administration and funding acquisition were carried out by A.P. All authors have read and agreed to the published version of the manuscript.
References
Axelrod, Role of the B vitamins in the immune response
Brown, The metabolism of pantothenic acid, J. Biol. Chem
Carr, A new clinical trial to test high-dose vitamin C in patients with COVID-19, Crit. Care
Gong, Hsu, Harrison, King, Stürup et al., Genome-Wide Association Study of Serum Selenium Concentrations, Nutrients
Goodman, Huang, Shiratori, Mechanism of the biosynthesis of vitamin A from beta-carotene, J. Biol. Chem
Ka Ńtoch, Litwi Ńska, Szkoda, Siennicka, Importance of vitamin A deficiency in pathology and immunology of viral infections, Rocz. Panstw. Zakl. Hig
Katsarou, Papasavva, Latsi, Drakoulis, Hemochromatosis: Hereditary Hemochromatosis and HFE Gene
Kaur, Henry, Micronutrient Status in Type 2 Diabetes: A review
Kobylecki, Afzal, Nordestgaard, Genetically high plasma vitamin C and urate: A Mendelian randomization study in 106 147 individuals from the general population, Rheumatology
Opinion, Scientific opinion on dietary reference values for cobalamin (vitamin B12), EFSA J
Panel, Nda, Scientific opinion on dietary reference values for selenium, EFSA J
Panel, Nda, Scientific opinion on dietary reference values for vitamin C 1, EFSA J
Rocha, De Assis, Curcumin as a potential treatment for COVID-19, Phyther. Res
Sthda-Home, None
Timpson, Forouhi, Brion, Harbord, Cook et al., Erratum: Genetic variation at the SLC23A1 locus is associated with circulating concentrations of L-ascorbic acid (vitamin C): Evidence from 5 independent studies with > 15,000 participant, American Journal of Clinical Nutrition