Retrospective 46 idiopathic pulmonary fibrosis patients with COVID-19 in Turkey, showing lower mortality with favipiravir in unadjusted results, without statistical significance. This study is excluded in the after exclusion results of meta analysis: unadjusted results with no group details.
risk of death,

37.5% lower

, RR 0.62, p = 0.51
, treatment 5 of 23 (21.7%), control 8 of 23 (34.8%), NNT 7.7, day 30.
Effect extraction follows pre-specified rules prioritizing more serious outcomes. Submit updates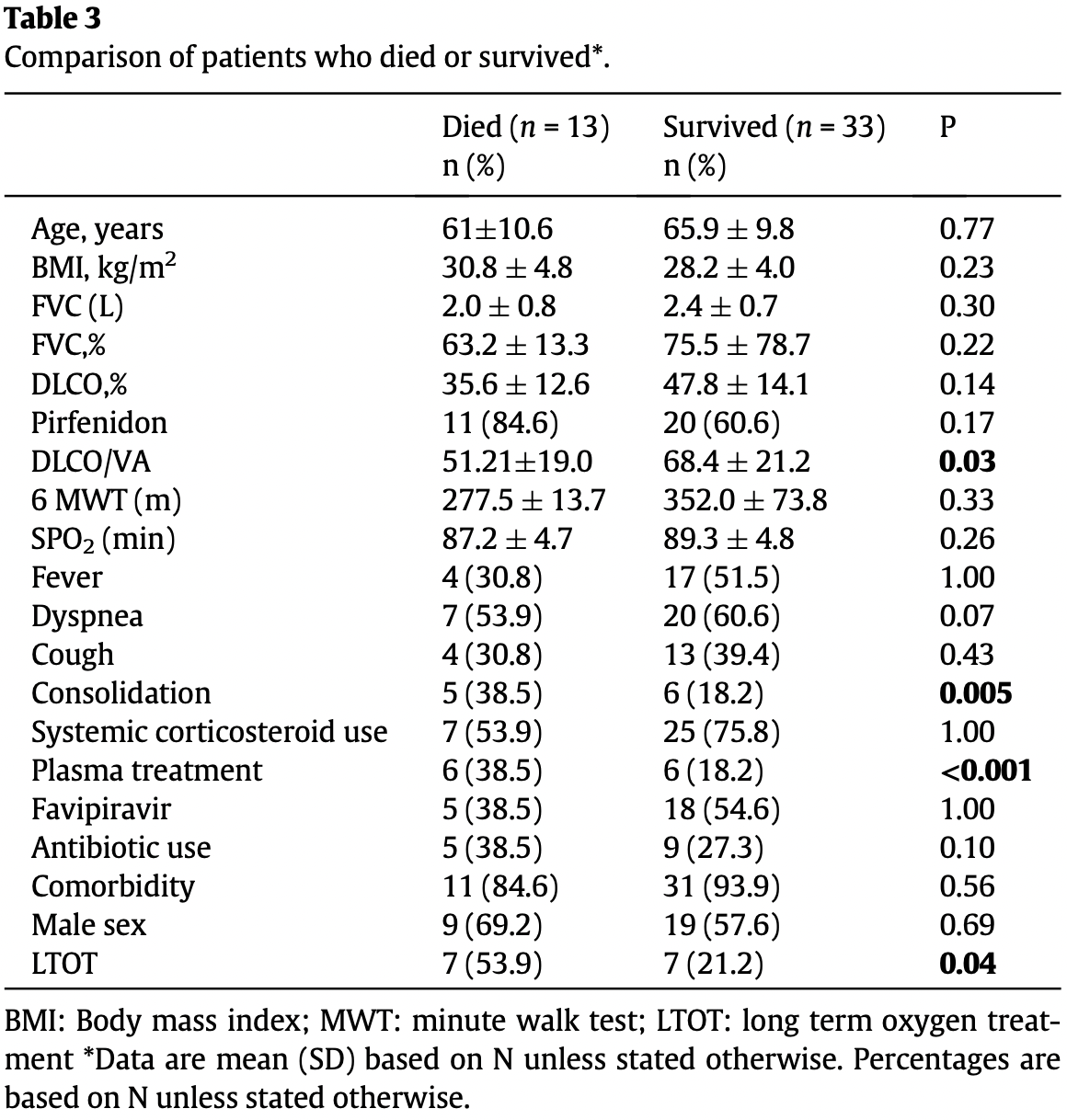 Cilli et al., 3 Mar 2022, retrospective, Turkey, peer-reviewed, 10 authors.
Characteristics and outcomes of COVID-19 patients with IPF: A multi-center retrospective study
Respiratory Medicine and Research, doi:10.1016/j.resmer.2022.100900
Background: There are few data on severe acute respiratory syndrome coronavirus 2 (SARS-CoV-2) (COVID-19) infection in patients with idiopathic pulmonary fibrosis (IPF). The objective of this study is to describe the characteristics and outcomes of IPF patients confirmed COVID-19 infection. Methods: In this retrospective, multi-center, cohort study, patients from 4 hospital medical records with known IPF and a COVID-19 diagnosis were identified. Demographic and clinical outcome data were abstracted through a review of electronic medical records. Results: Records for 46 patients with IPF and COVID-19 were abstracted. The mean age was 65 § 10 years. The most common symptom was dyspnea, followed by fever and cough. Ground-glass opacities (n = 35, 83.3%) and consolidations (n = 11, 26.1%) were the main imaging features of the disease in thorax computed tomography (CT). Twenty-four patients (52.1%) required hospitalization. Among the hospitalized patients, 16 (66.6%) were admitted to the intensive care unit (ICU), and 10 (41.6%) underwent invasive mechanical ventilation. Thirteen patients (28.2%) died of COVID-19 complications. Mortality rate was significantly associated with lower DLCO/VA, long term oxygen therapy and consolidation finding on CT of thorax (p<0.05). On multivariable analysis, neither factor was associated with hospitalization or mortality. Conclusions: IPF patients represent a vulnerable population for COVID-19, according to the high rate of hospitalization, ICU requirement, and mortality rate. Measures to minimize the risk of COVID-19 infection remain key to protect IPF patients.
Conflict of Interest None.
References